Central California mortgage rates for refinancing and purchase transactions.
If you are buying a home or refinancing a mortgage in Central California then you're in the right place. We offer fast closings and personal one-on-one service from your first inquiry to your final close. Unlike other Central California mortgage brokers and lenders, I'll work directly with you from beginning to end to ensure your loan process exceeds your expectations.
Locating The Best Mortgage Rate
When you buy a home or refinance a mortgage we all want to locate the best mortgage rate.
Mortgage rates in Central California are no different than the mortgage rates found in Northern and Southern California. So locating the best mortgage rate doe not need to be restricted to just your area.
To locate the best mortgage rate we suggest three simple steps:
Find mortgage companies with an "A" or "A+" rating with the Better Business Bureau.
Obtain 2-3 quotes from Loan Officers with at least 5 years of experience (even better if they have 8-10 years of experience).
Compare apples to apples. What does that mean??? When you get a quote make sure you not only compare the mortgage rate but also the total closing costs (fees). For example; if you were quoted a 3.00% with zero fees or 2.50% with 10k in fees how would you know which quote is better if you didn't find out the total amount of all the fees? In this example, the 3.00% is clearly better for your small to above average sized loan amounts.
Following these three simple steps will help you locate the best mortgage rate possible. And one more thing, don't hesitate to ask questions….lots of questions!
It's your loan and you have every right to make sure you fully understand the terms of that new loan. If a Loan Officer is difficult and/or it seems he/she does not want to answer your questions then find a new Loan Officer to work with.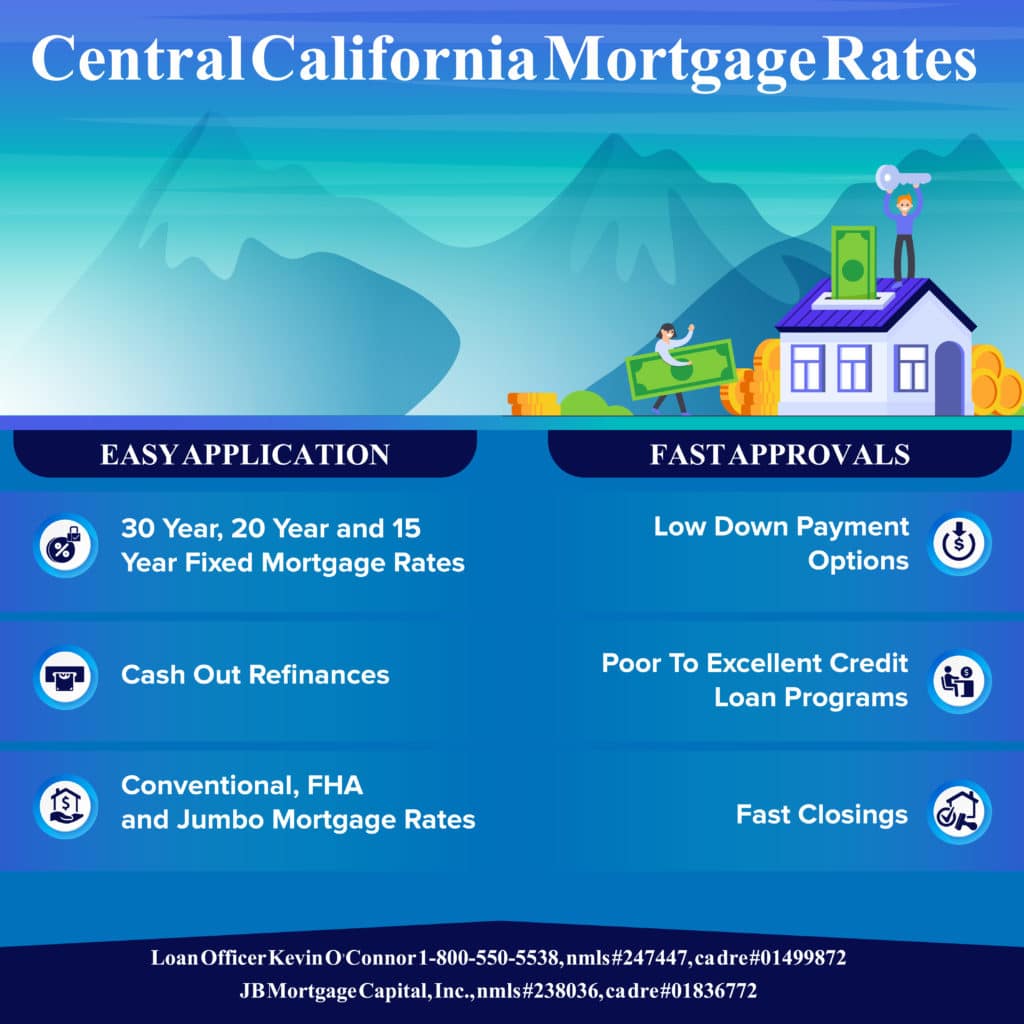 Refinance Options In Central California
Heading into 2021 mortgage rates in Central California are at all-time lows, making it a great time to shorten your term, lower your interest rate, dip into your home's equity, or get out of an adjustable-rate loan.
If one of your resolutions is to save money, get ahead financially, or make smarter financial decisions, refinancing your mortgage is a solid option.
Like any mortgage, refinancing comes with a variety of options. Understanding how each program works is important to help you make the right decision when choosing a new loan.
What is Mortgage Refinancing?
When you refinance your mortgage, you pay off your existing mortgage and start a new one. It's best if you take a mortgage with a term similar to the amount of time you have left on your current mortgage.
For example, if you have a 30-year term and paid on it for 10 years, refinancing into a 20-year term won't add time back onto your mortgage. If you can't afford the 20-year payment, ask for a term that's as close to the time you have left as possible.
The reason you're refinancing will determine the type of refinance you need. You'll need to determine if you want to lower your rate (save money) or take cash out of your home's equity.
Rate and Term Refinance
A rate and term refinance does just what the name suggests – you refinance to get a lower rate or better term. You cannot take cash out of your home's equity or pay off any debts with this loan. You refinance strictly to get better terms.
Borrowers use the rate and term refinance for the following reasons:
Take advantage of the lower rates
Shorten their loan term from a 30-year to a 15 or 20-year term
Refinance out of an adjustable-rate loan into a fixed-rate loan
No matter your reason for refinancing, the rate and term refinance offers the lowest mortgage rates because you aren't tapping into the home's equity. If you take out a shorter term, you may get even lower rates because of the lower risk shorter terms have.
Cash-Out Refinance In Central California
If you have equity in your home, you can tap into it with a cash-out refinance. Equity is the difference between the home's value and your outstanding mortgage. For example, if your home's value is $300,000 and your first mortgage has a $150,000 balance, your equity is $150,000.
Most loan programs including conventional and FHA loans allow you to borrow up to 80 percent of the home's value. Using the $300,000 example above, that means you could have up to $240,000 outstanding. If you have a $150,000 mortgage, that means you can withdraw up to $90,000 for other uses.
Borrowers use cash-out funds for some or all of the following:
Consolidate high-interest consumer debt
Make home improvements and/or repairs
Use the funds as an emergency fund
Pay for large expenses, such as a wedding or vacation
Streamline Refinance
All three government-backed loans have a streamline refinance option. Like the rate and term refinance, there's no cash out allowed. But the streamline programs are among the easiest to qualify for and process the fastest.
Here are the streamline refinance programs from each loan:
FHA loans – If you have a current FHA loan and made your last 12 payments on time, you may be eligible for the FHA streamline refi. All you need is proof of timely mortgage payments and proof that refinancing benefits you (usually a lower payment). The streamline loan doesn't require a new appraisal or income verification.
VA loans – If you have a current VA loan and made your last 12 payments on time, you may use the VA streamline refinance if you can get a lower rate or better term. Just like the FHA streamline refinance, you don't need a new appraisal or to prove your income. You cannot take cash out of the home's equity but may get through processing faster and save money on closing costs with the streamline option.
USDA loans – Like the VA and FHA streamline program, current USDA borrowers don't need to prove their credit score or home value. You may need to prove your income still falls in line with the USDA income guidelines (you don't make too much). If your income qualifies and you can prove you made your last 12 months of payments on time and benefit from the refinance, the USDA streamline refinance is an option.
High LTV Refinance
If you've made your conventional loan payments (Fannie Mae or Freddie Mac loan) on time, but your loan-to-value ratio exceeds the current LTV guidelines, you may use the High LTV Refinance program.
The minimum LTV borrowers need to qualify for the high LTV refinance program is 97.1 percent and there's no maximum limit. This means if your home value decreased, you may still qualify for a refinance as long as you can prove that you benefit from it in one of the following ways:
Lower monthly payments (principal and interest)
Lower interest rate
Shorter-term
Refinancing out of an adjustable-rate and into a fixed-rate loan
Choose the Refinance Option that's Right for You
Are you ready to refinance? Whether you want to save money or tap into your home's equity, there are plenty of options available to you.
Just like when you took out your original mortgage, you'll need to qualify for the loan. Lenders check your credit, income, and employment. They'll calculate your debt-to-income ratio to make sure you can comfortably afford the loan.
Like when you bought your home, the better your qualifying factors, the lower the interest rate and closing costs you'll be able to secure. If you're looking to save money this year or make the most of your home financing needs, let us help you see what options are available to help you reach your financial goals.
Central California Mortgage Calculator
Using our Central California mortgage calculator to figure out your monthly mortgage payment is an essential part of buying a home or refinancing a current mortgage. Use our free Central California mortgage calculator to help you determine what you can afford and if you have questions please don't hesitate to ask!
Consumer Protection, Mortgage Rates and Central California
Living in Central California means you have access to some of the most competitive mortgage rates in the country. Mortgage companies in California and throughout the country are competing for your business. But the fact is anyone can quote a low mortgage rate. As a consumer, you need to know that the quotes you are receiving come from reputable sources and that's where the following three Consumer Protection agencies come in.
Consumer Financial Protection Bureau
After the 2008 financial crisis many were asking; what can we do to better protect the consumer? Part of that answer was the establishment of the Consumer Financial Protection Bureau (CFPB).
Since its creation, the CFPB has done an excellent job of protecting consumers from predatory lending and educating consumers on what to look for when applying for a mortgage. There is a wealth of information on the CFPB website and homeowners will really benefit from the educational tools the CFPB provides.
California Department of Real Estate
A great government agency that regulates the mortgage industry is the California Department of Real Estate (California DRE). I say great because it does provide a vital function, ensuring mortgage companies and Loan Officers follow regulations, ensuring mortgage industry professionals are licensed, and providing educational services to the public as well.
We suggest homeowners utilize the services provided by the California DRE to ensure they are better informed and to help find a great company to work with.
Nationwide Mortgage Licensing System
The Nationwide Mortgage Licensing System (NMLS) was created after the 2008 financial crisis.
The main purpose of the NMLS is to give consumers a streamlined access point to licensing information for every legitimate mortgage company and Loan Officer in the entire country. You can look up the company and Loan Officer you are working with and confirm their location, licensing information, and more.
You should definitely take the time to utilize their services and the best part is that is free!
Living In Central California
Central California has tons to offer, even though it may not get as much attention as other regions of California because of the presence of larger cities like Los Angeles in Southern California and San Francisco in Northern California.
However, there is still much to learn about the cities in Central California. This article will dive into the details of ten of the most popular cities in Central California and explore their unique histories, what drives the local economy, and what universities or colleges you can find in each one.
Whether you are planning a trip through Central California or just want to learn more, this article will help you learn more about this region.
Bakersfield, California
Originally founded in 1873, Bakersfield is currently the ninth-largest city in the entire state of California. Just one year later in 1874, it became the county seat of Kern County and experienced a boom in population from new residents migrating from Texas, Louisiana, Oklahoma, and even Southern California. Moving into the twentieth century, the history of Bakersfield was punctuated by a major earthquake in 1952.
This earthquake was felt all the way from San Francisco farther north all the way to the Mexican border in the south. The earthquake had a major impact on Bakersfield, but the city recovered. Matching the huge growth at the end of the nineteenth century, between 1970 and 2010, Bakersfield's population grew by 400%.
The major university in Bakersfield is California State University at Bakersfield, part of the California State University system. Much of the economy of Bakersfield is centered around agriculture and petroleum.
In fact, Kern County—where Bakersfield is located—is the fourth most productive county in the entire United States in terms of oil production. Among the top employers in Bakersfield are multiple farms, the Chevron corporation, and Aera Energy, which is representative of the predominance of agriculture and oil in the city.
Fresno, California Is The Fifth Largest City In California
Fresno is currently the fifth-largest city in California. Named for the ash trees found by early European settlers—Fresno resembles the Spanish word for ash tree—the city was not officially incorporated until 1885, although there had been plenty of settlements in and around the area of modern-day Fresno for the past century.
Before the outbreak of the Second World War, Fresno was a relatively diverse city. However, because of its larger proportion of Japanese Americans, Fresno was also home to an internment camp for Japanese Americans. Fresno continued to grow rapidly throughout the rest of the twentieth century.
Fresno hosts California State University, Fresno, although there are also several other institutions of higher education in the city. While Fresno itself is the economic hub for the entire San Joaquin Valley, much of the rural area surrounding the city is used for large-scale commercial farming.
In fact, Cargill Meat Solutions is one of the top employers in the entire city of Fresno. Notable other top employers in Fresno are the city itself, various medical centers, and California State University, Fresno.
Merced Is Important To Central California
Merced, California is much smaller than both Fresno and Bakersfield however it's an important city in Central California. With a population of just over 80,000, Merced is nearly five times smaller than both cities.
Merced was first incorporated in 1889 as a charter city and is named after the nearby river of the same name. Following the Great Recession nearly a decade ago, Merced is among the cities most severely affected by the economic downturn. Estimates suggest that the values of homes in Merced fell to values similar to their values in the 1990s.
However, Merced has still experienced recent growth despite previously having to deal with collapsing home values.
Merced is home to one of the newest universities in California, the University of California, Merced (commonly known as UC Merced). This institution was founded fifteen years ago in 2005. Traditionally, the economy of Merced has been built upon the combination of commercial agriculture and the nearby Castle Air Force Base.
This Air Force base is now closed, however, and recently, the economy of Merced has undergone diversification, with industries like printing, boat building, logistics, and packing having all moved into the city. Merced is well-connected to the rest of California by air travel, bus travel, and train travel.
It also sits on state highways 59, 99, and 140.
Modesto Is Home To A Famous Winery
Originally founded in 1884, Modesto was first named after the financier William Ralston. In recognition of his own (perceived) humility, Ralston declared that the city was to be renamed Modesto. The town itself grew out of a train stop on the route from Sacramento to Los Angeles.
During the Second World War, Modesto provided various foodstuffs for the Allied soldiers fighting overseas.
Modesto does not host a four-year university. However, Modesto Junior College, a two-year junior college can be found in the city. Because of the fertile land surrounding it, much of Modesto's economy comes from the agricultural output of this land. It also hosts the largest winery in the world—E & J Gallo Winery.
This company is also the largest employer in Modesto, employing approximately five thousand people. As a byproduct of the E & J Gallo Winery, the Gallo Glass Company has also become the largest manufacturer of wine bottles in the world.
Salinas, California – Agricultural Technology Hub
Salinas is the largest city in Monterey County, with a population of more than 150,000 people. Although the lands around Salinas have been occupied since as early as the year 200, modern Salinas was not incorporated until 1874. Due to a huge influx of Chinese workers to drain the swampland around Salinas in order to create arable farmland, the city is home to the second-largest Chinatown in the state, second only to San Francisco itself.
Following the Second World War, Salinas grew quickly throughout the 1950s and 1960s, which resulted in much of the surrounding farmland being converted into suburban homes.
Salinas does not have the same institutions of higher education that you can find in other cities in Central California like Fresno and Bakersfield.
The city is home only to a satellite campus of California State University, Monterey Bay, and Hartnell College. With respect to its economy, Salinas is known for being a key player in the growing field of agricultural technology. The fact that Salinas is so close to California's famed Silicon Valley facilitates its importance to the agricultural technology industry.
San Luis Obispo, California – A Great College Town
San Luis Obispo, commonly abbreviated as SLO, is one of the oldest European-founded settlements in California. SLO was founded in 1772 by Spanish Franciscan missionary Junípero Serra. The original mission was named after Louis of Toulouse, a thirteenth-century saint. More recently, shortly after California joined the Union, SLO was associated with high levels of crime and lawlessness.
In the twentieth century, SLO gained popularity as a stop for drivers traveling north from Los Angeles.
San Luis Obispo is home to California Polytechnic University—the university campus is located directly outside the city. The university is also a huge driver of the local economy. Cal Poly is the largest employer in the entire city, with more than 2,500 employees.
There is also a tourism industry in SLO, given its historic nature. Furthermore, its downtown is filled with eclectic and unique shops.
Santa Maria, California Has A Diverse Economy
Santa Maria is located just one hundred and fifty miles north of Los Angeles. With a population of just over 100,000, Santa Maria is the largest city in Santa Barbara County.
The town was incorporated in the early twentieth century—in 1905. Just prior to its incorporation, many large-scale discoveries of oil around the city were made. For example, the Lompoc and Cat Canyon fields were founded in 1903 and 1908, respectively.
Santa Maria benefits from a diverse economy. The top employer in the city is the Vandenburg Air Force base. Of course, given the oil fields in the area, the oil industry also plays a significant role in the economy of Santa Maria. Finally, the rich agriculture in the region also contributes.
Different fruits and vegetables like strawberries, wine grapes, and lettuce are commonly grown in the area. Finally, there is a growing wine industry around Santa Maria. In fact, Santa Maria is even known as the town with the best barbecue in the West!
Paso Robles, California And The Ancient Hot Springs
Paso Robles was founded on the site of ancient hot springs.
The presence of those springs means that the area has been inhabited by people for a long time, well before the arrival of Europeans into California. However, the current Paso Robles was founded as a small town that grew out of a railroad stop—Paso Robles was incorporated as a city in 1889.
After its incorporation, Paso Robles quickly expanded and before long featured such benefits as a library, barbershop, lounges, and, of course, baths in the hot springs.
Paso Robles is home to Cuesta College, a public community college. There is no full university in Paso Robles. Wine is a crucial part of the economy in Paso Robles.
There is a number of vineyards and wineries all around Paso Robles, and you can find in excess of 25 different types of grapes grown in these vineyards. In addition to its wine production, Paso Robles is also home to several firms specializing in designing eco-friendly buildings. In fact, there are many eco-friendly buildings in Paso Robles itself.
Visalia, California Has a Vibrant Manufacturing Sector
Relative to the other cities discussed here, Visalia is very much mid-sized—it is not as large as cities like Fresno and Stockton, but it is larger than small towns like Modesto and Merced. Much like Stockton, a significant portion of Visalia's growth can be attributed to the Gold Rush.
Visalia's history features two incorporations. The first happened during the American Civil War, while the second in 1874 classified Visalia as a city. Since then, Visalia has seen labor strikes and famous burglaries in the nearly 150 years that have passed since its incorporation.
The only public college in Visalia is the College of the Sequoias, a local community college. However, there is also a satellite location for Fresno State University in Visalia, along with several others. Most of Visalia's economy comes from agriculture.
You can find farms growing things from cotton to citrus nearby. In addition to its farming success, Visalia also has a vibrant manufacturing sector. Facilities in and around Visalia build both electronic components and paper.
Obtain A Low Central CA, Mortgage Rate
Low mortgage rates in Central California have been a big reason why home values have increased over the last 20-30 years. In addition to low rates the economy of Central California is strong and continues to grow. We believe this trend will continue as the job base in Central Continue continues to get bigger while more companies expand their business.
The 30-year fixed mortgage rate is the most popular fixed-rate mortgage term in Central California. The 20-year fixed-rate mortgage and the 15-year fixed-rate mortgage are also popular but to a lesser degree.
First-time home buyers in Central California have many mortgage options to choose from. With access to low down payment options, less than perfect credit options, and popular home renovation loans, like the FHA 203(k) program, first-time home buyers continue to be active in Central California.
Additional California Cities
If you're looking for additional information on another California city be sure to visit our main California Mortgage Rates page.