Mortgage rates in Eureka, California for both purchase and refinance transactions.
We offer low rates, personal service, and the latest technology to ensure a fast closing. Loan Officer Kevin O'Connor has over 15 years of experience and works directly with each client from beginning to end. Helping Homeowners Achieve Their Dreams is not just a saying, it's something my team fully believes in.
Mortgage Rates In Eureka, California:
Eureka is a city in Humboldt County, California. Eureka is 270 miles north of San Francisco and 100 miles south of the Oregon border. According to the 2010 United States Census, the city had a population of 27,191.
Eureka, California Mortgage Calculator:
Using our Eureka, California mortgage calculator to figure out your monthly mortgage payment is an essential part of buying a home or refinancing a current mortgage. Use our free Eureka, California mortgage calculator to help you determine what you can afford and if you have questions please don't hesitate to ask!
Realtors In Eureka, California:
When you buy a home in Eureka, California you'll want to work with a local Realtor who is both knowledgable about the local area and experienced. Your local Realtor will work with your mortgage lender to make sure everything goes smoothly with your purchase transaction.
Four Star Realty:
Located at 331 Harris Street, Eureka, CA 95503, Four Star Realty is a well known local realty company. Their direct number is (707) 444-9234.
Benchmark Realty Group:
This is another well known local realty company. Benchmark Realty Group is located at 818 Sixth St., Eureka, CA and their direct number is (707) 476-0200.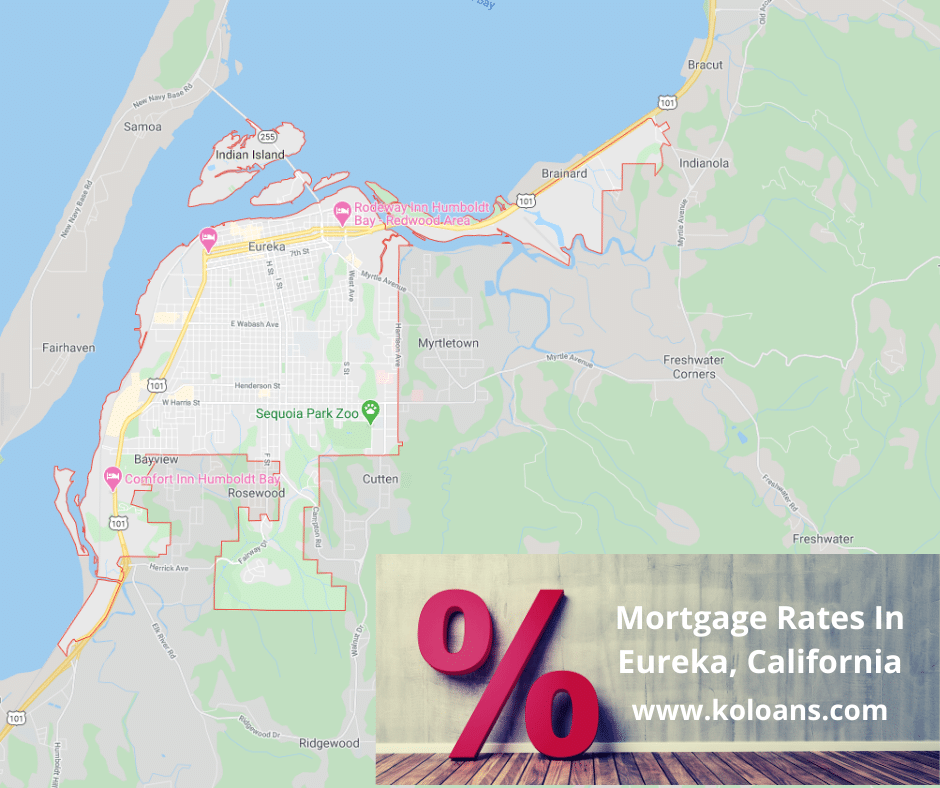 Local Mortgage Lenders:
Some homeowners in Eureka chose to work with local mortgage lenders and others chose to work with online lenders. Whatever you decide just make sure you receive at least two or three quotes from reputable mortgage companies.
Redwood Capital Bank:
Located at 402 G Street in Eureka, Redwood Capital Bank is an independent bank with branches in Eureka, Fortuna, Arcata and Henderson Center. The direct number for the Eureka branch is (707) 444-9800.
Per their website: "local decisions made by local people"
Tri Counties Bank:
Another local bank you might want to consider is Tri Counties Bank located at 2844 F. Street, Eureka, CA 95501. Their direct number is (707) 269-2900. They offer both personal and business banking services.
Living In Eureka:
During the last couple of decades of the twentieth century, timber and fishing are major contributors to the city's economic growth. But the economic profile is now driven by tourism, timber, and the health care industry.
Sequoia Park:
One great place to visit is the Sequoia Park. The area features a well-kept garden that is home to a wide variety of rhododendron plants, a beautiful stand of Redwood and other species of plants. If you are visiting with kids, the area has a large public playground with modern recreational equipment that allows children to have a wonderful experience. You and your loved ones can also drive or walk to the duck pond, hiking trails, or have a great picnic.
The park also features a zoo where you can sightsee different animals, including African lions, camels, polar bears, and bison. European rollers, parrots, band-tailed pigeons, Nicobar pigeons, Spotted Whistling ducks, and grey parrots are just a couple of many bird species found in the Sequoia Park Zoo.
As the oldest zoo in California, exposure to a wide variety of creatures contained lets you understand and have respect for animals, humans and for our environment. The zoo is open daily for visitors but closed on Mondays during winter.
The Humboldt Bay Tourism Center:
For a wealth of information on Eureka, check out the Humboldt Bay Tourism Center. This Tourism Center features state-of-the-art technology through which you can explore accommodation, dining, and other parts of the area. Visitors can sample local-made bread, meats, wines, hand-crafted cheese, and more in a tasting room.
If you'll be visiting the Humboldt Bay Tourism Center on Sunday, then you have the chance to meet local farmers, chefs, artists, and brewer who come to showcase their works in the form of slideshows, wine, and cheese tastings as well as art classes.
Headwaters Forest Reserve:
Situated along the northern Californian coast, this forest reserve was established in 1999 with the aim of preserving its redwood forest ecosystem. With 7,472 acres of redwood groves, the reserve houses different endangered wildlife species, including the coho salmon.
In addition, the Forest Reserve also has two hiking trails – the Salmon Pass Trail and the Elk River Trail – that extends through the redwood forest. For a unique view of the old-growth redwood forest, the Salmon Pass Trails requires a guided tour while the interpretive sign along the way allows you to feel the ecology of the historic forest of the Elk River Trail.
Humboldt Bay National Wildlife Refuge:
Situated in the southern part of the city, this wildlife refuge features over 4,000 acres of natural habitat. This Wildlife Refuge has experienced an influx of marine and terrestrial animals, including porcupines, sea lions alongside numerous species of migratory birds. The place is also popular with photographers, hikers, and others alike because of its abundant wildlife and natural space.
Cost of Living in Eureka:
Living in Eureka can be expensive. Because most of the products are trucked in, everyday items particularly are costly. But housing is affordable. The median home value in Eureka is $324,222 (2020), while the median income is $37,094.
There are different small businesses thriving in Eureka as well as low-cost stores for citizens. Eureka is one great place to visit especially if you are looking for a decent amount of tourist centers to visit with your loved ones.
Weather and Climate:
Cold seasons lasts for 4.2 months in Eureka with an average of 1024.4 mm precipitation throughout the year. December is the wettest and coldest month with an average rainfall of 17.5 days with the temperature reaching as high as 4.8°C (40.6°F).
July records the least rainfall with 2.7 days and typically aggregates 0.2 inches (4.6mm) of precipitation. The average high temperature in July can reach as high as 63.4°F. But August is the warmest month of the year in Eureka, with an average high-temperature of 64.2°F (17.9°C).
During most times of the year, Eureka's weather is cool and damp. The temperature in summer days can reach 72°F, with morning fog and low clouds.
Low Eureka, CA Mortgage Rates:
Low mortgage rates in Eureka, California have enabled more people to become first time home buyers. This trend should continue as job opportunities continue to grow. There are many reasons why people should consider living in Eureka.
Great neighborhoods
Family attractions
A good economy
opportunities for higher education
These are just some of the reasons why over 20,000 people call Eureka home.
Additional California Cities:
If you're looking for additional information on another Northern California city please be sure to visit the main Northern California page