Cleveland Fed President Loretta Mester on Wednesday spoke to the Community Bankers Association of Ohio in Cincinnati and wanted the Fed to continue it's gradual pace despite fluctuations in economic and inflation data.  According to Mester; "I see benefits to this consistency: it removes some ambiguity and it underscores the fact that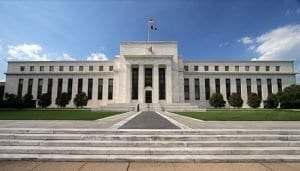 we set monetary policy systematically, with a focus on the medium-run outlook and risks around the outlook and their implications for our policy goals…." 
Mester is not a current voting member however next year she will be so her comments are important when trying to figure future Fed policy.  She expects the economy to grow over two percent next year and is not concerned about recent weakness in some of the economic data reports. 
Mester went on to say "At this point, my assessment is that the conditions remain in place for inflation to gradually return over the next year or so to our symmetric goal of 2% on a sustained basis."
Also speaking yesterday was St. Louis Fed President James Bullard who also is not a voting member.  He has a different view of future fed policy and according to his statement he would prefer the Fed pause future rate hikes due to the recent low inflation readings.  His interview with Market News said he would not support future rate hikes given the short-term inflation trend in which inflation is moving away from the Fed's 2% target. 
The Fed's favorite inflation gauge, Personal Consumption Expenditures index (PCE) has settled around 1.50% rather than the 2.00% target the Fed is trying to achieve.  From mid 2015 up until the end of last year the general trend has been up (moving from just over 1.2% to nearly 2.00%) however in 2017 it has reversed course fairly significantly dropping to the 1.50% level.