We offer low mortgage rates in Fresno, California, and top-notch customer service. Our loan programs include both fixed-rate mortgages and adjustable-rate mortgages along with one-on-one personal service. That means from application to closing you'll work directly with me.
And you will not be passed from one department to the next. This provides for an overall better experience. It also means your loan will close faster because we've completely streamlined the entire application process.
Mortgage Rates In Fresno, California
Most Popular Rates In Fresno
If you live in Fresno, California, and are looking to refinance your current mortgage or purchase a new home please be sure to contact me directly for a no-cost/no-obligation quote. Our company has a top rating with the Better Business Bureau and the Business Consumers Alliance.
Here are the three most popular mortgage rates in Fresno are;
30-year fixed-rate
20-year fixed-rate
15-year fixed-rate
A 30-year fixed-rate usually has the highest rate but the lowest payment. A 15-year fixed-rate mortgage typically has the lowest rate but the highest payment. A 20-year fixed-rate is a balance between the two.
When choosing the best mortgage rate be sure to consider your short, medium, and long term financial goals.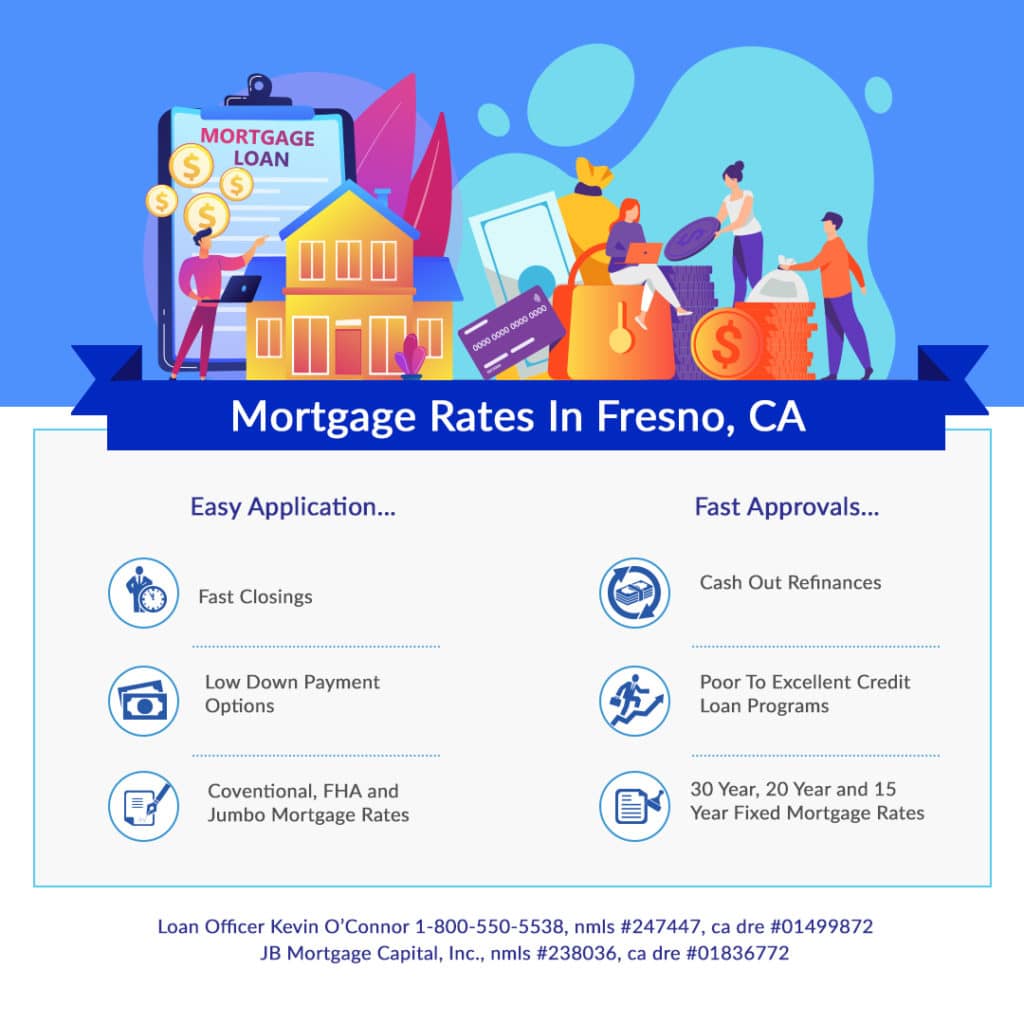 Cash-Out Refinance
You invest all your money into your home, but what happens when you need it? What about when your home appreciates and your net worth increases, yet you can't access it? You may feel like your only option is to sell the home to get access to your equity.
There's good news.
You don't have to sell your home to get access to your money. A cash-out refinance may do the trick and with today's low mortgage rates, it's easier than ever.
Here's how the cash-out refinance works and how to get the lowest rates available.
What is a Cash-Out Refinance?
A cash-out refi is a mortgage for an amount higher than what you currently owe. You tap into your home's equity, taking out a larger mortgage payment, and receive the cash proceeds in hand.
It's one of the easiest ways to get access to the cash you worked so hard to earn. Generally speaking, you may use the money for any purpose other than incurring new debt (ie using the funds as a downpayment on a home). Borrowers commonly use it for home improvements, debt consolidation, medical bills, and other large expenses.
Qualifying for a Cash-Out Refinance
Qualifying for a cash-out refinance is similar to what you needed for the purchase loan. You need decent credit scores and debt ratios, proof of income/employment, and equity in your home.
Most loan programs allow you to borrow up to 80 percent of the home's value. This includes your first mortgage. For example, if your home is worth $300,000, you can have $240,000 outstanding. If your first mortgage is $100,000, then you have $140,000 available for the cash-out portion of the refinance
This depends on what you qualify for (can afford). You must meet the debt-to-income ratio requirements of your program. Each program has different requirements. Here's a general outline:
FHA loans – 580 credit score and 45% debt ratio
VA loans – 620 credit score and 50% debt ratio
USDA loans – 640 credit score and 41% debt ratio
Conventional loans – 660 credit score and 43% debt ratio
It's important to know that not all lenders follow the above requirements exactly.
Securing The Lowest Mortgage Rates on a Cash-Out Refinance
Everyone wants to know, how do you get the lowest interest rates on a cash-out refinance? Here's the trick.
You need great qualifying factors. We discussed the basic qualifying factors above, but to get the lowest mortgage interest rates, you need great factors.
This means great credit and low debt-to-income ratios. If you don't have both of those, compensating factors may help increase your chances of securing low rates.
Lenders want low-risk borrowers – borrowers who won't default on their loans. Offering a cash-out refinance is risky for them. They loan you more money than you already owe.
Lenders must make sure the home is worth enough to offer the cash-out refinance first. They'll require a new appraisal to determine the home's value. Then they'll determine if you personally qualify.
So how do you get the lowest rates?
Try these tips:
Bring all late payments current. If you aren't sure if anything is late, pull your free credit reports. Do you have any payments reporting over 30 days late? If so, bring them current and keep paying your bills on time.
Pay credit card balances down. If your credit card balances are over 30 percent of your credit line, pay them down. This is the second-largest part of your credit score. Paying your balance down helps increase your score, increasing your chance of lower rates.
Pay your mortgage on time. Your mortgage payment history plays a pivotal role here. If you have any late payments (over 30 days) in the last 12 months, it makes it harder to secure the best interest rates on a cash-out refinance.
Keep your LTV as low as you can. Most lenders offer cash-out refi up to 80 percent of the home's value, but the less you borrow, the better the rate you'll get. Higher LTVs pose higher risks to lenders.
Stabilize your income and employment. If you've been at your job for at least 2 years, you're in good shape. If you've recently changed jobs, make sure it's in the same industry to refinance. If you changed industries, you may have to prove that you qualify with education, courses, or other qualifications that make lenders believe the switch is stable.
Alternatives to the Cash-Out Refinance
If you don't qualify for the cash-out refinance or you don't want to touch your first mortgage, there are a couple of alternatives. Some borrowers want to keep the low rate they have on their first mortgage, but need to tap into their home's equity.
Here's how:
Home equity line of credit – A HELOC is a credit line against your home's equity with a variable interest rate. It's secured against your home, using your home as collateral, but it's a second mortgage. You receive a line of credit, like a credit card. You can draw on it as needed, paying interest only on the amount you withdrew. Like a credit card, you can reuse the funds as you pay them off.
Home equity loan – If you prefer to receive your money in a lump sum and have a fixed interest rate, the home equity loan is an option. You'll receive the proceeds at once and have a fixed payment that includes principal and interest for the loan term, which is usually 10 – 20 years.
Get Low Mortgage Rates on your Cash-Out Refinance
It's easy to secure low mortgage rates on your cash-out refinance. Just like when you bought your home, prepare your credit and qualifying factors. Ensure you are a 'good risk' and you'll have access to your home's equity at an affordable rate.
Make sure you can afford the higher payment and enjoy your home's equity and using the funds to better your financial life, no matter your needs. A cash-out refi is an affordable way to get the funds you need.
Fresno, CA Mortgage Calculator
Using our Fresno, California mortgage calculator to figure out your monthly mortgage payment is an essential part of buying a home or refinancing a current mortgage. Use our free Fresno, California mortgage calculator to help you determine what you can afford and if you have questions please don't hesitate to ask!
A Great Place To Call Home
Fresno California is located in Central California, about 2.5 hours inland from Monterey Bay.
Surrounding cities include Clovis, Muscatel, and Las Palmas. Fresno, CA is the most populous city in the central valley with over 500,000 people calling it home. Fresno is Spanish for "Ash Tree" and the city was given this name for the large number of Ash Trees along the San Joaquin River. Fresno California is a great place to raise a family.
Affordable housing, a good economy, and family-friendly activities make Fresno a desirable location to call home. And low mortgage rates have been one of the main reasons why home values have increased in Fresno over the last twenty years. That along with a good job market and family fun activities means people are looking to move to Fresno.
Local Realtors In Fresno
Mortgage lenders in Fresno California work with local Realtors in the area to help homebuyers find that special home. Here are three local Realty companies you may want to consider if you are looking to purchase a home in the Fresno area.
Keller Williams – Fresno
The Keller Williams – Fresno office is located at 7625 North Palm, Suite #106 in Fresno. Their direct number is (559) 432-5533. According to their website "When you choose to work with a KW agent, you're partnering with a highly trained professional…."
Century 21 – Fresno
This realty company is also located on North Palm. The exact address to the Century 21 – Fresno office is 7520 North Palm, Suite 102, Fresno CA 93711. The direct phone number is (559) 432-1221. In addition to Fresno, this office offers services in Clovis, California as well.
Realty Concepts
The well-regarded realty company Realty Concepts is located at 575 East Alluvial Ave., Suite 101, Fresno, California 93720. The contact number for the main office is (559) 490-1500 (they also have an office in Oakhurst and Clovis).
Local Residential Appraisers
Here are a few local appraisal companies to consider for your next real estate transaction.
Fresno Appraisal Service
Fresno Property Values Appraisers is located at 6506 West Barstow Ave., Fresno, California 93723 and their direct contact number is (559) 761-2370. They handle all sorts of residential appraisal needs.
James G. Palmer Appraisals, Inc.
Located at 1285 West Shaw Ave., Suite 108, Fresno, CA 93711 James G. Palmer Appraisals, Inc. was founded in 1965 and per their website they offer"…independent, specialized appraisal services, tailored to their client's individual needs."
It Can Get Hot In Fresno
During the summer months, Fresno can get fairly hot; the average temperature in July and August is above 95 degrees. Fresno is home to several minor league sports teams including the Fresno FC U-23 (Soccer), Fresno Grizzlies (Baseball), and the Fresno Monsters (Ice Hockey).
Some of the largest employers in the area are Community Medical Centers, City of Fresno, Saint Agnes Medical Center, and California State University, Fresno.
Fresno FC U-23
The soccer club was formerly known as the Fresno Fuego FC. The team first started playing back in 2003 and was a PDL team. It's a development team for the top team which plays in the highest division of the USL (United Soccer League).
Saint Agnes Medical Center
According to their website, the mission of Saint Agnes Medical Center is to be "healing body, mind, and spirit…". The hospital first opened in 1929 and had 75 beds. The hospital has grown significantly since it's early days and now offers over forty areas specialized areas of care including Cardiac Rehabilitation, Neurology, Pulmonary Rehabilitation, and Robotic Surgery.
The Early Days In Fresno
Fresno in the 1940s was around 95% Caucasian and since then the city has grown more diverse. By some estimates, it's believed that the largest ethnic population is now Hispanic or Latino.
Fresno is home to some great restaurants and nightlife including the Tower District. The Fresno State Bulldogs sports teams are a source of pride for the city and the city puts on a Mardi Gras Parade every year.
Another exciting aspect of Fresno is the film festivals, and Island Water Park is one-way locals beat the heat during the hot summer months. The Shops at River Park offer three areas for shoppers Roeding Park provides hours and hours of family fun entertainment along with the Discovery Center.
An important part of Fresno California is agriculture and this industry provides many jobs to those that call Fresno home.
Low Fresno, California Mortgage Rates
Fresno, California mortgage rates are similar to those in other California cities and most lenders offer various fixed-rate mortgage and adjustable-rate mortgage loan programs. Between 2008-2012 home values in Fresno crashed as the country was recovering from the mortgage crisis. Since then home values have stabilized and more recently have risen as mortgage interest rates remain low.
According to Redfin the housing market in Fresno is "very competitive" as more and more people look to call Fresno, California home.
There are many reasons why people should consider moving to Fresno. Great neighborhoods, a good economy, affordable housing, and opportunities for higher education are some of the reasons why people are moving to Fresno. For the last twenty years, low mortgage rates in Fresno, California have enabled more people to buy homes. We expect this to continue as the economy continues to grow.
Additional California Cities:
If you're looking for additional information on another Central California city please be sure to visit the main Central California page.