By providing low mortgage rates in Hesperia, California along with fast closings and top-notch customer we've earned a top rating with the Better Business Bureau, the Business Consumers Alliance, and Zillow. Whether you are purchasing a home or refinancing a mortgage we have the loan options to meet your needs. Low down payments streamlined refinances, less than perfect credit and multi-unit rental properties are just some of the specialty loan programs we offer.
Contact me today for a no-cost/no-obligation quote and ask me how you can close in three weeks or less. 1-800-550-5538.
Mortgage Rates In Hesperia, California:
Hesperia, California Mortgage Calculator:
Using our Hesperia, California mortgage calculator to figure out your monthly mortgage payment is an essential part of buying a home or refinancing a current mortgage. Use our free Hesperia, California mortgage calculator to help you determine what you can afford and if you have questions please don't hesitate to ask!
Located In San Bernardino, County:
The city is located in San Bernardino County, California, with an estimated population of 95,274 according to the census report of 2018. This city located north of downtown San Bernardino in the Victor Valley portion of the Mojave Desert has a very unique and moderate weather pattern different from the rest of the county and is part of what is locally known as "High Desert". Hesperia is a city in the Mojave Desert, neighbors with Victorville, Oak Hills, Apple Valley, and meets the desert by the east.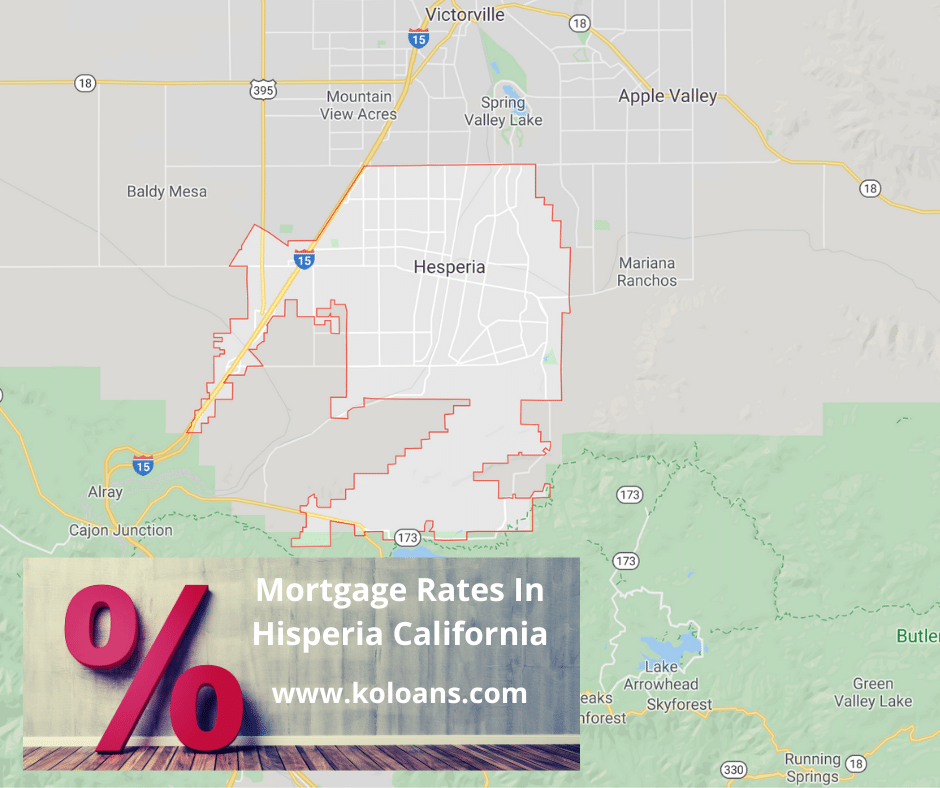 Learning About Hesperia:
Hesperia was named after the Greek god of the west "Hesperus".
Hesperia was annexed alongside Southern California, by the United States after the Mexican-American war which ended in 1848 but the first trace of habitation dates back to 1781 when it was sparsely occupied by the Serrano Indians who lived in the normally dormant Mojave River bed.
During the several attempts to encourage colonization & Subdivision, 35,000 acres of land purchased for $40,000 by Max Stobel from the United States Government Land Office were used for agricultural purposes, with raisin grapes the primary product.
It was not until 1891 that the townsite was laid out by railway land developers who published pamphlets distributed across the country with boosted of Hesperia, California, as a potential metropolis: to become "the Omaha of the West" and projected to attract over 100,000 people to this rising city by 1900, but to their greatest disappointment, only 1,000 people moved in.
Land developer M. Penn Phillips and his silent financial partner, the famous boxer Jack Dempsey, played a major role in constructing this city which attracted a wave of newcomers in the 1990s and a larger population in the early 2000s.
Hesperia was incorporated as a city in 1988, it created its own fire protection district which lasted through 2004. The city now has a contract with the San Bernardino County Fire Department for fire and emergency medical services.
[elementor-template id="17290″]
Living In Hesperia:
The Census reported that 90,145 people (100% of the population) lived in households, 22 (0%) lived in non-institutionalized group quarters, and 6 (0%) were institutionalized.
There were 26,431 households, out of which 13,175 (49.8%) had children under the age of 18 living in them, 14,797 (56.0%) were opposite-sex married couples living together, 4,219 (16.0%) had a female householder with no husband present, 2,130 (8.1%) had a male householder with no wife present.
There were 1,997 (7.6%) unmarried opposite-sex partnerships, and 182 (0.7%) same-sex married couples or partnerships. 4,036 households (15.3%) were made up of individuals and 1,660 (6.3%) had someone living alone who was 65 years of age or older. The average household size was 3.41. There were 21,146 families (80.0% of all households); the average family size was 3.76. This city has a very low number of homeless people.
The Local Economy:
With 23.1% of the Hesperia population living below the federal poverty line and a median household income of $46,027, Hesperia is not the place to find a line-up of millionaires.
Below is the list of top 5 companies with the highest number of employees.
Hesperia Unified School District 1,931 workers
County of San Bernardino with 501 workers
Stater Bros. 408 workers
Arizona Pipeline Company 255 workers
Super Target 233 workers
Low Hesperia, California mortgage rates and a good local economy have been a benefit to the local housing market over the last thirty years.
Educational Opportunities In Hesperia:
Hesperia is lined with a plethora of schools both, public and private, which serve the city. Every year the Hesperia and Sultana High School football teams compete in a game known as the "Key Game," where whoever wins for that year gets the key to the city, a little sporting event to help encourage kids to stay in school.
Notable People From Hesperia:
Hesperia is a city that has produced a lot of celebrities and notable people in our society today, they include;
Dan Henderson, (UFC) fighter
Joel Pimentel, musician, singer, member of Latin American boyband CNCO
The Young Bucks, pro wrestling tag-team
Marcel Reece, former Fullback for the Oakland Raiders
Low Hesperia, CA Mortgage Rates:
Great neighborhoods, fun family attractions, and a good economy are just some of the reasons why so many people call it home. Historically low mortgage rates in Hesperia, California have enabled more first time home buyers to buy that first home. This trend should continue as more companies continue to expand. Our goal is to continue to provide low rates, fast closings and exceptional service to each and every homeowner in Hesperia, CA.
Additional California Cities:
If you're looking for additional information on another Southern California city please be sure to visit the main Southern California page.