Buying a home is one of the most exciting, yet stressful, times in someone's life. Many would-be homeowners would prefer to be thinking about paint colors, flooring options, and drawing up plans for a big kitchen remodel.
But before all that can happen, before you actually own the house you have to do something that is essential to buying a home and that is the Home Inspection.
In fact, there are two things you'll probably do when you buy a home; a Home Inspection and a Home Appraisal. In this post, I'll cover the Home Inspection and in a separate post, I cover the importance of a Home Appraisal.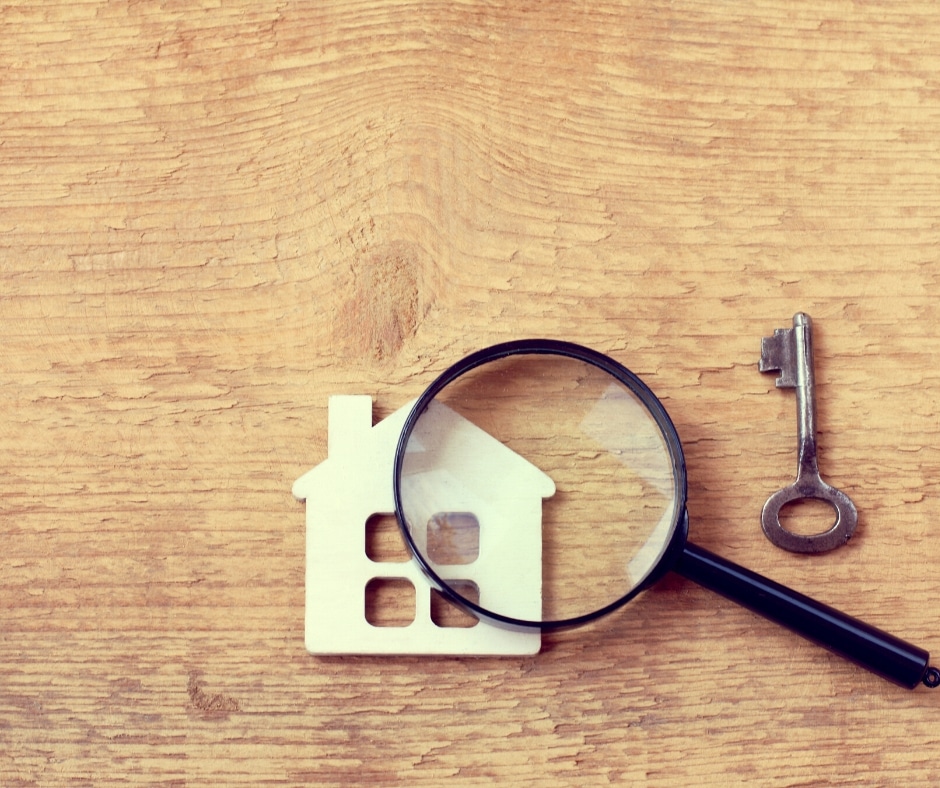 What Is A Home Inspection?
This is when you hire someone to inspect the home you are buying to see if there are any noticeable issues with the property. The inspector is usually someone who is certified to inspect residential homes and is experienced with home repairs and home building codes.
Depending on the size of the home the actual home inspection usually takes two hours; sometimes three and they will walk around the entire home, inspect the outside walls, a roof inspection (more on that below), the foundation of the home, and all the rooms inside. They'll test out the plumbing and electrical work along with all the appliances.
They'll also check out the furnace, water heater, and if one is installed at the property the Air Conditioning unit.
Some additional items they'll look for are wood damage, insulation (attic and walls), water damage, and code violations. If there is an outside deck they'll do a visual inspection of that as well. Does the home have a fireplace? The inspector should also take a look at that along with the Chimney.
They basically are a finder of damage and a tester to make sure everything works.
Here Is What A Home Inspector Won't Do
Why Do I Need A Home Inspection?
The report will give you an inside-out look into the home you are buying. Unless you are a professional contractor it's highly suggested you hire a Home Inspector so that you obtain a non-bias report on the condition of the home.
Home Inspectors wont do repairs
A home inspector will not do repairs or make a definitive determination of what repairs are needed. Let's say that the inspector tested one of the electrical outlets and there appears to be a problem with that outlet. The inspector will not offer to fix the electrical outlet but will make a note in the report that it's not working.
The report will not say if the home has an electrical wiring problem just that one outlet was not working and that you should look further into it by hiring an electrician.
Another example would be if the inspector found a water stain on the ceiling just below a hallway bathroom. He/she will not offer to try and find and fix the leak but will make a note in the report of the water damage. The report will also suggest you hire a licensed plumber to determine where the leak is coming from and to repair the problem.
A Home Inspector will not repair a home to meet local building codes but they may point out in the report areas of the home that are not up to "code"
Where To Find A Local Home Inspector
You have a couple of different options for this. First, ask your Realtor for two or three referrals. I would also visit Yelp, Angie's List and the Better Business Bureau online so you can find the right home inspector for your transaction. Suggestion – when calling around make sure you ask the following questions:
Do you go on to the roof to complete a roof inspection?
Is there anywhere in the home you will not go/will not inspect?
Seems a bit silly but some Home Inspectors won't go on to the roof; either by choice or because their insurance won't allow them to (Home Inspectors are supposed to carry an insurance policy).
In addition to roofs, some inspectors will not crawl underneath a house or into small spaces so that is something you'll want to know upfront before ordering a Home Inspection.
How Much Does It Cost?
The good news is that it is generally less than the cost of an appraisal. While the actual cost varies from city to city most buyers will pay between $300 and $400 for the report. Not bad when you consider the fact that they might find a repair that's needed or something that needs to be replaced. Some home repairs can cost thousands of dollars; especially if it's an electrical or plumbing issue.
When Do I Order The Inspection?
The Home Inspector is hired just after you and the seller agree on a price and the home enters the escrow period. Usually, within the first five days, an inspection is done and they deliver the report one to three days after the inspection. Most people complete the Home Inspection before they order the Appraisal.
Does A Lender Require A Home Inspection In California?
Usually not. It's been my experience that a lender will only require the report if the Appraiser makes a note in the appraisal report that there is an issue with the home. A cracked foundation, rotting wood, visible water damage inside, etc.
Pest Inspection
A Pest Inspection is a bit different than a Home Inspection and is usually done by two different people/companies. If in your Home Inspection report there is a note that the inspector saw evidence of pest damage or just that pest might be an issue then you would want to order a Pest Inspection.
A Pest Inspector will come out to the home and inspect in detail all the problem areas noted in the report as well as look in places the Home Inspector probably didn't look. The job of the Pest Inspector is to not only find bugs and animals but also if they caused any damage. And if they are present and/or caused some damage then the inspector will offer a way to solve and repair the problem.
Foundation Inspection Report
If your Home Inspector claimed that there might be an issue with the foundation then you'll want to obtain a Foundation Inspection report from a structural engineer. Sounds expensive but it's way less money than buying a home that needs a massive amount of foundation work.
The cost of the Foundation Inspection varies from city to city but generally should not run more than $400 – $500. Repairing a foundation could end up costing thousands and thousands of dollars so if there is a potential issue make sure you obtain a Foundation Inspection report.
Will A Home Inspection Affect My Mortgage Rate?
No; there is no impact on your mortgage rate. It might have an impact on your loan approval tough. If the lender reviews your inspection report and sees notable property damage they may turn down your loan application altogether.
Tip On Completing The Home Inspection
Be sure to shop around and ask questions. In fact, call at least three to four inspectors and make sure you ask them some good questions about what they do and what to expect. And if one or two of them seem like they're "too busy" to answer your questions then just move on to the next. Hiring the right Home Inspector is an important part of the home-buying process.