Record low mortgage rates in Lancaster, California have helped increase home values over the last twenty years. As a licensed Loan Officer with over 15 years of experience, I work hard every day to make sure each and every client secures a low mortgage rate at incredible terms.
If you live in Lancaster and are looking to refinance a current mortgage or purchase a home we have the loan programs to meet your needs. Our company provides a streamlined experience to ensure your loan is processed efficiently. We offer industry low mortgage rates in Lancaster, California, fast closings and personal one-on-one service. Contact me directly for a no-cost/no-obligation quote.
Mortgage Rates In Lancaster, California:
Lancaster California Mortgage Calculator:
Using our Lancaster, California mortgage calculator to figure out your monthly mortgage payment is an essential part of buying a home or refinancing a current mortgage. Use our free Lancaster, California mortgage calculator to help you determine what you can afford and if you have questions please don't hesitate to ask!
The City Of Lancaster:
Located in northern Los Angeles County, in the Antelope Valley of the western Mojave Desert in Southern California, Lancaster is the 33rd largest city in California and the 5th largest in Los Angeles County.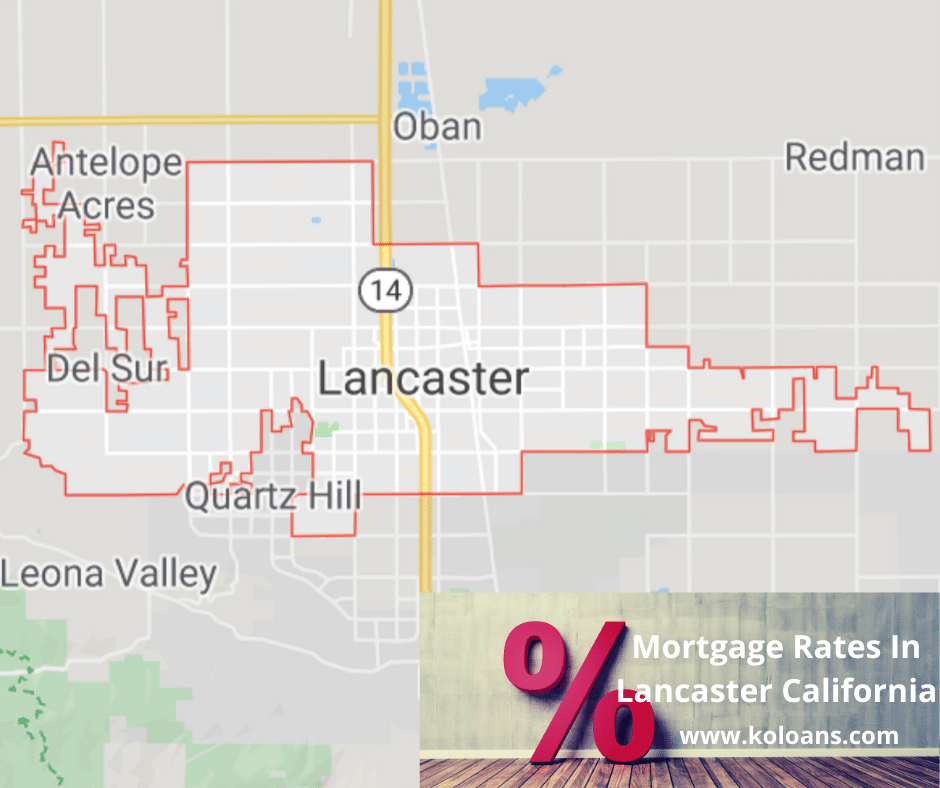 Lancaster offers a relaxing environment away from the hustle and bustle of the major cities with so many fun activities for both adults and kids to enjoy like "The Streets of Lancaster Grand Prix"; an annual professional go-kart racing event which began in October 2009 and pulls a major crowd to downtown Lancaster to witness three fun-filled days of festivities.
Every June, the city hosts the annual Miss Lancaster Pageant which paves way for the annual Miss Antelope Valley Pageant in September. The winner of the first pageant represents Lancaster at the Antelope Valley Pageant and becomes the ambassador for the Lancaster Chamber of Commerce.
From beer tasting at Kinetic Brewing Company, a microbrewery that offers even gluten-free beer to checking out American Indian artifacts at The Antelope Valley Indian Museum in the Mojave Desert or attending the street fair and farmers' market, "Celebrate Downtown Lancaster" which holds multiple times during the summer, Lancaster boasts of activities that keeps the entire family entertained.
Lancaster has several tourist attractions ranging from parks to a museum, the Aerospace Walk of Honor; a monument in honor of recognized pilots and even a baseball team so, if you're making plans to visit Lancaster, here are a few must-see places you can't miss.
The Antelope Valley California Poppy Reserve:
Full of gorgeous wildflowers that bloom in the spring, the state-protected reserve is one of the major tourist attractions this side of downtown. Just after the full bloom, the annual California Poppy Festival which holds at the reserve brings even more visitors into town for two fun-filled days of music, dance, food, and art.
Realtors In Lancaster, California:
Here is a list of Realtors in the area. As a Lancaster California mortgage lender, we can work with various Realtors throughout the city.
RE/MAX All Pro:
The main office for RE/MAX All Pro is located at 43832 20th Street West, Lancaster, CA 93534 and the CalBRE number is #01900294. Realtors include Ernesto and Olivia Lugo, Jimmy Mora, Erin Lund, and Dennis Lopez.
Berkshire Hathaway HomeServices Troth:
The central location for Berkshire Hathaway HomeServices Troth is 1801 W. Ave K in Lancaster and their CalBRE number is 00829744. Realtors include Beverly Lydon, Angela Helton, Tessa Bresnahan, and Brett Roof.
Century 21 Yarrow & Associates:
Century 21 Yarrow & Associates is located at 44143 20th Street W in Lancaster (zip code 93534). Realtors include Edith Alvarez, Ingrid Alvarez, Shawny Barcelona, and John Barris.
Real Estate Appraisers in Lancaster:
While some loan applications receive an appraisal waiver most have to do an appraisal inspection when refinancing a current mortgage our buying a home.
Beeman Appraisals:
With over 14 years of experience, Beeman Appraisals has the experience most homeowners are looking for. In addition to Lancaster, they also provide appraisal services in Castaic, Palmdale, and Valencia.
Tip Top Appraisal LLC:
Tip Top Appraisal is an Appraisal Management Company (AMC). This means they put together Lenders and Appraisers for both purchase and refinance transactions. They can arrange both Conventional and FHA appraisal services.
Sanchez Appraisal Services:
They believe "the role of the appraiser is to provide objective, impartial, and unbiased opinions about the value of real property…". Sanchez Appraisal Services not only serves Lancaster but also Castaic, Newhall, Rosamond, and Sylmar.
Home Builders In Lancaster:
Beazer Home Sunset Landing and Pacific Communities Builder are two well-known home builders in the Lancaster area. If you are looking to build a home or purchase a newly built home make sure you take the time to evaluate all your options. Picking the right home is so important so don't rush the process.
The Civic Musical Road:
The first musical road in the USA, the Civic Musical Road was originally installed on the 5th of September by Honda as part of a commercial. The musical road on Avenue K which played the part of the finale of the William Tell Overture was paved over on the 23rd of September after several noise complaints.
Not to worry, after residents spoke in favor of the road, the Civic Musical Road was recreated on the 15th of October 2008, two miles away from any residence on Avenue G.
The Lancaster Jethawks What could be more exciting for a baseball fan visiting Lancaster than a trip to "The Hangar", the Jethawks Stadium in Lancaster to watch a baseball game?
The Jethawks is a minor league baseball team and the only baseball team in the entire Los Angeles County. With their successes over the years, a game at the hangar promises to be interesting and fun-filled. Ensure you purchase a ticket as early as possible because the stadium can only seat 4,900 people and as such, tickets sell out quickly.
BLVD Farmers' Market:
Partnered with raw Inspiration, a non-profit operator for California Certified Farmers Markets, Lancaster hosts the BLVD Farmers' Market every Thursday. It is the perfect place to find fresh produce, local gifts, new recipes, food, drinks, and a little fun.
The Kill Bill Church:
Looking for a thrill? Visit The Sanctuary Adventist Church, a fully functional church where the wedding massacre in the movie "Kill Bill" occurred. If you're a diehard fan of the movie, being in the church would leave you picturing the scene over and over again and painting a picture on a canvas in your mind.
Lancaster Monument of Art and History:
Dedicated to preserving the art, culture, and history of the Antelope Valley, the Lancaster Monument of Art and History museum offers exhibitions to visitors looking to know a little more about Antelope Valley. Exhibitions vary from war collectibles to sculptures, art, and even native artifacts.
American Heroes Park:
A 12-acre recreation facility built in honor of local fallen heroes who gave their lives protecting America. The park offers picnic areas, playgrounds, ball courts, soccer fields and more.
Lancaster Performing Arts Center:
Established in 1991 to provide financial support to the Arts for Youth Program, the center has programs like The Show of Gymnasts, National Circus of The People's Republic of China and many more. Looking to visit the art center? Ensure you book your tickets early as those slips sell out pretty fast especially during the holiday season.
Additional California Cities:
If you're looking for additional information on another Southern California city please be sure to visit the main Southern California page.