Working with an experienced Loan Officer and a company with a stellar reputation is one of the easiest ways to obtain a low mortgage rate in Long Beach, California. I have over 16 years of experience as a Loan Officer with a five-star rating on Zillow.
If you are looking to purchase a home or refinance a mortgage you can contact me directly for a no-cost/no-obligation quote.
Mortgage Rates In Long Beach, California
Most Popular Mortgage Rates In Long Beach
Homeowners in Long Beach, CA usually chose one of the three most popular mortgage rate options for both refinance and purchase transactions. Here are the three most popular mortgage rates in Long Beach:
30-year fixed-rate mortgage
20-year fixed-rate mortgage
15-year fixed-rate mortgage
And if we have to pick the most popular mortgage rate, that would be the 30-year fixed. The main benefit of a 30 year fixed rate is that your rate and your monthly payment never change. One additional benefit is that it provides for the lowest monthly mortgage payment out of the three options.
But you want to payoff your home mortgage as fast as possible?
Then you should go with the 15 year fixed rate mortgage. It provides the same benefit of the same mortgage rate and same payment each month but in addition to that you will pay off your home much faster! There is one downside though, your monthly payment is significantly higher when compared to the 30 year fixed rate option.
If you do go with the 15 year fixed rate mortgage please make sure the monthly payment fits within your budget.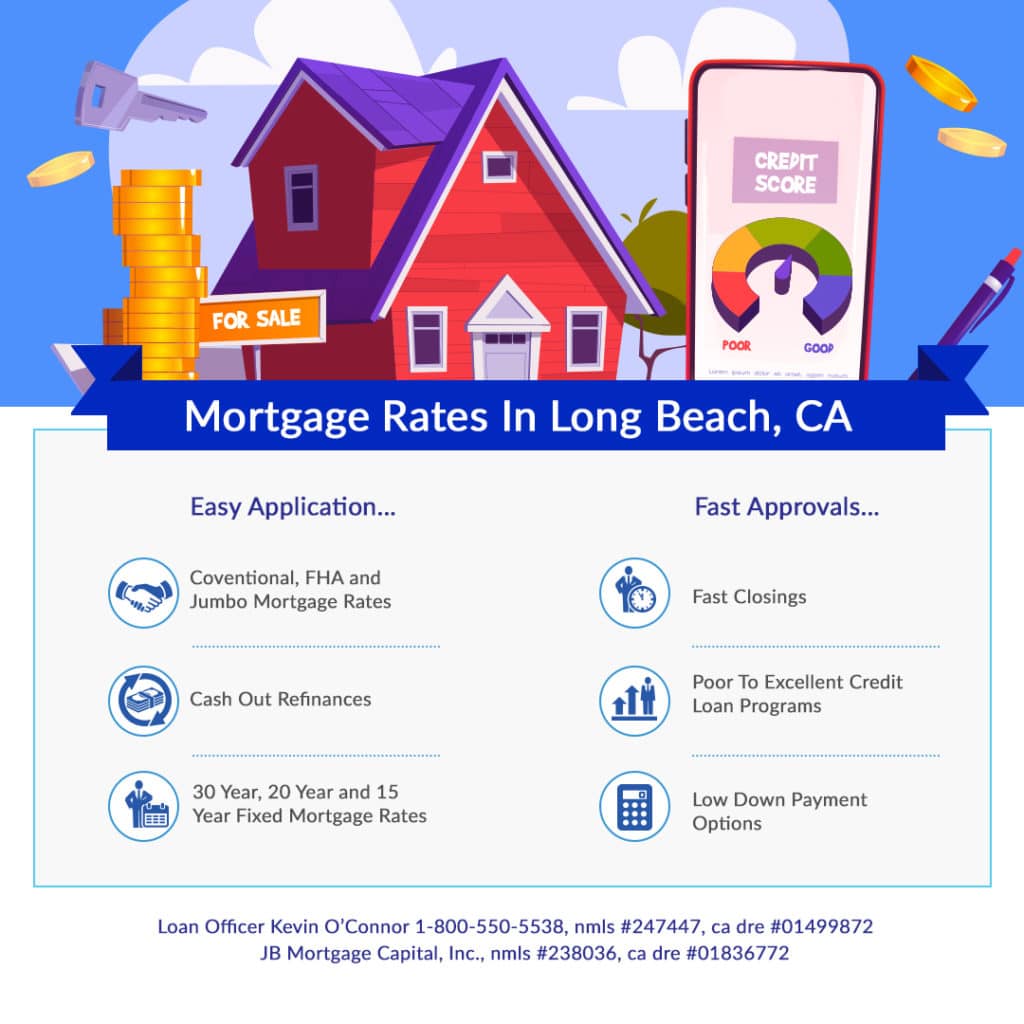 Ten Tips To Obtain A Low Mortgage Rate
Buying a home or refinancing your existing mortgage is a big deal. You want the best mortgage rate possible, but not everyone will get it.
How do you make sure you're among the elite who secure the lowest rates?
Check out our top ten tips to get the most attractive mortgage interest rates below.
Fix Your Credit Score
Do you know your credit score or credit history? If not, everyone has free access. Pull your credit history for free annually and monitor your credit. If you'd rather know your score, ask your bank or credit card company if they offer free credit score reporting, most do.
Here's what to look for:
Late payments – Bring them current fast
High credit usage – Pay your credit balances down to 30 percent or less of your credit line
Collections or judgments – Pay them off or make paymentarrangements with the creditor
Mistakesor fraudulent information – Dispute any incorrect or inaccurate information with the reporting credit bureau
Save Money For a Down Payment or Home Equity
The less money you borrow compared to your home's value, the lower the rate lenders offer.
Each loan program has a different down payment minimum, but the more money you put down, the less risk lenders take. A higher down payment often equates to a lower interest rate and better terms.
Pay Down Your Debt
Your debt-to-income ratio, or your income committed to monthly payments affects your loan approval and mortgage rate.
The more debts you have, the higher your DTI. This puts lenders at risk of default. The more risk a lender takes, the higher the interest rate they charge. Work on paying your debt down before you apply for a mortgage for the best results.
Choose The Right Loan Type
Lenders base your mortgage rate on your loan type. Adjustable rate loans have lower interest rates to start, but the rate adjusts annually after the initial period. The introductory period lasts from 2 – 10 years depending on the chosen term.
Fixed loans have rates slightly higher than ARMs, but the rate remains fixed for the loan's term. It never adjusts unless you refinance or sell the home.
Choose The Shortest Term You Can Afford
Choosing the shortest term you can afford may provide you with a lower interest rate. For example, if you can afford a 15-year payment rather than a 30-year, you could score an interest rate 0.5 – 0.75 percent lower than a 30-year loan.
Even if you can't afford a 15-year payment or don't want to risk it, consider a different term. Lenders offer 20 and 25-year terms too.
Pay Discount Points (sometimes)
If you've done everything you can to get a lower interest rate and still want to lower it, consider paying discount points. One discount point equals 1 percent of the loan amount and lowers your rate by around 0.25 percent.
Before you pay discount points, make sure it makes sense to do so. How long will you be in the home? Is it worth the extra cost? Will you be in the home long enough to recoup the costs and still enjoy the savings?
Shop Around With Reputable Lenders
No two lenders offer the same mortgage rate and terms. Shop around with at least three lenders to get a feel for what each will offer.
When you receive the quotes, compare them to each other. Only compare 'apples to apples,' though. For example, don't compare an ARM loan to a 30-year fixed rate. The rates won't be the same because the terms and types of loans differ.
Look not only at the interest rate but also at the big picture. What does the loan cost over its term? That's the best way to make your decision.
Pay All Your Closing Costs (if you have them)
If you ask the lender for help with closing costs, they may help but charge a higher interest rate.
Lenders give up profit when they pay your closing costs. But when they charge a higher interest rate, they make up the difference. If you pay all your closing costs, you don't need help from the lender, which may allow them to give you a lower rate.
Have Compensating Factors
If you have any negative qualifying factors, like a higher debt-to-income ratio, or lower credit score, have qualifying factors that offset it. For example, if you have a low credit score, but you have a low debt ratio and 12 months of reserves on hand, you make up for your lower credit score.
Lenders base their mortgage rate on your risk of default. The more factors you have to offset the risk, the lower the rate they'll give you.
Lock In Your Mortgage Rate
Once rates hit where you want them, ask your lender to lock it in. This only works if you've found a home and are in the midst of underwriting. In other words, you need a loan in the process to be able to lock in a mortgage rate.
You can lock a loan for 30 days on average, but if you need longer you can extend it at a cost. You'll get the best rates by locking your rate in for 30 days, so try to time it with your loan officer.
Long Beach, CA Mortgage Calculator
Using our Long Beach, California mortgage calculator to figure out your monthly mortgage payment is an essential part of buying a home or refinancing a current mortgage. Use our free Long Beach, California mortgage calculator to help you determine what you can afford and if you have questions please don't hesitate to ask!
Reasons To Live In Long Beach
Long Beach is impressive enough when its specific positive aspects are considered individually, but when the sum of these positive aspects is gauged, the full appeal and value of the city become clear.
Outstanding schools, solid home values, a diverse local economy, an abundance of financial service providers, a young and vibrant population, a prominent location relative to other California cities, and, of course, a coastline to dream of all make Long Beach what it is. Furthermore, these things are what have prompted so many individuals to call Long Beach home.
Housing And The Economy
Long Beach's economy and real estate market have long been bustling, and analysts are optimistic that the future will bring much of the same. The city's median home value is over $522,000—well above the national average—and about 80% of homes in the city have sold for greater than $279,000.
It should be noted that much of the appeal of LB homes can be attributed to the quality work of local interior designers, who, for many years, have helped Long Beach residents (and sellers) to achieve the perfect living space. Alice Friedmann Interior Design, Sasha Witte Design, and Red Door Living are just some of Long Beach's many interior design professionals.
A Growing City
It's not a coincidence that nearly half a million individuals have found their way to Long Beach, CA since it was incorporated in 1897; Long Beach is the seventh most populous city in California.
It is conveniently located just twenty-two miles from Downtown Los Angeles, is home to kind and helpful locals, boasts solid schools and financial institutions, and features a fabulous Pacific Ocean coastline. The sum of these things is a low-stress and high-excitement style of living that Long Beach locals swear by. Moreover, as residents and prior visitors can attest to, the city's nickname—"The Aquatic Capital of the World"—is fitting.
Lot's Of Entertainment Options
Long Beach's entertainment opportunities are some of the most diverse—and underrated—in all of California. Hitting the beach for an afternoon of swimming, relaxing, and fun never gets old, nor do Long Beach's many parks and outdoor activity centers.
The Long Beach Museum of Art and the Museum of Latin American Art give visitors an up-close look at some of the most unique and exciting art in the world, and the Long Beach Symphony, which plays a number of shows annually, provides exhilarating live-music experiences. Lastly, the Aquarium of the Pacific, a five-acre public aquarium, showcases some of the most intriguing fish, sharks, dolphins, and other underwater creatures.
Near Los Angeles
Long Beach is a little less than 30 miles away from downtown Los Angeles and provides many opportunities for those seeking some vacation fun. The biggest attraction are the beaches, boating, and various outdoor activities. Of course, there is the famous Queen Mary, Port of Long Beach, the Long Beach Aquarium and Battleship Iowa to visit as well. Long Beach has one of the largest shipping ports in the entire world and is a significant player in the oil industry.
Educational Opportunities
Most Long Beach students attend schools operated by the Long Beach Unified School District, which has historically received high marks from students, parents, and auditors. Parents and students can also choose from Long Beach's extensive collection of private schools, and in terms of higher education, California State University, Long Beach and Long Beach City College cater to college students from Long Beach and around the country.
As was mentioned, Long Beach's financial institutions are reputable and reliable. Briefly, these institutions include LBS Financial Credit Union, U.S. Bank, Nuvision Credit Union, and Westcom Credit Union, amongst many others. At these establishments, it's not difficult to find a helpful face and the assistance you need.
Population Diversity
Long Beach's population is young and active—just 10% of residents are over the age of 65—and the location's employment sectors are diverse; this diversity, which generally renders local economies more resistant to financial downturn, is cited by many analysts as one of Long Beach's "market strong points."
About 13% of Long Beach employees work in healthcare, and about 10% work in manufacturing, retail, education, or accommodation. Moreover, about 3-6% work in transpiration, construction, administration, finance, and public service. Hundreds of languages are spoken among residents in the Long Beach area and the population is very diverse.
Getting The Best Mortgage Rate In Long Beach, California:
Are you buying a home or refinancing a high rate mortgage?
Then you're probably focused on getting a low rate mortgage. But wait! There is more too it then just locking in the best mortgage rate you can find. You have to ask one important question to really know if it truly is the best mortgage rate you can possibly get.
What are the fees?
That's the most important question you can ask when you begin your search for the best mortgage rate possible. It doesn't matter if you get the best rate ever if you end up paying thousands and thousands in fees.
Fees matter when talking about the best mortgage rate so it's important you take the time to review the TOTAL cost of the loan and then make a decision on which lender has the best mortgage rate.
Visiting Long Beach?
Visiting Long Beach is fairly easy as there are many airports in the area or you can simply drive to Long Beach if you live close enough. If you plan on buying a home, and/or an investment property be sure to contact a local real estate agent to help you find the best property to meet your needs. While looking for that special property you can also contact several mortgage lenders to get an idea of what you qualify for and current mortgage rates.
Homeowner Resources – Long Beach
There are many reasons why people should consider living in the LBC. Great opportunities for families, jobs and higher education are just some of the reasons why so many people call it home. Historically low mortgage rates in Long Beach, California have enabled more first time home buyers to purchase their first home. This trend should continue as both the jobs market and the economy continue to grow.
It's possible to get a low mortgage rate today. If you maximize your qualifying factors and show lenders you are a good borrower, you'll be on your way to the low rates you want.
If you're unsure about your qualifying factors, get pre-approved from a lender. See what they offer you and if it's not the low rates you were hoping for, discuss how you can improve your qualifying factors to get the low mortgage rate you had in mind.
Conforming and Jumbo Loan Programs
Both Conforming and Jumbo loans are popular in Long Beach. The most popular loan program tends to be the 30 year fixed rate mortgage since it provides for a long-term fixed rate and a lower payment (when compared to the 20 or 15 year fixed rate term.
There is a mixture of homebuyers that have as little as a 3.5% down payment to those putting 20% or more down. Long Beach, California mortgage rates can be obtained from a wide variety of mortgage lenders and banks that offer both Conforming and Jumbo loan programs.
FHA home loans in Long Beach
Some homeowners take advantage of the various FHA home loan programs which allow those with less than perfect credit to buy (or refinance) a home with only 3.5% down. FHA also offers a Streamlined refinance program that's one of the fastest and easiest ways to refinance your home.
You must currently have a FHA loan, not missed a payment over the last year along with some additional criteria. Then there is the FHA home renovation loan. This is a great option for those looking to renovate/repair a home they are buying or refinancing.
The Consumer Financial Protection Bureau
You've probably heard the acronym "CFPB" or maybe even the name "Consumer Financial Bureau" but you're not not sure what it actually is or does. Well don't worry, you're in the same boat as millions of other Americans.
The Consumer Financial Protection Bureau (aka CFPB) is a nationwide federal government agency that offers educational products to consumers and combats predatory lending. Homeowners in Long Beach, CA have access to the educational tools the CFPB provides and they are also able to contact the CFPB should they have an issue with a lender.
We encourage all our clients to utilize the educational tools the CFPB provides to help them better understand the mortgage process.
The California Department of Real Estate
The Californian's have the California Department of Real Estate (California DRE) is a statewide organization that works on behalf of consumers looking to purchase real estate and/or obtain a new mortgage. Both Realtors and Loan Officers are required by law to be licensed with the state of California. So if you come across a Real Estate Agent and/or a Loan Officer that is not licensed by the state then be sure to move on and find a new person to work with.
The California DRE enforces state regulations for both real estate and mortgage transactions along with providing licensing tools to industry professionals and educational material to homeowners (and buyers).
They are a great resource and we encourage all of our clients to use them!
Long Beach Housing
Housing varies greatly in Long Beach from Single Family residences to Condominium, and Multi-Unit properties. Co-ops are not popular in Long Beach and living in this coastal area of California can be expensive. Mortgage rates are competitive in Long Beach and are similar to rates found in other California cities.
Long Beach, California mortgage rates can be found from a wide variety of mortgage lenders throughout California. Residents of Long Beach can choose between local credit unions, California based banks, national banks, online mortgage companies, direct lenders and mortgage brokers for the mortgage needs.
Terms are available for primary residences, secondary/vacation homes, and investment properties. When seeking a new mortgage with a low rate, be sure to contact us for a no-cost/no-obligation quote.
Local Realtors In Long Beach
Long Beach mortgage lenders work hand in hand with local real estate agents. Here are three agents you might want to consider if you are looking to purchase a home in the Long Beach area.
First Team Real Estate – Long Beach
Located at 3626 Long Beach Blvd., Long Beach, CA 90807 First Team Real Estate – Long Beach is a well regarded real estate company that covers Long Beach as well as Belmont Heights, Bixby, and Los Cerritos. Their contact number is (562) 270-0688.
Berkshire Hathaway HS CAprops
Berkshire Hathaway HS CAprops is the agency for Cindy Stockton, a well-regarded Realtor in the Long Beach community. Located at 356 Redondo Ave., Long Beach, CA 90814. Her contact number is (562) 685-9000.
Anderson Real Estate Group
Anderson Real Estate Group is apart of the Keller Williams Pacific Estates realty company. Located at 2883 East Spring Street Suite #100, Long Beach, CA 90806. You can contact them at 1-800-784-2616. According to their website "….the Anderson Real Estate Group is a collective of inspired, exceptional individuals committed to working together and being the best."
Local Long Beach Appraisers
Two well known local appraisers in Long Beach are Appraisal Care located at 3553 Atlantic Ave., Suite 162, Long Beach, CA 90807 and Appraisal Solution at 2516 Knoxville Ave., Long Beach, CA 90815.
Local Home Builders
If you are looking to purchase a new home in Long Beach you can either buy a new home that's just been built or you can hire someone to build you a fully custom home. Here are three local home builders you might want to consider.
7 Point Construction
Located at 201 Covina Avenue Suite #4, Long Beach, CA 90803, 7 Point Construction is fully Bonded and Insured. You can contact them directly at (800) 784-0236.
Tim Stuart Builder
Tim Stuart Builder is located at 3632 East Vermont Street, Long Beach, California, 90814.
Long Beach Building Contractors
According to their website, Long Beach Contractors are "…constantly working to raise the bar on our services." They are located at 2325 Lewis Ave, Signal Hill, California 90755. Signal Hill is a neighborhood within the Long Beach area.
Additional Southern California Cities
If you're looking for additional information on another Southern California city please be sure to visit our main Southern California mortgage rates page.