Low mortgage rates in Merced, California, and a solid economy have helped push home values higher over the last twenty years. As a licensed Loan Officer with over 15 years of experience, I work hard to make sure each and every client secures a low mortgage rate at incredible terms.
If you live in Merced and are looking to refinance a current mortgage or purchase a home we have the loan programs to meet your needs.
Our company provides a streamlined personal experience that empowers our clients and enables them to focus on what matters to them. We offer industry low mortgage rates in Merced, California, fast closings and personal one-on-one service.
Mortgage Rates In Merced, California
Merced California Mortgage Calculator
Using our Merced, California mortgage calculator to figure out your monthly mortgage payment is an essential part of buying a home or refinancing a current mortgage. Use our free Merced, California mortgage calculator to help you determine what you can afford and if you have questions please don't hesitate to ask!
Living In Merced, California
Merced named after a river that flows nearby Merced River which means "Mercy" in Spanish, this is a city situated in Merced County, California, United States, in the San Joaquin Valley, with an estimated population of 83,316, this city experiences its hottest period in July and it's coldest in January.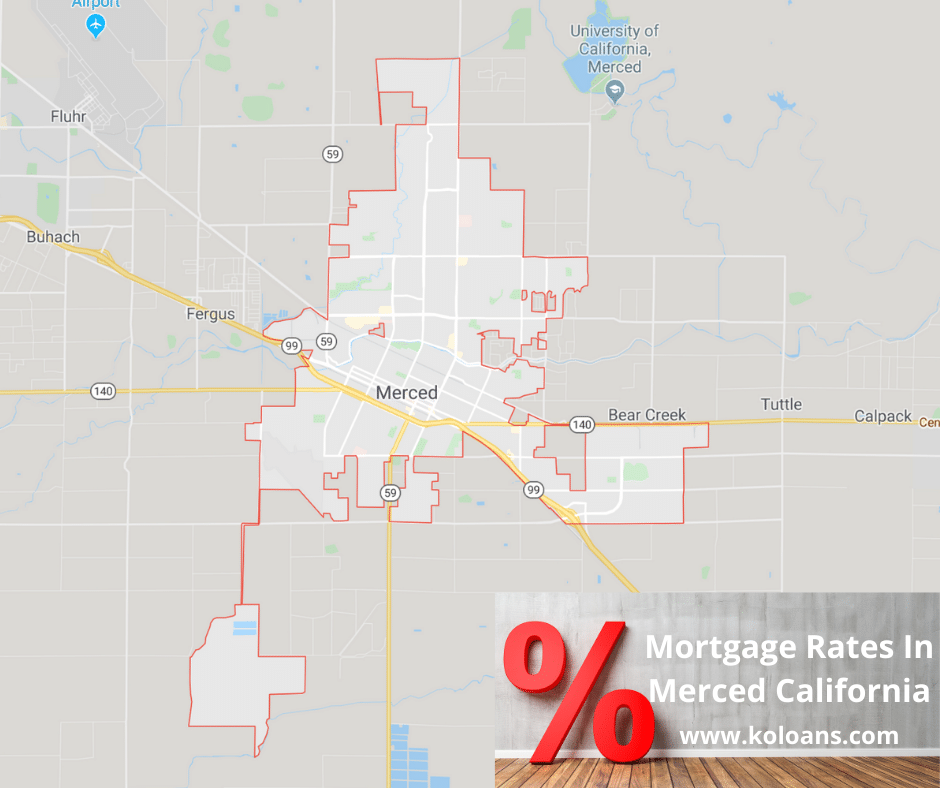 This city was incorporated on the 1st of April 1889 and runs as a charter city which means it operates under a council-manager government. The last Census carried out in Merced city reported that out of its total population (98.6% of the population) lived in households, 492 (0.6%) lived in non-institutionalized group quarters, and 588 (0.7%) were institutionalized.
The History Of Merced
The first Merced post office opened in 1870 long before the city was incorporated in 1889 the city now operates under the Council-Manager form of government.
Merced county grounds during the world war II was known as an "assembly ground" where detained Japanese Americans after been removed from their homes. The assembly ground was functional between the months of May through September 1942 before they were transferred to a permanent place in Colorado. Over 4000 (men, women, and children) were held at "The assembly ground".
Economy
After suffering a great blow during the great recession of 2008, the city has managed to revive its economy by welcoming more diversified industries including printing, fiberglass boat building, warehousing and distribution, and packaging industries. Here is a list of these cities top 5 employers;
County of Merced 2,028
University of California, Merced 1,602
Mercy Medical Center Merced 1,200
Merced City School District 1,141
Merced Union High School District 949
Shopping In Merced, CA:
Merced, California has several local shopping areas including the Merced Mall. Target, JCPenney, and Kohl's all have a presence in the mall which is a popular destination for families living in the area.
There is another mall, located on the city's northwest side, which includes the electronics store Best Buy, the book store Barnes & Noble, the hardware store Lowe's, and of course, there is a Wal-Mart. Merced's Main Street contains several restaurants, a movie theater, and other assorted shops.
Thanks to agribusiness and the now-defunct Cast Air Force Base, the city of Merced has been able to revive its economy.
Realtors In Merced, California
If you are buying a home in Merced then you'll want to hire a Realtor to represent you. Someone with experience and knowledge of the local market. Having a great Realtor is just as important as finding a mortgage lender with low mortgage rates.
Merced mortgage lenders work with many different Realtors throughout the city. There are many Merced, California mortgage lenders to choose from and it's important you pick a lender that has a great reputation.
Soldavi Realty:
Armando Diaz is the founder and CEO of Soldavi Realty. The company is located at 2830 G Street Suite B Merced CA and their CalBRE license number is 01920254. Additional Realtors include Rachelle Santos, Jose Lopez, Cesar Grandos, and Jesse Mendoza.
Tinetti Realty Group:
Another popular Realtor in Merced is the Tinnetti Realty Group. Located at 2930 G Street, Merced, CA 95340, and there CalBRE license number is 00475070. The owner/broker is Steve Tinetti and Realtors include Nancy Rogers, Jacob Morgner, Mallory Carter, and Aaron Vega.
Realty Executives of Merced:
This is another sought after Realty company located in Merced. Realty Executives of Merced, located at 189 W. El Portal Drive Merced, CA 95348. Filberto Villanueva is the owner/broker of record and his CalBRE number is 01418106. Additional Realtors include Randy Hayer, Tammy Burgess, and Nash Jimenez.
Real Estate Appraisers In Merced
As many of you know; doing any appraisal of your home (or the home you are about to buy) is a necessary part of the transaction. Some people do receive an appraisal waiver but most transactions still require an appraisal. Here are some well-known appraisers in the Merced area.
Appraisal Alliance of Merced:
The company covers all areas of residential appraising. From Conforming to FHA to Jumbo loans, Real Estate Appraisers In Merced is a company that has a good presence in the area.
Overshadowed Appraisals:
Chris Waller is the main Appraiser for Overshadowed Appraisals. He provides appraisal reports based on Fannie Mae, Freddie Mac, and FHA guidelines.
Home Builders In Merced
Two of the largest homebuilders in Merced include Khovanian homes and Stonefield Homes. Both companies offer move-in ready homes and homes that have yet to be built (which allows more customization).
Education
Merced is home to the first research university built in the U.S. in the 21st century, constructed in 2005, University of California, Merced is the 10th university of California campus. Merced is served by the Merced City School District, which has four main middle schools, 14 elementary schools with other schools both private and missionary owned.
Merced has one community college and access to several institutions of higher learning. Within a one-hour radius, with over 100,000 students enrolled in both colleges and universities.
Agriculture Is Important To Merced
Merced is ranked as the fifth agriculture producing county in California. In 2016, Merced County generated more than 3.4 billion dollars in the total value of production. The top five commodities produced in Merced are;
Milk
Almonds
Chickens
Cattle & Calves
Sweet Potatoes
It's clear that the Agricultural impact to the city of Merced is significant and one of the main pillars of the local economy.
The city of Merced has 3 major highways that lead in and out of Merced, 2 airports, several bus companies that run both within Merced and out of the city. The California High-Speed Rail makes it easy to shuttle between Merced and neighboring cities and counties.
In the California State Legislature, Merced is in the 12th Senate District, represented by Democrat Anna Caballero, and in the 21st Assembly District, represented by Democrat Adam Gray. In the U.S. House of Representatives, Merced is in California's 16th congressional district, represented by Jim Costa. The city of Merced is home to a lot of celebrities and important personalities both in sports and other sectors in our society today.
Additional California Cities
If you're looking for additional information on another Northern California city please be sure to visit the main Northern California page.