Mortgage rates for February 12, 2018 will start the week at similar levels seen on Friday as the bond market continues to trade at elevated levels.  As of this morning the 10y yield as at the 2.87% level and stocks are set to start the day up nearly 1%. Bond markets are trying to work through the more than doubling of the deficit along with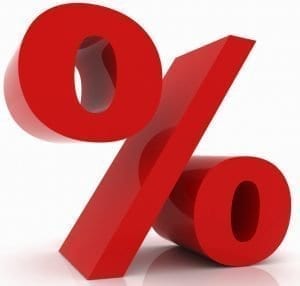 the Fed's desire to reduce it's balance sheet in 2018 – 2019.  Today and Tuesday there are no major economic reports; Wednesday we have the MBA Refinance, MBA Purchase, Retail Sales, Business Inventories and perhaps the most important report – the Core CPI Monthly and Core CPI year/year reports. Thursday we have Core Producer Prices report (another very important reading for the bond market), Philly Fed and a 30y bond auction.  On Friday we Housing permits, Building permits and the 1yr and 5yr inflation outlook.
Currently we're seeing 30 year fixed mortgage rates below 4.50%, 20 year fixed mortgage rates below 4.375% and 15 year fixed rates below 4.00%.  Mortgage rates for some "A" level borrowers (high credit score, low loan to home value ratio, low debt to income ratio and no cash out) are as low as 4.125% on the 30 year fixed rate loan program (conforming, 1 point), 20 year fixed 4.00% (conforming, 1 point) and on the 15 year as low as 3.50% (conforming, 1 point).  As mentioned the 10y yield started off the day at the 2.87% level and the FNMA 30y 3.5  coupon started off the day at the 99-80 level.
Call us today for a no cost – no obligation quote at 1-800-550-5538.  We offer industry low mortgage rates and have a top rating with the Better Business Bureau and the Business Consumers Alliance.