Mortgage rates for February 26, 2018 should start the day at slightly better levels as the 10y yield started the day just below the 2.85% level.  This week we have numerous economic reports that may affect the bond market.  Starting with today we have New Home Sales, Tuesday we have Durable Goods and Consumer Confidence, Wednesday we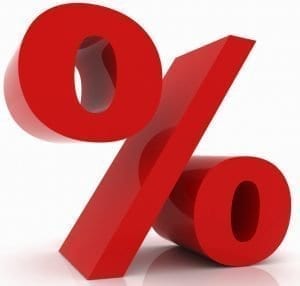 have the GDP reading, Chicago PMI and Oil reports.  On Thursday we have PCE, Core PCE, ISM Manufacturing and Construction Spending. On Friday we have ISM-New York University 1 year and 5 year inflation expectations.
Currently we're seeing 30 year fixed mortgage rates below 4.625%, 20 year fixed mortgage rates below 4.50% and 15 year fixed rates below 4.125%.  Mortgage rates for some "A" level borrowers (high credit score, low loan to home value ratio, low debt to income ratio and no cash out) are as low as 4.25% on the 30 year fixed rate loan program (conforming, 1 point), 20 year fixed 4.125% (conforming, 1 point) and on the 15 year as low as 3.50% (conforming, 1 point).  As mentioned the 10y yield started off the day below the 2.85% level and the FNMA 30y 3.5  coupon started off the day at the 100-00 level.
Call us today for a no cost – no obligation quote at 1-800-550-5538.  We offer industry low mortgage rates and have a top rating with the Better Business Bureau and the Business Consumers Alliance.