Mortgage rates for July 11, 2017 are set to start the day a bit worse than yesterday.  Nothing too significant however the bond market is weaker this morning after opening the week in positive territory.  30 year fixed conforming mortgage rates are below 4.125% and 15 year conforming fixed rates are below 3.375%.  10 year fixed conforming rates are below 3.25%. The 10y yield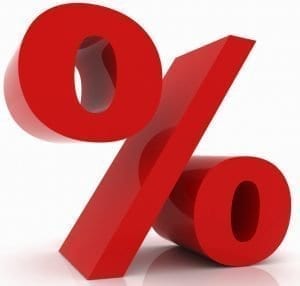 opened at the 2.38% level as the market the European bond market, mainly Bunds, pushes higher this morning. 
We now have a dedicated page for Current Mortgage Rates, be sure to visit it daily!
Adjustable rate mortgages (ARMs) are very attractive right now with 5/1 ARMs below 3.375% and 7/1 ARMs below 3.50%.  If you are planning to move or refinance within 5 or 7 years it's probably a good idea to consider one of these two loan options.  There is no pre-payment penalty and these loans are bettered structured for the consumer compared to the subprime ARM loans of pre-2008.  If you have any questions about ARM loans and how they've really improved over the years please be sure to ask.
Later this morning we have the Wholesale Sales and Wholesales Inventory reports.  Tomorrow we have the MBA market reports, Oil and the 10 year note auction.  However as I've mentioned previously; the bond market are mortgage rates are following the European bond market which has sold off significantly the last two weeks.  Until that settles down we are unlikely to get any real direction in US bonds.  There always could be the surprise that pushes US bond yields down however you can't count on that.  
If you are looking to refinance your current mortgage or purchase a new home please be sure to call us directly at 1-800-550-5538.  We offer a no cost – no obligation quote, we have a top rating with the Better Business Bureau and we provide a Superior level of customer service to each and every client.
UPDATE:
After opening at the 2.38% level this morning; the 10y yield has moved down to the 2.35% level on news Donald Trump Jr. posted emails online between himself and those claiming to represent the Russian government.  Also we're seeing some comments from Lael Brainard (member of the Board of Governors of the Federal Reserve) over the Reuters news wire:
RTRS – FED'S BRAINARD SAYS SHE BELIEVES IT APPROPRIATE 'SOON' TO BEGIN BALANCE SHEET REDUCTION IF ECONOMIC DATA HOLDS UP
RTRS – BRAINARD SAYS SHE CONSIDERS NORMALIZATION OF INTEREST RATES TO BE 'WELL UNDER WAY'
RTRS – BRAINARD SAYS ONCE BALANCE SHEET REDUCTION UNDER WAY, SHE WILL ASSESS INFLATION BEFORE DECIDING ON FURTHER INTEREST RATES RISES
RTRS – BRAINARD SAYS WANTS TO MOVE CAUTIOUSLY ON FURTHER RATE HIKES TO HELP BOOST INFLATION BACK TO 2 PERCENT TARGET