Below is a recap of the daily mortgage rates for February 2019. Mortgage rates in February are starting out near their one-year lows. The strong BLS Employment and ISM Manufacturing report on January 31st, 2019 prevented mortgage rates from moving to new one-year lows.
February 2019 Mortgage Rate Average
The average 30-year fixed mortgage rate for February 2019 has been below 4.375%
The average 20-year fixed mortgage rate for February 2019 has been below 4.125%
The average 15-year fixed mortgage rate for February 2019 has been below 3.75%*the mortgage rate averages are averages seen with JB Mortgage Capital, Inc.; these are not national averages.
Important Events That Might Impact Mortgage Rates In February
The Economy: If the economy improves that might push mortgage rates higher
Government Shutdown: Starting in February the shutdown was on hold and the government reopened temporarily. However, the strong Employment report and ISM report might give the all-clear for another shutdown as both sides dig in for a long fight.
Trade tensions with China: The recent arrest of a Chinese executive is not helping solve the trade issues between the U.S. and China.
Inflation: Overall inflation has been easing and if the trend continues talk of deflation might start to be a concern. That would be good for mortgage rates.
Housing: Most of the housing data was poor in January, will that continue in February?
We expand on all five areas later in the article. Mortgage rates in February will be watched closely since we've seen mortgage rates improve dramatically in the previous two months. Be sure to follow all the updates on our Current Mortgage Rates page.
February 2019 Mortgage Rate Economic Calendar
The below economic reports have the potential to impact the mortgage rates during the month of February. There are several sources from which we obtain information and one of the best is Mortgage News Daily.
February 01: BLS Employment Report, ISM Manufacturing PMI, and New Home Sales and Consumer Sentiment.
February 4: ISM-New York Index, Factory Ex-Transport
February 5: International Trade, and ISM Non-Manufacturing PMI
February 6: Weekly Mortgage Index, Refinance Index, and Purchase Index. There is also an important 10y Note Auction (important).
February 7: Weekly Unemployment claims (something to watch as last week they came in higher than normal), 30y bond auction, and Consumer Credit
February 8: Wholesale Sales and Inventories
February 13: Core CPI year/year and monthly, weekly Mortgage Index
February 14: Core Producer Prices, Unemployment Claims, and Retail Sales (December)
February 15: Export Prices, Import Prices, 5yr Inflation Outlook, 1yr Inflation Outlook
February 19: National Association of Home Builders HMI report
February 20: Weekly Mortgage Index, Federal Open Market Committee Minutes (FOMC = The Fed)
February 21: Philly Fed Index, Durable Goods, Existing Home Sales, and a 30y Bond auction
February 25: Wholesale inventories
February 26: Building Permits, CaseShiller, Monthly Home Prices, and Consumer Confidence
February 27: Durable Goods (Jan) and Factory Orders
February 28: Gross Domestic Product (GDP), Chicago PMI (Feb)
Some reports have a bigger impact than others. Some reports are not listed (Retail Sales, Durable Goods, etc) because of the Government Shutdown the date of their release is TBD. Once we have the information we will certainly update the calendar. Also, we'll be updating the calendar with regional Fed reports as they come in. The most important reports that usually have an effect on mortgage rates are:
ISM Manufacturing PMI
Core CPI
This is not to say that the other reports can't have a big impact on mortgage rates however the above are the reports that usually have the biggest impact.
Source: Mortgage Bankers of America
Important Things To Remember When Obtaining A New Mortgage
Here are important things that you should remember when obtaining a new mortgage in February 2019. For the most part, this applies to both refinance applications and purchase applications:
Only work with reputable mortgage companies; avoid companies that have a low Better Business Bureau rating. We have an A+ rating with the Better Business Bureau.
Mortgage rates change daily; sometimes multiple times a day. When you apply for a mortgage ask when the interest rate will be locked. Some companies automatically lock at application and there are even some that don't lock until a few days before closing. At JB Mortgage Capital, Inc. we let the client choose when to lock.
Ask questions and if your Loan Officer avoids answering them you might want to find a new mortgage company to work with.
JB Mortgage Capital, Inc.
If you are looking to purchase a home or refinance a current mortgage please be sure to contact us for a no-cost/no-obligation quote. Loan Officer Kevin O'Connor has over 14 years of experience in the mortgage industry and will take the time to find out how we can best meet your mortgage needs. We offer a wide variety of loan programs including those with less-than-perfect credit and/or a small down payment. We have an A+ rating with the Better Business Bureau, AAA rating with the Business Consumers Alliance, a Five Star rating on Zillow, and a Five Star rating on Mortgage101.com.
To request a quote please complete the form below; and the good news is that only one person will contact you – just one. Other mortgage companies may sell your information however that is not something that happens at JB Mortgage Capital, Inc. Another option is to call us directly at 1-800-550-5538.
Events That May Effect Mortgage Rates In February Cont'd
The Economy:
At the end of the day, the most important thing for mortgage rates is the economy. Q2 2018 was a huge bump up from previous quarters however Q3 2018 was nearly a point lower and estimates for Q4 2018 GDP are around 2.5% (almost 2 points lower). The tax cuts gave an initial boost to the economy however that boost seems to be fading as we move into 2019. A weaker economy is an initial positive for mortgage rates because a slowing economy generally means lower inflation – and that's the important part for mortgage rates.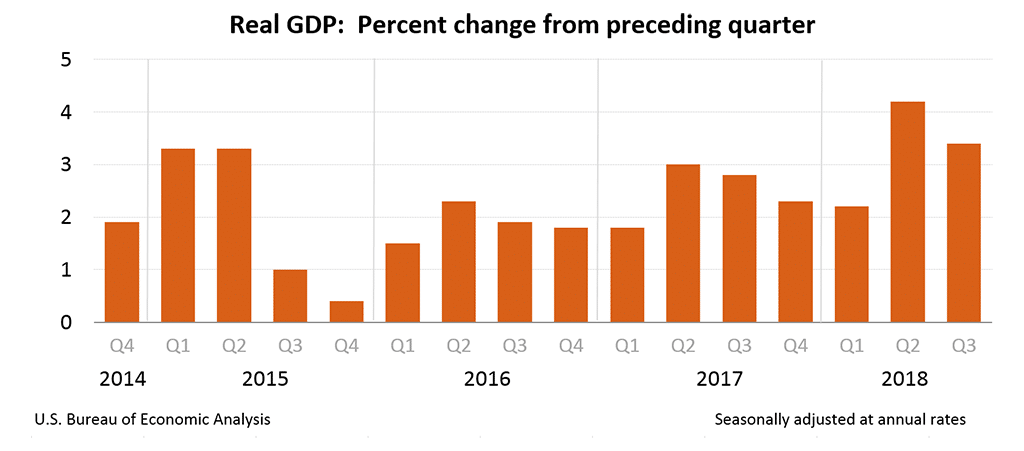 Source: Bureau of Economic Analysis
Government Shutdown:
The Government Shutdown is on hold for now but it's likely to happen again in February. The shutdown was a costly event for the economy and we're still waiting on all the data to come in to fully understand how it impacted the economy. According to the early Congressional Budget Office estimates the shutdown cost the economy by delaying $18 billion in federal spending and it will reduce GDP estimates by 0.4.
Trade Tensions With China:
Talks with China have not gone well in recent months and it does not look like things will get better in February. Who is winning the trade war? Hard to say since both sides are taking a hit. China's economy is slowing significantly faster than the U.S. economy however our trade deficit with China is ballooning and get worse by the month. GDP growth in China is at the slowest pace in nearly 30 years. 2018 GDP growth in China was 6.50%.
Inflation:
Mortgage rates hate inflation; it's perhaps one of the most important things to watch. There was a big inflation scare in September – October 2018 which pushed mortgage rates to eight-year highs however overall inflation for 2018 was well-contained and appears to be declining. Core inflation has a big influence on the Fed and what they do. The core inflation rate for the previous five years:
2014 = 0.8%
2015 = 0.7%
2016 = 2.1%
2017 = 2.1%
2018 = 1.9%
It will be interesting to see what happens in 2019. The current direction is lower however that can easily change; especially if oil and wages move higher. Q1 2019 GDP estimates will probably be lower than Q4 2018 and most analysts will blame the shutdown as a big cause for the decline.
Housing:
It's been a rough couple of months for Housing. In the mortgage industry, we started seeing a shift in the summer of 2018. In California, it appeared that properties that would "normally" receive 4-6 offers were starting to receive 2-3 offers, and by Fall 2018 that dropped to 1-2 offers. As we moved into November it seemed like purchases came to halt as inventory started to move up.
Here is what we believe caused the slowdown in housing:
The economy – specifically wages are not growing fast enough with the pace of home values.
Interest rates – crossing over to a 5% plus 30-year fixed was a bit too much for homeowners.
Inventory – there has been an inventory issue for years now and in 2018 in that problem got worse.
If housing continues to decline in February that could be a positive for mortgage rates and a concern for economic growth.