From our family to years we wish you the very best for 2019. Markets are closed today and will re-open on Wednesday. There are no important economic reports on Wednesday however on Thursday we have the ADP National Employment Report for December, ISM New York Index for December, ISM Manufacturing PMI, ISM Manufacturing Prices Paid for December (an important piece when it comes to inflation) and Vehicle Sales. To end the week we have the BLS Employment report, unemployment rate and Average Earnings for the month of December.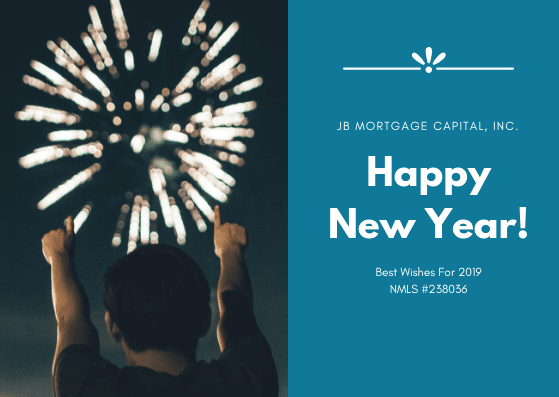 Questions Remain:
The big question is what will mortgage rates will do in 2019? Heading into the year we are already at somewhat low levels; will the 30 year fixed rate move below 4.00%? Will the 15 year fixed mortgage rate get down to 3.00%? Great questions however it's too early to tell if we'll see improved levels. I've been a loan officer in the mortgage industry for over 14 years; and one thing I've learned is that mortgage rates may go straight up but they rarely if ever go straight down. Keeping that in mind I think we need to be cautiously optimistic and recognize that from a historical stand point current rates are very attractive. Did we have a period in which rates were lower? Yes however that was a very short period of time and it's unlikely to return to those extreme lows. As we always do; we'll keep a close eye on the markets and let our readers know of any significant movements. Happy New Year!
California Mortgage Rates (Conventional)
California FHA Mortgage Rates
New website:
It's here! Our brand new layout has arrived! Let us know what you think. Keep in mind it's still "under construction" while we put the finishing touches on. Thank you to everyone who made this happen so quickly.
Currently we are seeing:
30 year fixed mortgage rates below 4.375%, 20 year fixed mortgage rates below 4.25% and 15 year fixed rates below 3.625%. Mortgage rates adjust daily; sometimes they adjust multiple times in a day when the bond market is volatile. To get the most up-to-date quote specific to your loan scenario be sure to contact Loan Officer Kevin O'Connor at 1-800-550-5538 or you can submit a "Contact Us" request on the our website. At JB Mortgage Capital, Inc. we offer residential mortgage loans on 1-4 unit properties for both purchase and the refinance of a current mortgage. We have fixed rate mortgage loan programs and adjustable rate mortgage loan programs.
Connect with us on Social Media:
FYI – These pages are still being put together
FaceBook  –  Instagram  –  Pintrest   –  Reddit
Check Out Our Refinance Page:
Is now the right time for you to consider a refinance of your current mortgage? Does your current mortgage have a high interest rate or are you looking to refinance because you wish to take cash out? Doing a refinance with a reputable mortgage company ensures you'll get a great mortgage rate and a smooth closing. At JB Mortgage Capital, Inc. we provide the unique combination of a low interest rate along with top notch customer service.  With extensive knowledge and nearly over 14 years of experience; we will work hard to find the best refinance terms for you and provide our industry best 1-on-1 personal service from application to closing. Our top ranking with the Better Business Bureau ensures that you are working with a well-respected and trusted company. We are also a five star rated mortgage company with Mortgage101 and Kevin O'Connor has a five star rating on Zillow. We work with some of the top lenders in the country to make sure we provide the best terms possible and the best overall experience.