For over 15 years we've provided low mortgage rates in Marietta, California. Purchasing a home or refinancing a current mortgage, we have the mortgage solutions to meet your needs.
Helping Homeowners Achieve Their Dreams is not just a saying, it's something my team fully believes in.
Mortgage Rates In Murrieta, California:
Our company provides a streamlined personal experience that enables our clients to focus on what matters to them. We offer loan down payment options, specialized mortgage programs for those with less than perfect credit, cash-out refinance loans and many more. Contact me directly for a no-cost/no-obligation quote at 1-800-550-5538 and see what makes us different.
Murrieta California Mortgage Calculator
Using our Murrieta, California mortgage calculator to figure out your monthly mortgage payment is an essential part of buying a home or refinancing a current mortgage. Use our free Murrieta, California mortgage calculator to help you determine what you can afford and if you have questions please don't hesitate to ask!
Living In Murrieta
Located in southwestern Riverside County, California, Murrieta was known for hot springs that have since dried up. The city's history tells a story of the Spaniard, Juan Murrieta who returned from Spain to graze his 7,000 sheep in the land given to him by his brother Ezequiel Murrieta.
A charming city with beautiful vineyards, Murrieta considers itself "The Future of Southern California". The city pulls in a lot of visitors with several fun activities like "The Road Run"; a car event shared by Murrieta and its neighbor Temecula where classic cars are showcased.
Murrieta also hosts "The Birthday Bash"; an annual fest which since 1991 has become a celebration to start off the summer for the residents of Murrieta and brings in a large crowd of visitors. The bash holds the weekend before the Fourth of July at the California Oaks Sports Park and is packed with fun-filled activities, games, fireworks, and dosing by the Murrieta fire department. Be sure to stop by for the 29th Birthday Bash in June this year.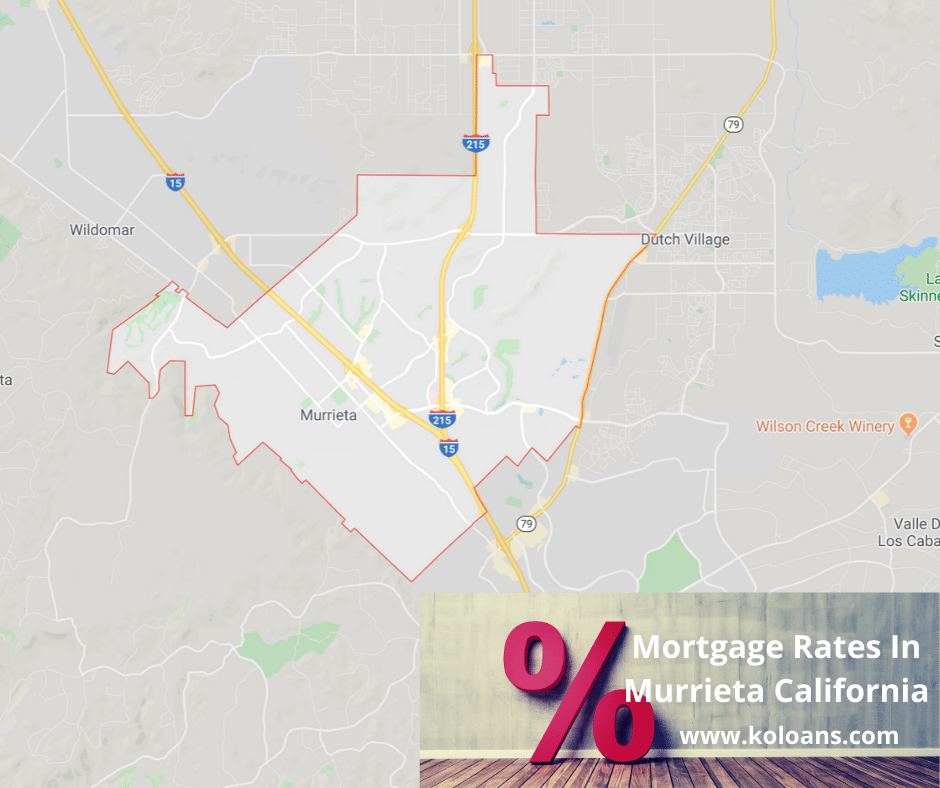 Local Realtors
Murrieta mortgage lenders will work directly with your local realtor on your next home purchase. Here are a few Realtors you may want to look into before you decide to move forward with an offer.
Re/Max Platinum Realty – Murrieta:
Located at Re/Max Platinum Realty-Murrieta is a full-service realty company. Their direct number is (951) 677-1106. They have many experienced and knowledgeable Realtors work in the office.
Century 21 Full Service Realty:
Century 21 Full Service Realty is located at 26305 Jefferson Ave Ste G & H, Murrieta, CA 92562 and their direct number is (800) 463-0977. A good company to contact and experienced Realtors to help you sell your home and/or purchase a new one.
Local Mortgage Lenders In Murrieta
Some homebuyers and homeowners chose to work with mortgage lenders in Murrieta and others chose to work with mortgage lenders outside of Murrieta. Those that look outside of Murrieta generally are trying to find a lower mortgage rate and better service. Here are two local mortgage lenders in Murrieta.
California Coast Credit Union – Murrieta Hot Springs Branch:
Located at 40230 Murrieta Hot Springs Rd., Murrieta, CA 92563 the California Coast Credit Union – Murrieta Hot Springs Branch serves those living and working in the local area. They provide traditional banking services that include loans, checking accounts and savings accounts.
Nano Bank:
Nano Bank is located at 25220 Hancock Avenue, #140, Murrieta, CA 92562 and their direct number is (951) 973-7400. The other two branches of the bank are located in Irvine and Westwood. They are known for their good customer service and provide traditional banking products to their customers.
Places To Visit
If you are visiting Murrieta or if you currently live in Murrieta here are some family fun things you can do.
Santa Rosa Plateau Ecological Reserve:
A major tourist attraction, the spectacular Santa Rosa Plateau Ecological Reserve which stretches over 9,000 acres of land serves as a preserve for 49 endangered species of plants and animals in its environment. Made up of beautiful endangered Engelmann Oaks, the ancient reserve's ecosystem is very different from the ecosystem in the rest of Riverside County.
With 16 hiking trails ranging from easy trails for new hikers to moderate trails for experienced hikers and even more strenuous trails for those looking to push their limits, Santa Rosa has paths for biking, hiking, and even horseback riding. If you have a dog with you, some trails are even dog-friendly! There are also rest spots and benches where you can sit to rest and take in the pleasant views. The reserve is open to adults and kids alike.
Due to the Tenaja fire which occurred in September 2019, the Santa Rosa Plateau Ecological reserve has been shut down indefinitely but as soon as it reopens, be sure to visit as the trip is well worth it.
Mulligan Family Fun Center:
An indoor facility that offers miniature golf, laser tag, an arcade, go kart racing and more fun, the Mulligan Family Center is the perfect hang out spot for the whole family.
Moreno and Machado Adobes:
Located within the Santa Rosa Plateau Ecological Reserve along the most famous 4.9-mile Adobe Loop Trail, these adobes are the 2 oldest surviving buildings in the Riverside County.
Both adobes which lie beneath a 400-year-old tree served as shelters for cowboys in the 19th century.
Copper Canyon Park:
Situated on 9 acres of land, the Copper Canyon Park features trails for walking, biking and even playgrounds for kids.
Aces Comedy Club:
Originally established to help groom comedians, Aces has an open mic night for upcoming artists. Visit the club for a night of laughter, karaoke and live music from amazing bands.
Firefighters Park:
With a sandy volleyball court and a mini-water park, the Firefighters Park has a beach feel to it. It is your go-to when looking for a little more activity.
Just Outside Of Murrieta Is Old Town Temecula:
During the "Gold Rush" days, people from far and wide flocked to California in hopes to make a fortune. As a result of this, settlers created towns, some of which have been preserved as part of California's history.
With its antique shops, community theater and a quaint hotel to spend the night, Old Town Temecula which sits at the outskirts of Murrieta is a major tourist attraction.
Frangipani Winery:
Interested in wines?
Murrieta and its surroundings are known for their premium wines and as such have several wineries littered around. Frangipani Winery which began in 2006 with vineyards on the De Portola Wine Trail has a gorgeous vineyard and even offers wine tasting to guests. Wines which this winery is known for include Malbec and Cabernet Sauvignon.
Skinner Reservoir:
Known as Lake Skinner to the locals, the reservoir which stretches over 1,400 acres of water and 300 acres of land draws in visitors for fun activities like swimming, camping, fishing, and even horseback riding.
Tenaja Falls:
Tenaja Falls is a five-tiered natural waterfall with a drop of over 150 feet. With a stunning view, the surrounding of the falls also gives visitors the option of hiking or horseback riding.
Low Murrieta, CA Mortgage Rates
Obtaining multiple quotes from respected mortgage lenders will help you obtain a low mortgage rate and great terms. Over the last twenty years low mortgage rates have helped increase home values in Murrieta and we expect that trend to continue. When deciding on which mortgage rate quote to move forward with making sure you evaluate the total cost to obtain that rate.
There are two parts to a mortgage quote:
The interest rate
The fees associated with the transaction
Before making a decision on who to work with it's important to know both parts.
Additional California Cities
If you're looking for additional information on another Southern California city please be sure to visit the main Southern California page.