Low mortgage rates in Sacramento, California, and a robust economy have enabled the Sacramento area to consistently grow over the last fifty years. I have been working directly with homeowners and homebuyers in the Sacramento area for over seventeen years delivering low rates, fast closings, and personal one-on-one service.
Mortgage Rates In Sacramento, California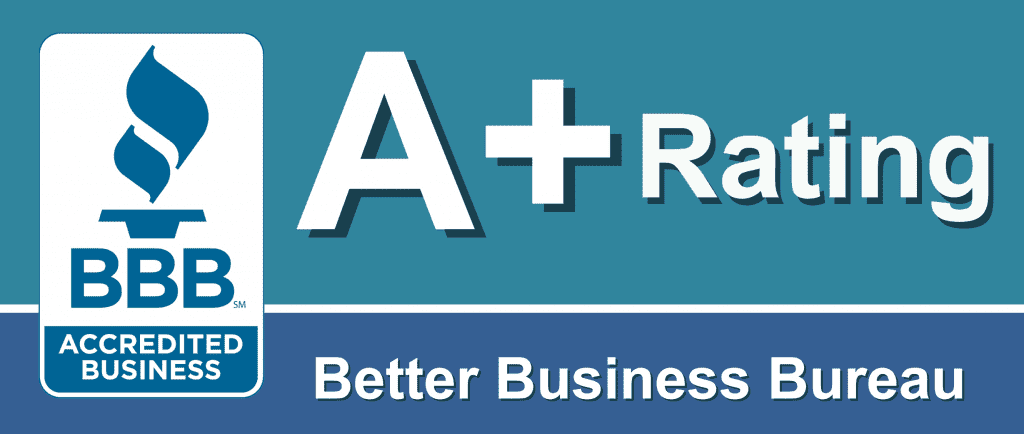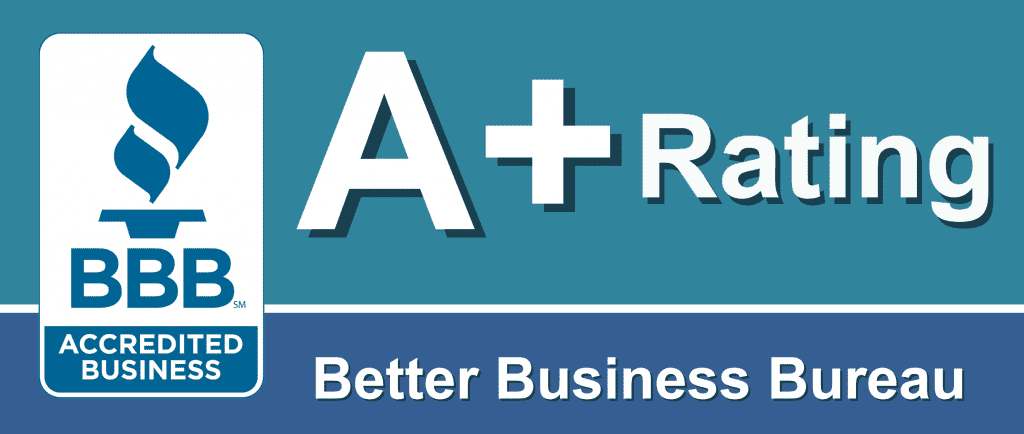 Fixed Mortgage Rates In Sacramento
The three most popular mortgage rates in Sacramento are the 30-year fixed, 20-year fixed, and 15-year fixed mortgage rates. These mortgage rates offer stability and certainty.
Knowing your interest rate and monthly mortgage payment will never change is something homeowners prefer. While adjustable-rate mortgages might offer a lower initial rate, not knowing what the rate will be in 5, 7, or 10 years can be unsettling.
If you are someone who wants the lowest fixed rate payment then you should go with the 30-year fixed rate. If you want to pay your home off quickly, then go with the 15-year fixed rate.
If you would like a balance between the two then the 20-year fixed rate is your best option.
The most important thing is that whichever fixed rate you chose it matches your short, medium, and long-term financial goals.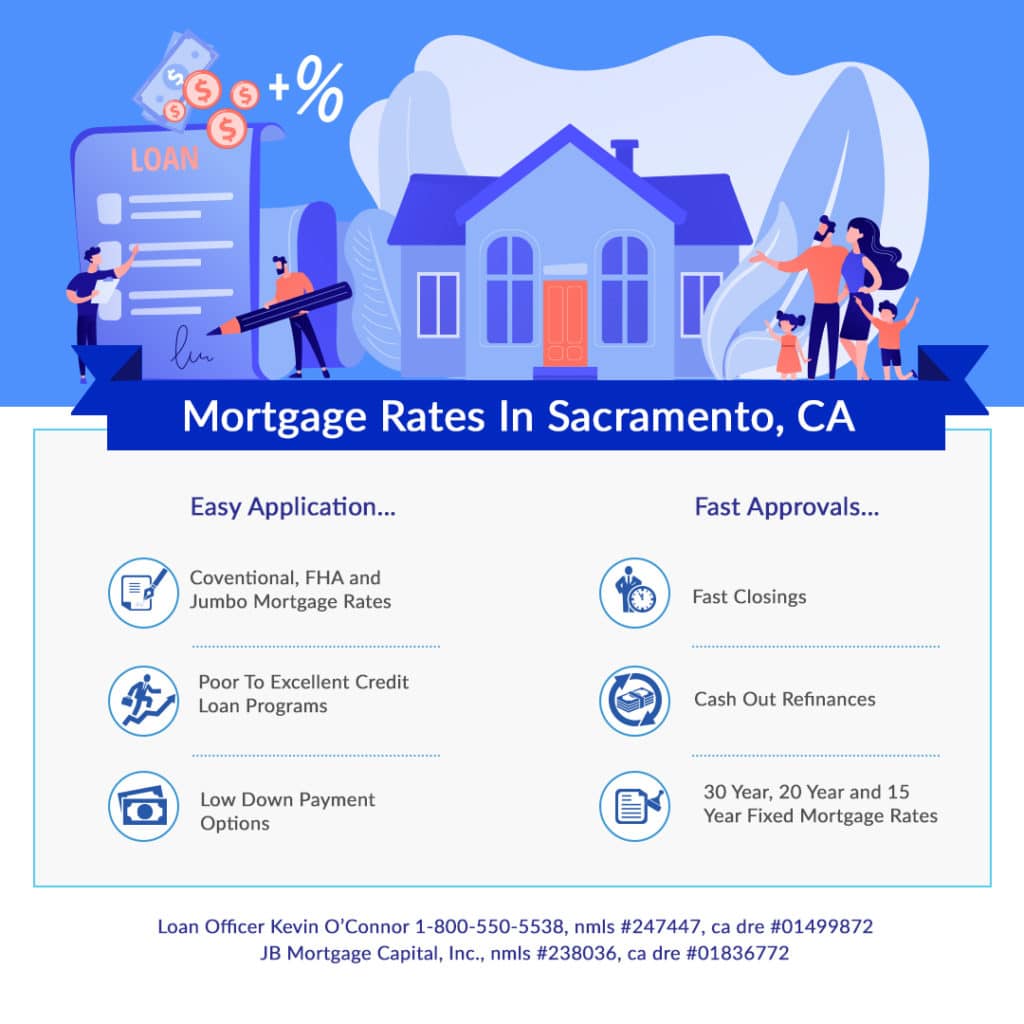 Discount Points – What Are They?
Discount points are a type of closing fee you pay the lender to lower your mortgage rate. You may hear it called 'buying down the rate.' Either way, it's the same thing – you pay a fee to get a lower interest rate. Does it make sense to do it and how does it work?
What are Discount Points?
Discount points are prepaid interest. If you want a rate lower than the lender offers, you can 'buy it down' by paying the interest upfront. The points are a part of your closing costs that you'll pay with other costs like underwriting fees, credit report fees, title fees, and appraisal fees.
In exchange, the lender will provide a lower interest rate. The lower rate means a lower mortgage payment and less interest over the life of the loan.
A discount point or point lowers your mortgage rate. Typically, lenders charge 1 point for every 0.25%discountt in the interest rate.
They are optional. Lenders can't require them. They'll quote you an interest rate you can either accept or ask to buy down.
If you buy it down, you pay 1 point or 1 percent of the loan amount for each 0.25% drop in the rate. So if you have a $200,000 loan and want to drop the rate 0.5%, you'd pay $4,000 in discount points.
Does It Make Sense to Pay Discount Points?
The bigger question is if it makes sense to pay discount points. Since you're paying the interest, either way, upfront or in your payment, which makes more sense?
It depends. Ask yourself how long you'll be in the home.
Is this a short-term purchase or is this your home for the foreseeable future? If it's a short-term purchase, paying points may not make much sense. You're paying interest upfront that you may not have paid if you took the higher rate only because you may sell the house before you save more than you paid upfront.
If it's your 'forever home,' you may be in the home long enough to save more than you spent on the upfront points.
It's called the break-even point and everyone should know what theirs is.
Your break-even point is the point you pay off the points paid upfront and earn the savings of the lower rate.
Here's an example. You borrow $200,000 and pay 2 points, so $4,000. This saves you $50 a month in interest charges. This means it would take 80 months or almost 7 years to make up the $4,000 with the savings.
If you move before 7 years, paying the discount points didn't make sense – you didn't break even yet. If you are still in the home after 7 years, it makes sense because you'll save $50 a month for the remaining term. Let's say you kept the home for the 30-year term, you'd save $13,800 for the remainder of the term. 
That's $50 a month savings over 23 years. The $4,000 upfront would be worth it if this was the case. Any time you spend in the home beyond 7 years would be worth it.
Can you Negotiate Discount Points or the Mortgage Rate?
You can negotiate both the discount points and the mortgage rate with lenders. This is why borrowers shop around. They look for the best deal and then they negotiate.
To get the best rate and terms, it helps if you maximize your qualifications so you get the best offer.
Maximizing your Qualifications
Lenders want borrowers who are a low risk of default. If you have a low credit score or high debt-to-income ratio, you're a high risk. But, if you prove you're a 'good borrower,' you'll get lower mortgage rates and may not have to pay discount points. 
Here's how to maximize your chances:
Check your credit – Pull your free credit reports and look for issues you should fix. If you have any late payments (30, 60, or 90-day late payments) bring them current. Look also at your credit lines. Do you have over 30% of any credit line outstanding? If so, pay them down. Also, contact the credit bureaus if you see any errors.

 
Pay your debts down – Your debt-to-income ratio or total debts compared to your gross monthly income (income before taxes) should be 45% or less for the best results. If you're DTI exceeds 45%, pay your debts down before applying for a mortgage.
Stabilize your income and employment – Lenders like stable borrowers or borrowers who show consistency. They look for 2 years of stable employment and income. Staying at the same job is perfect. If you can't, try to stay within the same industry to show consistency and stability to get the best mortgage rates.
Large down payment – Each loan program has a minimum down payment. If you can make a larger down payment than is required, you'll get lower interest rates. Lenders like 'skin in the game' or proof that you've invested in the home, which lowers your risk of default.
Bottom Line – Mortgage Rates and Discount Points
Each borrower is different. You may want the lowest mortgage rate possible and paying discount points feels right to you. Some borrowers want nothing to do with increasing their closing costs and would rather find other ways to decrease their mortgage rate.
Work with your lender to see how you can lower your mortgage rate to get the best rate possible, whether that means paying discount points or taking the rate offered. The more you prepare yourself for a mortgage, the higher your chances of a lender giving you the lowest rate available with no extra fees or discount points.
Sacramento, CA Mortgage Calculator
Using our Sacramento, California mortgage calculator to figure out your monthly mortgage payment is an essential part of buying a home or refinancing a current mortgage. Use our free Sacramento, California mortgage calculator to help you determine what you can afford and if you have questions please don't hesitate to ask!
Living In Sacramento
Sacramento, CA is one of the larger cities in the State of California. A diverse population, education, and job opportunities; Sacramento is a great place to call home. Over 480,000 people live in Sacramento, California and at JB Mortgage Capital, Inc. we offer low rate mortgages throughout the Sacramento community. Sacramento California mortgage rates are similar to those found in the rest of California and residents of Sacramento have access to many different residential mortgage companies.
There are your traditional banks and credit unions, direct lenders and mortgage brokers that have a diverse selection of loan program options. If you are in the Sacramento California area and would like a no-cost/no-obligation quote please contact us directly at 1-800-550-5538 for our best low rate mortgage options. Sacramento is the sixth-largest city in the State of California and it has a diverse population from all walks of life.
Local Sacramento Realtors
There are hundreds and hundreds of Realtors in the area. Mortgage lenders in Sacramento will work directly with the Realtor you chose to ensure a smooth and successful home purchase.
Re/Max Gold – Sacramento Midtown
Located at 2014 Capitol Ave., Sacramento, CA 95811. This ReMax Gold Office can be reached at (916) 277-8155. This office has many knowledgeable and experienced realtors who appear to know the area well.
Coldwell Banker – Metro Office in Sacramento
This is another well-known and well-respected realty company in the local area. Coldwell Banker – Metro Office is located at 730 Alhambra Blvd., Sacramento, CA 95816 and their direct contact number is (916) 447-5900.
Century 21 Select Real Estate, Inc.
This office is located at 6300 Florin Rd., Sacramento, CA 95823 and their direct contact number is (916) 642-8912. Century 21 Select Real Estate, Inc. is a full-service realty company serving the Sacramento area. According to their website, their agents speak English, Chinese (Mandarin), Hindi, Tagalog, and Vietnamese.
Local Appraisers Located in Sacramento
When you buy a home or refinance a mortgage you usually have to do an appraisal. Here are three local appraisers in the Sacramento area.
Sacramento Valley Appraisal
Located at 9912 Business Park Dr., Suite #170, Sacramento, CA 95827, Sacramento Valley Appraisal company bills itself as "Affordable Home Valuations". They provide appraisal services to the Sacramento area, Placer County, El Dorado County, and Yolo County.
Burton & Company Appraisals
Burton & Company Appraisals is located at 1017 L St, Sacramento, CA 95814 and their direct contact number is (916) 718-1488. In addition to the Sacramento area, they cover Placer, Yolo, San Joaquin, Solano, and El Dorado counties.
Sacramento Pacific Appraisal Group, Inc.
This well-established appraisal is located at 128 Clunie Dr, Sacramento, CA 95864 and their contact number is (916) 296-8362. Sacramento Pacific Appraisal Group, Inc. is a full service residential appraisal company offering both Conventional and FHA appraisal reports.
The Capital
Many people know that Sacramento is the capital however, most Californians do not know that it's California's sixth capital since 1854. And it's divided into two counties; Sacramento and Yolo county (West Sacramento).
The city is home to the Sacramento Kings basketball team and offers a wide range of activities for families. The Sacramento Zoo has been around since 1927; the California State Railroad Museum along with the Sacramento Jazz Festival which has been around for over 40 years are all local favorites. The city is located almost 100 miles northeast of San Francisco and around 2 million people live in the surrounding areas. The weather during the summer can be hot; really hot!
Sacramento Kings Basketball Team
The Sacramento Kings comets in the Western Conference – Pacific Division of the NBA. This is Sacramento's only professional sports team. Surprisingly the Kings are one of the oldest continuously operating teams in the nation (source Wikipedia). The original team, Rochester Royals, started out in 1948.
In 1957 the team moved to Cincinnati and landed one of the great basketball players of all time, Oscar Robinson. From 1972 until 1985 it was the Kansas City Kings and from 1985 until now it's been the Sacramento Kings. Additional stars include Rick Berry, Pervis Ellison, and Mitch Richmond.
California State Railroad Museum
Located at 125 I Street in Sacramento, the California State Railroad Museum is dedicated to preserving the history of locomotives and railroad cars that connected California to the rest of the country (1800's). They not only have a museum that you can visit but they offer a wide variety of educational programs including "Kids Corner" and Railroad Safety educational courses.
Sacramento Jazz Festival
The festival is also known as the "Hot Jazz Jubilee" and takes place every year in September. Entering its eighth year (2020) the festival has grown to include many well-known acts including Dave Bennett, Todd Morgan, the Emblems, Gino, and the Lone Gunmen. The four-day event costs $130 and many attendees stay at the DoubleTree hotel at 2001 Point West Way.
Education and Employment Opportunities
The city is home to great school districts and universities including California State University, Sacramento, and the University of the Pacific. Some of the larger employers in the area include Intel, Kaiser Permanente, UC Davis Health Systems, and others. Local businesses thrive in the area and there are many different cultural activities residents (and visitors) can enjoy.
California State University, Sacramento
The University was founded in 1947 and is a part of the California State University System. A designated "Tree Campus USA" it has 4,100 trees on campus and over 400 different species. It's the 4th most diverse university in the western United States. There are eight main focuses of study:
Arts and Letters
Business Administration
Continuing Education
Education
Engineering and Computer Science
Health and Human Services
Natural Science and Mathematics
Social Science and Interdisciplinary Studies
The university has over 30,000 students and over 240,000 alumni.
California State University, Sacramento has two National Register of Historic Places; Julia Morgan House and the Pony Express (source: National Parks Service).
Low Sacramento, CA Mortgage Rates
Great neighborhoods, family fun attractions, a job market, affordable housing and are just a few reasons why nearly a half million people call Sacramento home. Low mortgage rates in Sacramento, California have empowered more people to buy their first home which has led to the expansion of the housing industry in the surrounding areas. Most local experts believe this trend should continue as the economy continues to grow.
Tip To Getting a Low Mortgage Rate
The best thing you can do when getting quotes for a new mortgage is only obtain quotes from reputable mortgage companies and make sure you ask lots of questions.
When Getting A Quote – Ask For The "Total Fees"
Mortgage rates in Sacramento and throughout California have been low for decades. When deciding on which mortgage rate quote is best for you be sure to find out what are the "total fees" associated with the loan.
Not knowing the "total fees" before your move forward could end up costing you thousands of dollars in unnecessary fees. There are two basic types of fees, lender fees, and 3rd party fees. Under lender fees, you have things like Discount Points, Loan Origination fees, and Underwriting fees. Some lenders include "junk fees" so you'll want to watch out for those.
Typical junk fees are an "Application fee", a generic "Admin Processor Fee" or a "Rapid Close fee". Fees like these three examples are not necessary and if your Loan Officer insists they are we suggest you obtain some additional quotes.
Now, 3rd party fees include things like Title and Escrow fees. These are not fees controlled by the lender but for a refinance transaction a mortgage company will typically use a Title and Escrow company they have an established relationship with.
If you have a Title and Escrow company you would like to use on your transaction, rather than the lender-designated one, ask your Loan Officer. Provided they are a reputable Title and/or Escrow company and meet the basic requirements of the Lender it shouldn't be a problem to use them.
So the next time you receive a quote for a new mortgage ask the Loan Officer what are the total fees for the loan so that you have all the information you need to decide which quote is best.
JB Mortgage Capital, Inc.
If you live in the Sacramento, California area and are looking to refinance your current mortgage or purchase a new home please give us a call for a no-cost/no-obligation quote at 1-800-550-5538. With our A+ rating from the Better Business Bureau to our low rates we know you'll have a great experience working with us to secure the best possible mortgage.
Additional California Cities:
If you're looking for additional information on another Northern California city please be sure to visit our Northern California mortgage page.