If you are looking to purchase a home or refinance a current mortgage in San Diego please be sure to contact me directly for a no-cost/no-obligation quote. I have over 16 years of experience delivering low San Diego, California mortgage rates to homeowners throughout the San Diego area.
Mortgage Rates In San Diego, California
How To Get A Low Mortgage Rate In San Diego
Let's face it, San Diego is one of the great cities in California to live in and it's no surprise that so many people call this coastal city home.
Great neighborhoods, the beach, family fun attractions, and a good economy are just some of the reasons why thousands of people call it home. Historically low mortgage rates in San Diego, California have enabled more people to buy homes in and around the area. This stable trend should continue as the economy continues to grow.
So how do you get a low mortgage rate?
It's easier than you think. Just follow these simple rules for getting a low rate mortgage in San Diego and if you have any questions please don't hesitate to ask!
Your quotes should come from Loan Officer's with at least 5+ years of experience
Ask questions, lots of questions. If a Loan Officer doesn't like all your questions then that's a good sign not to use him/her.
A mortgage companies reputation is super important. The Better Business Bureau is a great place to start and you can see independent ratings for mortgage companies in California. If a mortgage broker has a grade that's lower than a "B" then that's cause for concern
Compare Apples to Apples! This means when you compare quotes make sure you comparing not only the interest rates but the points, costs and fees associated with that interest rate. And make sure the Loan Officer includes everything to get an accurate picture of what he/she is truly quoting.
At the end of the day it really comes down to working with great companies and experienced Loan Officers. Loan Officer Kevin O'Connor has over 16 years of experience and you can contact him directly at 1-800-550-5538.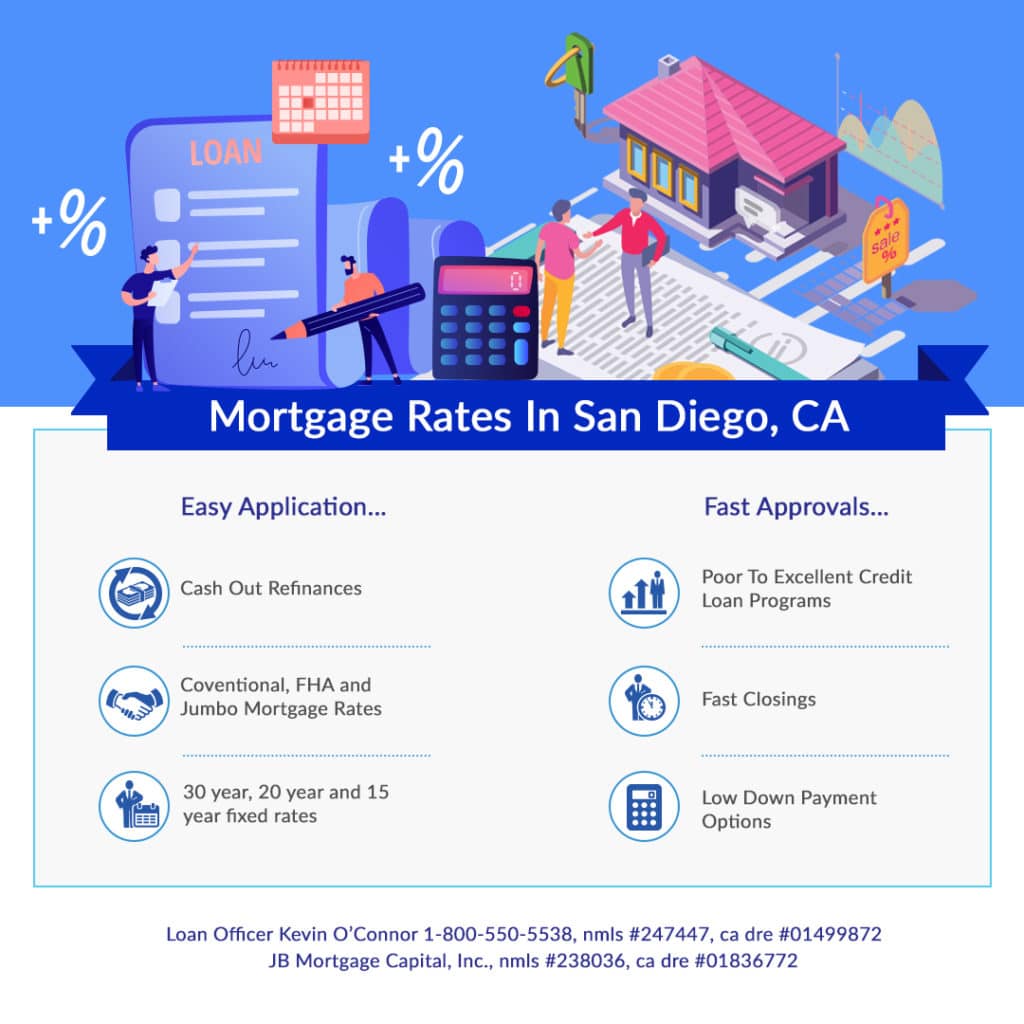 Top Ten Benefits Of A Low Mortgage Rate
Everyone wants a low mortgage rate when they get a new mortgage, but do you know why? It sounds better to have a 3% rate than a 4% rate for example, but what are the true benefits?
A low mortgage interest rate saves you money monthly, over the life of the loan, and offers many more benefits than most people realize.
Here are the top benefits of a low mortgage interest rate and why you should do what you can to get low rates.
You May Afford More
A low interest rate means a lower payment. A lower mortgage payment means a lower debt-to-income ratio. The lower DTI leaves more room in your budget for slightly more principal. With low rates, you don't have to worry about excessive interest eating up your budget.
A low rate is a great way to save money, but it's also a great way to sneak in that dream home you've always wanted.
You May Have A Lower Payment
A lower mortgage rate means a lower payment if we're talking apples to apples. For example, if you borrow $100,000 at 4% for 30 years, you'd pay $477 in principal and interest. If you borrow the same amount at 3%, you'd pay $422, saving you $55 a month.
If you save the money or use it for other helpful purposes, you'll not only pay less money on your mortgage payment but benefit your finances in other ways.
You Can Save Thousands of Dollars Over The Loan's Term
A lower interest rate can save you thousands of dollars over the life of the loan.
In our example above, you saved $55 a month with a lower rate. It doesn't sound like much, but over a year you save $660. If you look at it over the term of the loan, you'd save $19,800. Now that 1% difference makes sense, right?
Brings More Buyers To The Market
When mortgage rates are low, more people flood the real estate market. With higher demand, sales prices increase, which is good for the economy. When rates increase, not as many people try to buy a home. With high rates, they either can't afford the loan or just don't want the higher rate.
Lower demand is bad for the economy and may drive home values down, hurting everyone, not just the homeowners trying to sell.
You May Shorten Your Term
If you've dreamt of paying your home off faster than 30 years, a lower mortgage rate may help make it a reality. When rates drop, it's easier to afford a shorter term payment since you pay more principal on a shorter term.
With the higher principal payment and lower interest, you may have a similar payment to your 30-year loan, but pay mostly principal rather than interest, saving you thousands of dollars over the life of the loan.
You Can Renovate Your Home (reinvesting in your home)
If you have equity in your home, you may have a better use for it than letting it sit there. To make home improvements, you can tap into your home's equity and use the money to reinvest in your home. When rates are low, you save money on your payments, and by renovating your home, you may increase your home's value.
You Can Consolidate High-Interest Consumer Debt
If you're in over your head in high interest credit card debt, you can tap into your home's equity to help. When mortgage rates are low, you can borrow more than you owe on your mortgage, using the proceeds to pay off the high interest credit card debt.
While you can't take advantage of the tax deductions for paying interest on the loan, you get out of credit card debt which is much more important for your budget.
You May Cancel Mortgage Insurance
If you borrowed over 80 percent of your home's value and pay mortgage insurance, a lower mortgage rate may make it easier to refinance. If you have an FHA loan, you may be better able to refinance with a lower interest rate too.
The lower rates make it easier to qualify for a new loan. If you wait until you owe less than 80 percent of the home's value, you may qualify for a new loan without mortgage insurance.
It's Easier To Buy Out Your Co-borrower
If you owned your home with your spouse but are now divorcing or you bought a home with another person and are parting ways, low mortgage rates make it easier to qualify for the refinance yourself.
Without the second income, it's tougher to meet the requirements, but a low mortgage rate creates a lower payment which may be easier to qualify for.
You Pay Less Out of Pocket For Your Home
Owning a home is expensive. Any way you can cut down your costs and save money helps. A lower interest rate means you pay less money to borrow money to buy the home. This leaves you more money to maintain and/or repair your home, keeping it in good condition.
A Low Mortgage Rate is Ideal for Every Borrower
Today mortgage rates are lower than ever. Borrowers can secure higher loan amounts and/or qualify for a loan they otherwise wouldn't have qualified for because of the lower rates.
When you see a mortgage interest rate that meets your budget, lock it in. Mortgage rates change often, sometimes more than once a day, so jump on the rate when you see it. You'll be surprised to learn how much money you save over the life of the loan with a slight change in the rate, even if it's only 0.5% or less.
San Diego, CA Mortgage Calculator
Using our San Diego, California mortgage calculator to figure out your monthly mortgage payment is an essential part of buying a home or refinancing a current mortgage. Use our free San Diego, California mortgage calculator to help you determine what you can afford and if you have questions please don't hesitate to ask!
Living In San Diego, CA
San Diego, CA is the southernmost city in the State of California. It borders Mexico and home buyers and homeowners looking to refinance their current mortgage receive the same great low mortgage rates everyone else in California receives. San Diego is about 120 miles south of Los Angeles and is located on the Pacific Ocean's coast.
Large Population
The city's immense population— the eighth largest in the U.S. and the second-largest in California— is the result of several factors, including comfortable year-round weather and temperatures, plenty of access to beaches and parks, a strong economy, a diverse population, caring residents, a healthy housing market, and many, many sights and activities.
San Diego is a family-friendly city and the opportunities to raise a family and have a good job are almost endless.
San Diego is a coastal city with 1.4 million people calling it home (surrounding areas included). The U.S. military has a large presence in San Diego and the Navy is one of the largest employers along with the University of California, San Diego, and Qualcomm.
It isn't enough to say that San Diego's weather is gorgeous. Farmers' Almanac, a farming journal that's been continuously published since 1818, ranked San Diego among "The 10 Best Weather Cities."
Warm Weather Most Of The Time
On average, the city enjoys more than 200 days of seventy-plus-degree weather per year. Snow has been seen on the ground just a handful of times during the last century and a half when weather record-keeping became consistent.
Besides pleasing locals and visitors and encouraging outdoor activity, San Diego's uniquely excellent climate has allowed it to become a bastion for rare plants and animals; more animals on the Endangered Species List live in San Diego than any other American city.
La Jolla Cove and The San Diego Zoo
Of course, this weather makes San Diego's beaches, parks, and outdoor destinations even more pleasant and enjoyable.
La Jolla Cove is a breathtaking waterfront park that's long been a favorite of locals, and Balboa Park, a massive, spanning public park that's home to the world-famous San Diego Zoo, is most definitely worth checking out.
Wave House and SeaWorld San Diego are fantastic water parks for visitors and locals of all ages, and the Torrey Pines State Natural Reserve is one of many San Diego spots that give visitors a chance to experience untouched nature.
The USS Midway Museum, a remarkable museum upon the aircraft carrier Midway, is an educational and exciting place for families and individuals to visit.
Education and Sports
The San Diego Padres are the professional baseball team located in San Diego, and they used to have a professional football team as well (Chargers moved in 2017). San Diego is also home to some great universities including; the University of California, San Diego, San Diego State University and the University of San Diego.
Entertainment And Activities
San Diego's indoor destinations rival—or perhaps surpass—its outdoor entertainment options. The San Diego Museum of Art, the San Diego Museum of Natural History, and many other museums are worth visiting.
And for days and nights when you're not sure if you'd like to be outside or inside, you can split the difference and enjoy a live San Diego Padres baseball game at Petco Park. As San Diego's only professional sports team, the Padres receive a lot of support and cheering when they win, and spirits can become pretty low when they come up short!
Taken as a whole, San Diego is a beautiful, economically well-off city to live in, and that's why millions of tourists decide to visit each and every year.
Interior Designers
Homebuyers and homeowners can achieve the layout they've dreamed of by consulting the services of San Diego's high-quality interior designers, including, for instance, Simply Stunning Spaces, Tracy Lynn Studio, Robeson Design, and Blythe Interiors, and many others.
Buying A Home In San Diego, CA
Real-estate wise, there's a lot for homeowners (and potential homeowners) to appreciate in San Diego.
The city's median home price is more than $622,000, and about three-quarters of the city's homes sell for $410,000 or more. About 65% of the city's homes were built-in or after 1970—a point that demonstrates just how modern and up-to-date the area's real estate is.
Low mortgage rates in San Diego have pushed home values higher and higher.
San Diego Realtors
Furthermore, SD's potentially overwhelming real estate market can be easily sifted through, by both buyers and sellers, with the help of one of the city's renowned real estate firms/pros. San Diego Realtor, SoldKey, Seth O'Byrne, Thomas Realtors, and Awesome San Diego are also worth reaching out to, whether you're in the market to sell or to buy/rent a house, apartment, and/or commercial space.
Consumer Financial Protection Bureau
The Consumer Financial Protection Bureau is a federal government agency entrusted to protect consumers from illegal lending practices and educate the general public on how to make better financial choices.
Homeowners in San Diego and throughout the country benefit from the resources of the Consumer Financial Protection Bureau (CFPB). It's important to know that the CFPB does not directly impact mortgage rates. Consumer mortgage rates originate in the Mortgage Backed Securities market.
We encourage all of our clients to take the time to visit the CFPB website to better educate themselves on the mortgage process.
California Department of Real Estate
In the state of California, the main agency that regulates both Real Estate Agents and loan officers is the California Department of Real Estate (California DRE). The California DRE ensures the following (and more):
That both Real Estate Agents and Loan Officers follow state regulations
That they are properly licensed to conduct business in the state of California
Consumers are educated about real estate and mortgage transactions
We encourage all our clients in San Diego to utilize what the California DRE has to offer. Both JB Mortage Capital, Inc. and Loan Officer Kevin O'Connor are properly licensed to conduct business in the state of California.
Why Do Homeowners Choose A Fixed-Rate Mortgage?
When it comes to choosing between fixed mortgage rates in San Diego versus adjustable mortgage rates in San Diego it's clear that most homeowners chose a fixed mortgage rate.
Why?
Simplicity and Certainty. Fixed mortgage rates are easier to understand. Adjustable rate mortgages have a "margin", "celling" and "floor" levels. Are based on various indexes and with an adjustable rate mortgage your payment can change.
With a fixed mortgage rate you never have to think about what your payment will be in 6, 12, or 24 months down the road. Because with a fixed mortgage rate your rate and your payment stay the same during the entire life of the loan.
The most popular fixed mortgage rate in San Diego is the 30-year fixed. Your rate and payment stay the same and each month you pay towards your principal. Keep in mind that during the first years of the loan a big chunk of your mortgage payment goes to interest but that changes over time.
The second most popular term is the 15-year fixed mortgage rate. The rate is lower than a 30 year fixed but your monthly payment is much higher. Just like the 30-year option, each month you pay towards your principal.
The good thing about a 15-year fixed-rate mortgage is that from the very first payment you are paying much more towards your principal when compared to a 30-year fixed-rate mortgage.
Get The Best Possible Mortgage Rate
If you are looking to purchase a home or refinance a current mortgage in San Diego then its super important you take the time to find the best possible mortgage rate. Whether it's a 30 year fixed, 20 year fixed or even a 15 year fixed mortgage rate every homeowner should do their best to get a low rate.
How do you do that?
Simple! Chose to work with a reputable Loan Officer with more than five years of experience. Shop around with 2 or 3 solid Loan Officers to ensure you get the best possible mortgage rate.
Mortgage Rates In Southern California
If you're looking for additional information on another Southern California city please be sure to visit our Southern California mortgage rates page.