Refinancing a current mortgage or purchasing a home means you'll want the best available mortgage rates in San Jose, California. The key to obtaining low mortgage rates is working with a quality mortgage company and a Loan Officer with years of experience. Contact me directly for a no-cost/no-obligation quote at 1-800-550-5538 or use one of our online request-a-quote forms.
Mortgage Rates In San Jose, California
Choosing The Best Mortgage Rate
If you obtain two-three quotes for reputable mortgage companies for your next mortgage in San Jose then you're in a great position to choose the best mortgage rate for you. Before you say "I'll just take the rate that's the lowest" you need to consider one important factor.
What are the total fees – for everything?
Let's say you're quoted the following 30-year fixed rates:
At first glance, it would see the 2.75% is the "best rate". And if there were no such thing as Loan Discount points, Loan Origination fees, Lender Fees, and 3rd party fees you would be correct.
But the fact is there always fees associated with a mortgage. Sometimes you pay all of them, sometimes you take a higher mortgage rate so that it's split between you and the lender, and other times you take even a higher mortgage rate and the lender covers all of the fees (a zero cost loan).
If the 2.75% mortgage quote comes with $8,000 in fees and the 3.00% comes with $1000 in fees….which is the best mortgage rate? The answer then depends on your short, medium, and long term financial goals and plans for the home.
If you're 100% certain that you'll never move and never refinance then the 2.75% makes sense. If you think you might move or refinance in the next 5+ years then the 3.00% mortgage rate makes more sense.
The best thing to do is after you receive your quote evaluate your goals and discuss them in further detail with your Loan Officer so that your new mortgage meets your financial needs.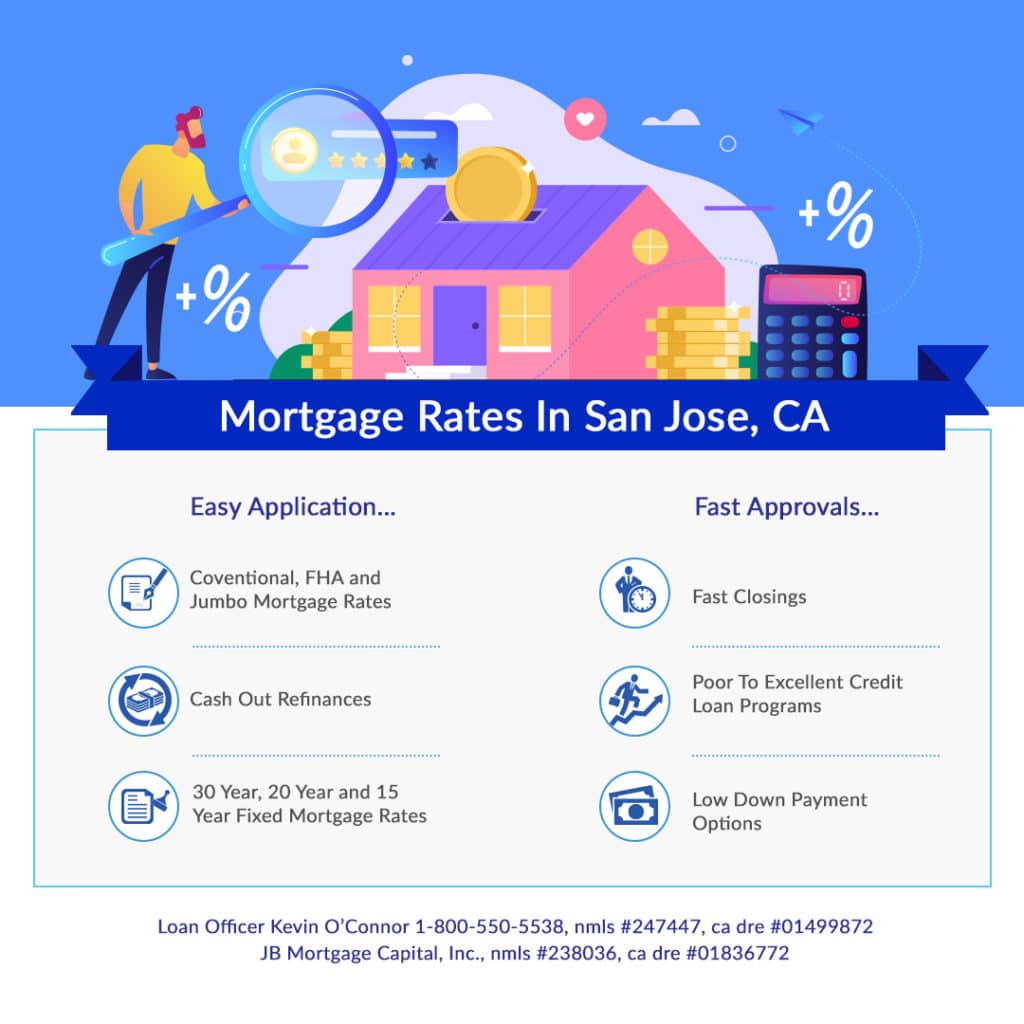 Benefits Of Refinancing
When you obtained your last mortgage rates in San Jose were higher. Now current mortgage rates in San Jose are lower and you're wondering if you should refinance. It seems like everyone around you is refinancing, should you jump on the bandwagon too?
Refinancing to get a lower mortgage rate can be one of the best things you do when it makes sense. Here are the top benefits of refinancing a high rate mortgage.
You'll Lower Your Payment
If you only refinance your outstanding principal balance and get a lower interest rate, your payment will decrease. Even a slight interest rate decrease will save you money, but you must decide what's worth it for you. Compare the monthly savings to the closing costs. Are the costs worth it? In most cases, they are.
Even if you save $50 a month, that's $600 a year. Over 10 years, that's a $6,000 savings, and 20 years is $12,000 savings. The more you save per month, the more you'll save over the life of the loan.
Even if you can afford your current payment, refinancing can free up money to invest and/or save for other things such as a car, your kids' college education, or retirement. You may even reinvest the money back into your home.
You May Pay Your Home Off Faster
Depending on how low rates get and what you can afford, you may refinance a 30-year term into a shorter term. If you can afford a 15-year term, you'll get the lowest interest rates and pay your loan off in half the time.
Even if a 15-year payment isn't affordable, consider a 20 or 25-year term. Think about how much time is left on your current loan and try to stick to it. This way you don't add years to your mortgage, defeating the purpose of refinancing.
You May Tap into your Home's Equity
Depending on how much interest rates drop compared to your current rate, you may even tap into your home's equity and still save money.
A cash-out refinance allows you to borrow money from your home's equity or the difference between your current home value and your outstanding mortgage balance. Most loan programs allow you to borrow up to 80 percent of your home's current value.
With lower rates, you may increase your principal balance, get some cash in hand, and still have a lower payment.
You can Get Rid of an Adjustable Rate Loan
If you took an ARM loan to keep rates affordable and now you want out when rates drop is a great time. Lower rates make it easier to qualify for a fixed-rate mortgage and getting out of the ARM could help you financially.
Predicting your payments and being able to budget provides peace of mind. Knowing your rate and payment month to month allows you to plan. Maybe you can make extra payments toward your principal some months. If you know your payment won't change, it's a great way to get ahead, but with an ARM it's too unpredictable to pay anything extra because you don't know what your next year's payment may be.
You May Have Money to Pay Down the Principal Faster
To keep the 30-year term for peace of mind, you can use the money you freed up with the lower rate to make extra principal payments.
Let's say you free up $100 a month by lowering the rate. Rather than spending the $100, you put it toward the loan's principal. While you're making the same payment, you're not paying it to the bank as interest. You're applying the extra $100 or $1,200 a year toward your principal.
If you do this consistently, you'll knock off $12,000 in 10 years. Not only does that knock your principal down, but it decreases the total interest you'll pay over the life of the loan. It also decreases your term, allowing you to pay your mortgage off faster.
When Should you Not Refinance?
Sometimes refinancing doesn't make sense. Even if interest rates drop, if any of these apply, you may want to wait.
You're moving soon. Refinancing costs money, which if you're staying in the home often makes sense. If you're moving, you won't enjoy the benefits of the lower interest rate.
You paid many years on your mortgage. If you'll restart the mortgage clock by taking another 30-year term but you've already paid 10 – 15 years on your mortgage, refinancing would cost you more.
You don't have good credit. To take advantage of the low-interest rates, you need good credit. If you've had credit or even income issues recently, you may not get the available low mortgage rates.
Your home value fell. Homes appreciate often, but sometimes they fall. Just look at the housing crisis of 2008. If your home's value fell, you may not be eligible for the low rates available to many borrowers.
Should you Refinance to get Lower Mortgage Rates?
Deciding if you should refinance to get lower mortgage rates is a personal decision. Look at all factors of your situation.
Will you stay in the home for a while? Can you afford a shorter term than 30 years? Are you trying to get out of an ARM or should you tap into your home's equity?
Knowing the answers to these questions helps you determine what is right for you. With today's low mortgage rates, millions of borrowers are taking advantage of the low rates, saving money on their mortgage and paying their loans off faster than ever before.
San Jose, CA Mortgage Calculator
Using our San Jose, California mortgage calculator to figure out your monthly mortgage payment is an essential part of buying a home or refinancing a current mortgage. Use our free San Jose, California mortgage calculator to help you determine what you can afford and if you have questions please don't hesitate to ask!
Living In San Jose, California
San Jose's official motto—"The Capital of Silicon Valley"—couldn't be more accurate. San Jose, CA which is home to more than one million individuals and spans over 180 square miles, is the epicenter of the internationally renowned tech-innovation region.
World-famous companies like Samsung, Ebay, PayPal, and Adobe are headquartered in San Jose, and naturally, the city is inhabited by a tremendous number of individuals who're employed in tech-related fields.
More than being a financial powerhouse and an in-demand real estate site, though, San Jose is a breathtaking, one-in-a-million city that offers all manner of exciting activities, reputable financial services, and excellent educational opportunities.
A Strong Economy
To truly understand just how strong San Jose's economy has been, is, and looks as though it will be in the future, one must examine "the numbers." Over 80% of the city's adult residents have graduated from high school; about fifty percent hold a college degree or are pursuing a college degree.
The city's per-capita income, at almost $38,000, is nearly a third above the national average. Similarly, the city's median household income—over $90,000—far exceeds the national average of roughly $55,000. While countless cutting-edge companies are headquartered in San Jose, once again, many others, including Facebook, Google, and Apple, maintain a presence in the city.
Historically, San Jose's unemployment rate has been far below the national average.
Top Quality Services
As a result of the comparatively high earnings of San Jose residents and the city's ample employment opportunities, a plethora of fantastic financial institutions offer top-quality services to clients. Everything from basic checking and savings accounts to retirement advice and loan opportunities can be found in San Jose.
Fremont Bank, Bank of the West, Umpqua Bank, Cathay Bank, and Metropolitan Bank, amongst many others, are operated by caring, attentive, and knowledgeable financial professionals.
Professional Sports And Entertainment
San Jose is also home to several professional sports teams like the San Jose Sharks, San Jose Earthquakes and San Jose State Spartans. San Jose California is home to some great family attractions as well. The Municipal Rose Garden, The Tech Museum, The Children's Discovery Museum and many other great family activities residents, or visitors, can access. It's also home to some great theatres, restaurants, and hotels.
Real Estate In San Jose
Two words aptly describe San Jose's housing market: "in demand." The city's modern, state-of-the-art homes and apartments make excellent places to live—and invest—in. The city's median home value is close to one million dollars, and more than 65% of San Jose homes have sold for over $761,000.
Over half of San Jose residents are homeowners, and more than six-tenths of the city's homes were built after 1970. San Jose's average home value has appreciated in each year since 1994, except for one year following the dotcom pop and three years following the 2008 recession.
San Jose Realtors
Real estate professionals and firms such as EQ1 Real Estate, 1 Team Realtors, and Inferno Real Estate, amongst others, are ready and waiting to help buyers, sellers, and renters receive the answers and assistance they need.
It should also be mentioned that San Jose's home interiors are the envy of individuals in neighboring cities because they're set-up by some of the world's greatest interior designers.
Feng Shui Style and Symmetry Designs, for instance, are well-reviewed up-and-coming interior design firms that operate out of (and almost exclusively in) San Jose.
A Great Place To Call Home
There's a lot more to San Jose than ample employment opportunities and a healthy real estate market. To be sure, the city's activities and sights offer something for everyone to have fun with.
The beautiful sights, sounds, and scents of the Municipal Rose Garden will please horticulturists, and parks like the Los Gatos Creek Trail and the Almaden Quicksilver Country Park will thrill outdoor enthusiasts.
Those with a zest for learning will adore the Children's Discovery Museum, The Tech Museum of Innovation, and the San Jose Museum of Art. Last but certainly not least, the City of San Jose holds a number of fun events per year, most of which are free to attend and open to the public.
These events are always subject to change, and anyone interested shouldn't hesitate to visit San Jose's official website.
Low San Jose, California Mortgage Rates
One of the best cities in Silicon Valley is San Jose.
Great neighborhoods, fun family attractions, a great economy, and opportunities for higher education are just some of the reasons why so many people call it home. Historically low mortgage rates in San Jose, California have enabled more people to buy homes which have enabled the economy to grow.
This trend should continue as more companies continue to expand.
Additional California Cities
If you're looking for additional information on another Northern California city please be sure to visit the main Northern California page.