With a population of just over 1 million people; San Jose California is located in the northern part of the state about 50 miles south of San Francisco. Low mortgage rates along with a booming tech sector have pushed property values higher than most cities in California. San Jose has a diverse population with various industries, educational opportunities and family fun activities. Many banks, direct lenders and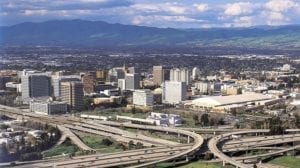 mortgage brokers offer residential mortgages in the area and at JB Mortgage Capital, Inc. we pride ourselves on offering the our best low rate mortgage to each and every Californian. We offer fixed rate mortgages, adjustable rate mortgages along with mortgages for primary residences, vacation homes and investment properties. Our commitment to providing low mortgages rates and fast processing times is what makes working with JB Mortgage Capital, Inc. so enjoyable.
San Jose, California is the third most populous city in California and is at the heart of the tech industry in "Silicon Valley". The average home price in San Jose, California is just over 1 million dollars and the cost of living is very high. Some of the largest companies in the world call San Jose home including Cisco, Western Digital and Adobe. Target, the US postal service and San Jose State University are some of the largest employers in the area. San Jose is also home to several professional sports team like the San Jose Sharks, San Jose Earthquakes and San Jose State Spartans San Jose California is home to some great family attractions as well. The Municipal Rose Garden, The Tech Museum, The Children's Discovery Museum and many other great family activities residents, or visitors, can access. It's also home to some great Theater's, restaurants and hotels.
If you live in the San Jose area and are looking to buy a new home or refinance your current mortgage please give us a call for a no cost – no obligation quote; 1-800-550-5538. We have an A+ rating with the Better Business Bureau, AAA rating with the Business Consumers Alliance, a five star rating with Zillow and a five star rating with Mortgage101. From application to closing you'll work with one person; not 2, 3 or even 4 people like some mortgage companies. At JB Mortgage Capital, Inc. we do things differently to ensure your closes as promised and on time.