Low mortgage rates in Santa Clarita, California is a top priority for homeowners and homebuyers. I have over 16 years of experience as Loan Officer providing low rates, fast closings, and exceptional customer service.
Helping Homeowners Achieve Their Dreams is not just a saying, it's something my team fully believes in.
Mortgage Rates In Santa Clarita, California
Santa Clarita, California Mortgage Calculator
Using our Santa Clarita, California mortgage calculator to figure out your monthly mortgage payment is an essential part of buying a home or refinancing a current mortgage. Use our free Santa Clarita, California mortgage calculator to help you determine what you can afford and if you have questions please don't hesitate to ask!
Many Mortgage Options For Our Clients
If you would like a no-cost/no-obligation quote then contact me directly at 1-800-550-5538 or you can use one of our contact us/request a quote forms located throughout our website. Refinance or purchase we handle it all when it comes to residential mortgage lending.
We offer Conventional, FHA and Jumbo loan programs, 1st and 2nd position mortgages (fixed and equity lines) and we offer low down payment options. From excellent credit to less than perfect credit we offer a wide variety of options to exceed the needs of our clients.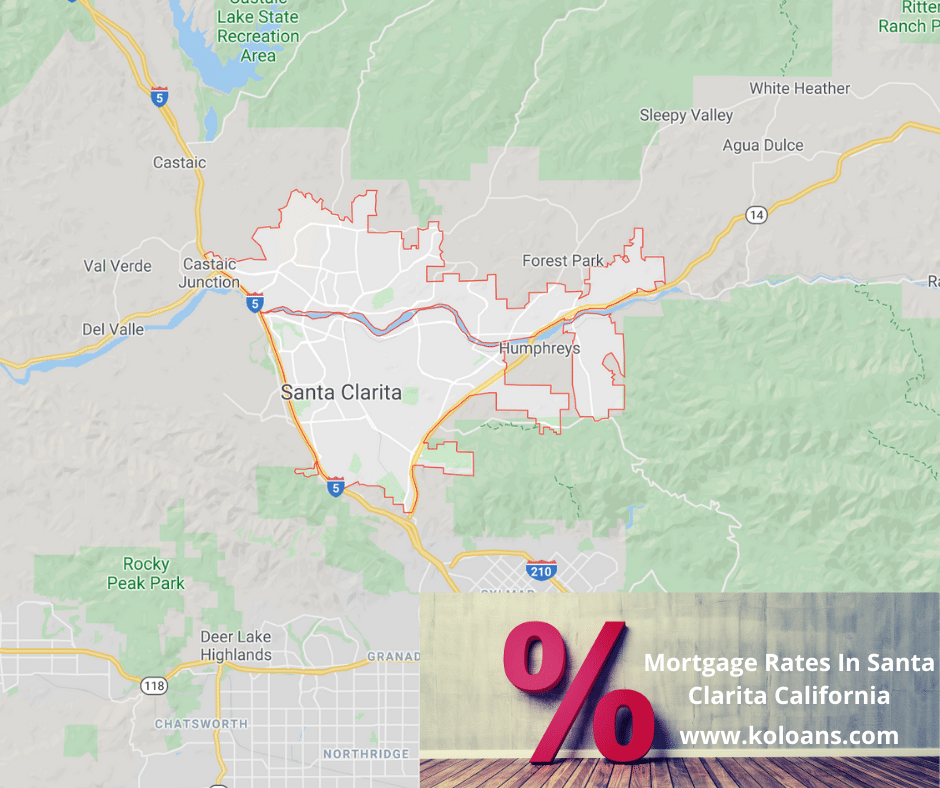 Local Realtors In Santa Clarita
Santa Clarita, California mortgage lenders work with local Realtors to help ensure a smooth and efficient transaction. Here are some local Realtors you may want to consider for your next purchase transaction.
Team Avalos:
Under the umbrella of Keller Williams VIP Properties, Team Avalos is located at 25124 Springfield Ct #100
Valencia CA 91355. Their direct office number is (661) 290-3743.
Alonso Real Estate Group:
This company is under the umbrella of Re/Max Santa Clarita. Alonso Real Estate Group is located at 24273 Main Street, Santa Clarita, CA 91321 and their office number is (818) 624-1019. According to their website "A tradition of trust, a tradition of values and a tradition of genuine real estate services."
Re/Max Gateway – Santa Clarita:
Located at 25129 The Old School Road, Suite 114, Santa Clarita, CA 91381. Their direct number is (661) 400-1720. The Re/Max Gateway group is a full service residential real estate company.
Local Santa Clarita Banks
Here are two local banks that have branches in Santa Clarita, California.
Mission Valley Bank:
The Centre Point Branch is located at 26415 Carl Boyer Dr., Santa Clarita, CA 91350 and the direct number is (661) 253-9500. Mission Valley Bank has offices in Santa Clarita, Sun Valley, and Torrance. The bank is a mortgage lender in Santa Clarita and provides checking and savings accounts.
Bank Of Santa Clarita:
Bank of Santa Clarita is located at 23780 Magic Mountain Parkway, Santa Clarita, CA 91355. Their main contact number is (661)-362-6000. The bank offers numerous services including checking and savings accounts.
Living In Santa Clarita
Located north of LA, Santa Clarita is the third-largest city in Los Angeles County and the 23rd largest city in the state of California. Ranked in 2006 by Money magazine as the 18th on the "top 100 places to live" list and home to Melody Ranch, Golden Oak (Disney) studios and Princess Cruises, Santa Clarita boasts of affordable housing and peaceful surroundings that makes the city an ideal place to raise a family.
The city which is located in downtown LA is a major tourist location as it features various amazing attractions like the Vasquez Rocks, the Gibbon Conservation Center and the world-famous California Institute of the Arts.
Looking for a quick bite? The Saugus Cafe on railroad Avenue, Saugus happens to be the oldest operating restaurant in the entire Los Angeles County. Public art installations and statements like murals, sculptures, paintings, etc, make Santa Clarita the ideal place for art lovers.
Vasquez Rocks:
Get catapulted into the famous Star Trek IV, the popular TV show, Friends and many other shows and movies at the gorgeous scenery of the Vasquez Rocks. The rocks provide a great background for photos and an amazing location for guided hikes in the month of May through October.
Six Flags:
The Six Flags Hurricane Harbor is a water park that sports calm cruises down the lazy river, water slides, the taboo towers, a kid zone with shallow pools for the little ones and more. Six Flags also houses loads of restaurants that boast of really great meals.
The famous Six Flags Magic Mountain is an amusement park with great rides that suit all ages from wild towering roller coasters like the West Coast Racers to kids' rides like the Bugs Bunny World.
California Institute Of The Arts:
Founded in 1960 by Walt Disney in a bid to fulfill his dream of having an art institution with all the art schools, CalArts, as it is fondly called, is a four-year private university offering both undergraduate and graduate degree programs at its six schools; Art, Dance, Theater, Music, Film/Video, Critical studies.
St. Francis Dam:
One of the greatest historical sites in all of California which dates back to the 1920s, the dam collapsed on March 12, 1928, killing about 500 people. A guided tour through the ruins provides details on the dam like how it was built and why it collapsed. The collapse of the dam is recorded as one of the worst American Civil Engineering disasters to occur in the 20th century.
The most recent disaster, the shooting at the Saugus High School on November 14, 2019, which resulted in 3 deaths and injuries happens to be one of the worst the city has seen.
Gibbon Conservation Center:
Dating back to the 1970s, the center deals with preservation and research of the cute little Gibbons and offers free tours from 10am on Saturdays and Sundays.
Passages:
An actual museum of the bible, Passages is dedicated to teaching Jewish, Roman, Catholic and Protestant history and how they relate to the bible.
Santa Clarita Trails:
Boasting of over 70 miles perfect for hiking and complete with parking areas, water fountains, and benches, some of the trails include; Lost Canyon Road Trailhead, South Fork Trailhead, Camp Plenty Road Trailhead.
Old Town Newhall:
Located in Santa Clarita, the town has a literal walk of fame exhibit that makes you feel like you've been teleported into a western movie. You can also attend the annual cowboy festival which promises to be much fun.
Castaic Lake:
Love the water and all it has to offer? Then you've got to visit the Castaic lake. From swimming, boating and jet skiing to hiking and even horseback riding, the 9,000-acre lake and its environs have it all.
Quigley Canyon:
Located in a space of over 160 acres of land at the center of Santa Clarita, the Quigley canyon has about 4 miles of trails that suit the picnicker, hiker, horseback rider and nature lover.
Robinson Ranch Golf Club:
One of the leading award-winning golf centers in all of California, the club boasts of two courses; the mountain course and the valley course. The ranch also has a 300 person banquet room, a terrace lounge and a restaurant for guests to dine in.
Santa Clarita offers these and many more attractions for the tourist and potential resident.
Low Santa Clarita, CA Mortgage Rates
If you are living in or moving to the area please be sure to contact us for a no-cost/no-obligation quote. We offer low mortgage rates in Santa Clarita, California and throughout the area. Fixed mortgage rates or adjustable mortgage rates; we have the loan programs to meet your needs.
There are a lot of great areas in the city, lots of family activities and the area has some affordable housing along with a strong k-12 school system. Obtaining the best possible mortgage rate will help expand your home buying options. If you have any questions please be sure to ask.
Additional California Cities
If you're looking for additional information on another Southern California city please be sure to visit the main Southern California page.