Low Southern California mortgage rates, fast closing, and exceptional customer service.
If you are buying a home or refinancing a mortgage in Southern California then you've come to the right place. I have over 16 years of experience providing low mortgage rates in Southern California. Contact me today for a no-cost/no-obligation; 1-800-550-5538 or contact us using one of our request forms.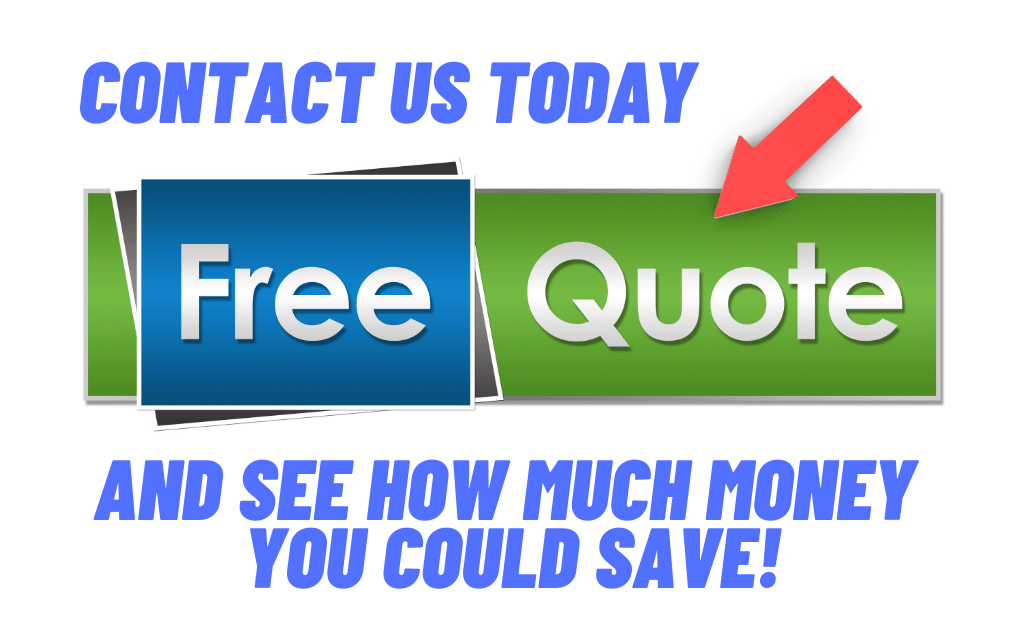 How To Choose Which Mortgage Rate Is Best For You
It's one of the most important questions you can ask, which mortgage rate option is best for me? The good news is that we can help answer that question. Living in Southern California means you have options but sometimes it can get overwhelming…especially when it comes to mortgage rates!
The three main mortgage rate options in Southern, California are:
30-Year Fixed Mortgage Rate
20-Year Fixed Mortgage Rate
15-Year Fixed Mortgage Rate
Here is a simple guide to help you determine which mortgage rate option is best for you:
Do you want to pay off your home as fast as possible? Then go with a low rate 15-year fixed mortgage. This option best meets your needs.
Are you looking to obtain a low payment so you can have better cash flow each month? Then you should lock in a 30-year fixed mortgage rate. This gives you the lowest payment out of the three options.
Let's say you want a balance between a fast payoff and a low payment? We have a solution for that! The 20-year fixed mortgage rate is going to be your best solution.
When you take the time to figure out what's best for you and your financial goals it makes the mortgage process much easier. And if you still have questions as to which mortgage rate option is best for you, feel free to contact me directly at 1-800-550-5538 to discuss further.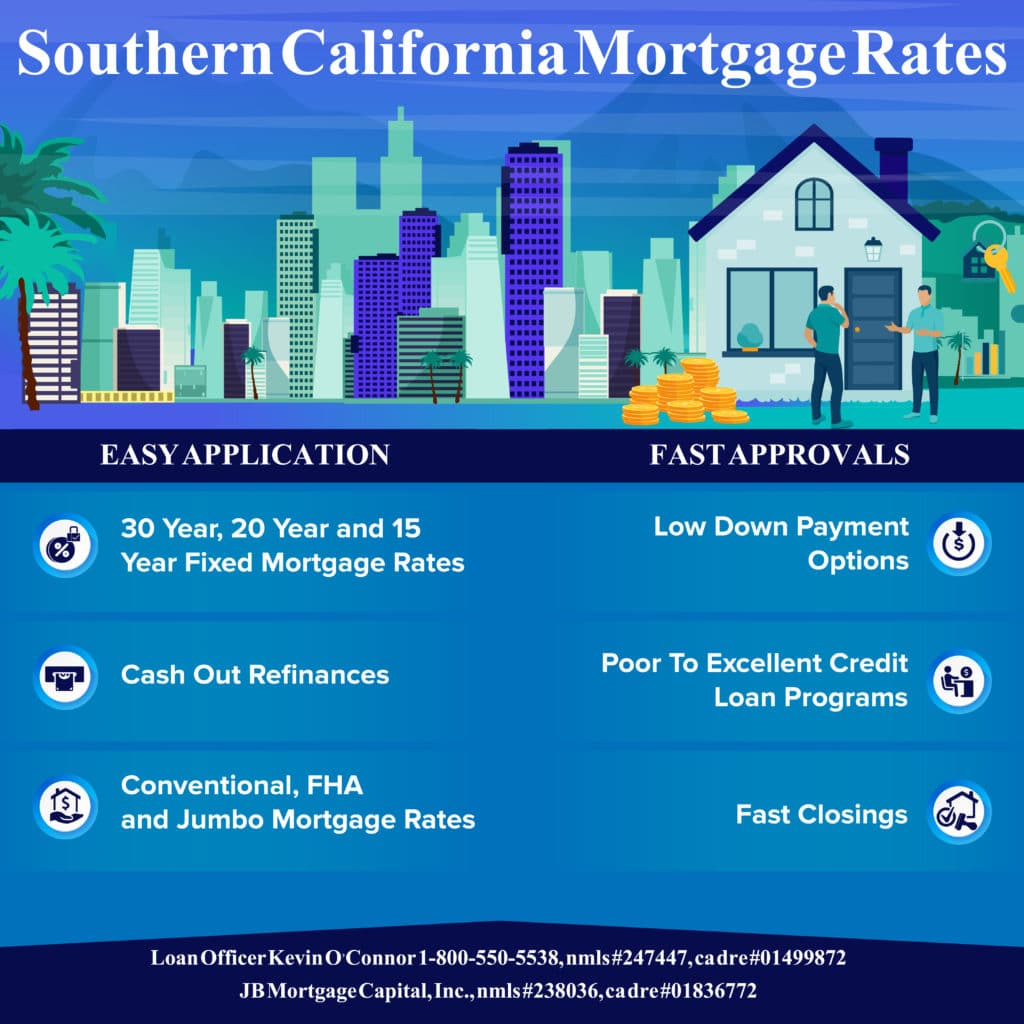 How Your Credit Score Impacts Your Mortgage Rate
Your credit score is one of the first things mortgage lenders see when you apply for a mortgage loan. If you have a good credit score, you have a good chance of loan approval and securing great rates. If your credit score is not so good, you may get approved, but without the best rates, and possibly higher fees too.
How much does your credit score impact your mortgage rate? We break it down for you below.
Why Lenders Care about your Credit Score
Your credit score is one of the most important qualifying factors. It tells lenders how well you handle your finances.
A low credit score shows you pay your bills late and/or overextend your credit. It shows lenders you aren't a good risk and may default. If lenders take a risk on you, they increase the interest rate to make up for the risk.
A high credit score shows you pay your bills on time and/or use your credit responsibly. You are a lower risk of default when you have a high credit score and lenders reward you with lower interest rates.
Credit scores aren't the only factor lenders look at, but it's one of the most important.
Now the question is, what credit score should get you the best rates?
What Credit Score is Required?
First, let's look at the MINIMUM credit score required for each loan program. The minimum credit score is what you need to qualify for the loan. Minimum scores will not get you the best rates.
To get a mortgage you need these scores:
FHA loans – 580
VA – 620
USDA – 640
Conventional – 660
Now let's compare how lenders look at different borrowers for each program. We'll use the FHA loan as an example.
Two borrowers, each applying for a $200,000 FHA loan have different credit scores. Borrower A has a 580-credit score, and Borrower B has a 650-credit score. All other qualifying factors are the same – they have the same debt ratio, will make the same down payment, and have the same employment history.
They may both get FHA loan approval, but Borrower B will get a lower interest rate because he has a higher credit score. In the lender's eyes, he is a better risk because his credit history shows timely payments and responsible use of his credit.
The bigger question here is how much does the higher rate affect your loan?
How Much Does the Interest Rate Matter?
There could be as much as a 100-point difference in credit scores between borrowers, which could mean a difference of 0.5% to 1% in the interest rate.
But how does that work out in the payment?
On a $200,000 loan at 4%, the payment would be $955 on a 30-year term. If you had bad credit and could only get a 5% rate, the payment would be $1,074.
It's a difference of $119 a month. That doesn't sound like much and if you can get approved for a loan with bad credit, it sounds great.
But look at the big picture.
Paying $119 extra per month is equal to $1,428 a year. If you keep the loan for 10 years, you'd pay $14,280 more and if you keep it for the full 30-year term, you'd pay $42,840 more.
You could probably think of a lot of things to do with $42,000, including save for retirement.
So how do you fix your credit to get the best credit scores?
Building Better Credit To Obtain A Better Mortgage Rate
Credit scores change monthly, so you have plenty of opportunities to fix your credit score even if you ruined your credit.
Whether you had to file bankruptcy, suffered a foreclosure, or just couldn't pay your bills on time and ruined your credit, there are ways to build better credit.
Here's how to build better credit for a better mortgage rate:
Bring all your late payments current. This is the priority. Your payment history makes up 35 percent of your credit score and is the largest part of your credit. Even one 30-day late payment can drag your score down. Bring all payments current and keep them there. If you can't afford specific payments, work out an arrangement with your lender or consolidate the debt into a more affordable loan.
Pay down your credit card debt. Keep your credit card debt at 30% or less of your credit lines or $300 for every $1,000 credit line. This is the second-largest part of your credit score and if you're over-extended, it hurts your score. Focus on paying your debts down or off, if possible. If you can't ask your credit card company for a credit line increase or consolidate the debt into a personal loan and clear your credit cards, but don't use them.
Don't apply for new credit. Your credit age is the average length of all your credit lines. When you open a new credit line it brings the age down and hurts your credit score. Refrain from applying for new credit unless necessary.
Dispute any errors. Check your credit report for free annually. If there are any errors whether clerical errors or someone who stole your identity, dispute the debt with the credit bureau. Each of the three bureaus offers online disputes that make it easy to eliminate errors and improve your credit.
If you want the best mortgage rate, increase your credit score for the best results. Loan programs for low credit scores exist, but you'll pay higher interest rates to make up for the risk of your lower credit score.
If you can't improve your credit score, determine if you have any compensating factors. Lenders look at the big picture, so if you have factors that 'make up' for your lower credit score, it may work. Low debt-to-income ratios or large down payments are common compensating factors that help lenders approve your loan for lower interest rates even if you have a low credit score.
The Best Mortgage Rate – Questions To Ask
Here are some of the most important questions you can ask a Loan Officer when requesting a quote. Asking questions is the best thing you can do when looking for the best possible mortgage rate.
What are the rate, loan amount, and monthly payment?
Are there any Discount Points or Loan Origination fees?
What are the lender fees?
What are the third-party fees?
What is the total amount of all fees (a key question)?
Homeowners in Southern California, if you ask these five questions you'll be in a much better position to find the best mortgage rate. And perhaps one of the most important questions is "what is the total amount of all fees?"
The reason is some Loan Officers will try to hide some fees so if you ask for the total amount you should receive a true picture of what the loan is costing you.
Southern, California Mortgage Calculator
Using our Southern, California mortgage calculator to figure out your monthly mortgage payment is an essential part of buying a home or refinancing a current mortgage. Use our free Southern, California mortgage calculator to help you determine what you can afford and if you have questions please don't hesitate to ask!
San Diego, California Mortgage Rates
Mortgage rates in San Diego, CA are no different than anywhere else in the state. There are a wide variety of programs to choose from.
Conventional
Jumbo
Government-Backed (such as FHA and VA mortgages)
The key to getting a low-rate mortgage in San Diego is to work with a reputable lender and Loan Officer you can trust. And don't forget to ask questions, lots of them!
Long Beach, California Mortgage Rates
The most popular mortgage rates in Long Beach, CA are typically fixed-rate mortgages. And the most popular fixed-rate mortgage is the 30-year fixed rate mortgage. Whether it's a Conventional, Jumbo, or FHA mortgage we have the 30-year fixed rate options you need.
Fixed-rate cash-out refinance…..yes!
Fixed-rate home purchase mortgage…..yes!
Non-occupying co-borrower fixed-rate mortgage….yes!
Low rates, fast closings, and exceptional service are three things you should demand from your mortgage company and the Loan Officer you work with.
Los Angeles, California Mortgage Rates
A common question among homeowners is this; how does my credit score impact my mortgage rate?
Like anywhere else in the country, Los Angeles California mortgage rates are impacted by credit scores. The higher the credit score the lower the mortgage rate. Now just to be clear, that is not unlimited and there is a general ceiling on the impact your credit score has on your mortgage rate.
For Conventional mortgages, someone with a 740 credit will generally be offered the same mortgage rate as someone with a 780 or 800 credit score.
As you move below a 740 credit score you could start to see higher mortgage rates so its important to do your best with keeping your credit score elevated.
Is your score below 740? Not to worry, there are plenty of mortgage options for those with a credit score below 740….even if it's below a 700 credit score there are still plenty of options.
Southern California Realtors
When you are looking to buy a home in Southern California we suggest you hire a Realtor. Southern California Realtors will work worth your Southern California mortgage broker (or lender) to ensure a smooth and efficient transaction. When you are searching around for Realtors in the area make sure you find one with years of local experience and be sure sure to ask lots of questions.
CenterMac Realty Of Southern California
CenterMac Realty of Southern California is located at 640 North Diamond Bar Blvd., Diamond Bar, CA 91765 and their direct number is (909) 860-9002. In addition to providing residential realty services the company also offers a Real Estate School for those looking to become Realtors.
Murphy and Murphy Southern California Realty
Chris and Kim Murphy make up the Murphy and Murphy Southern California Realty company and they are located at 130 North Main Ave., Fallbrook, CA, 92028. Their direct number is (760) 310-9292. Their career began in 1996 and they won "Rookie of the Year" with Prudential realty group.
SoCal Realtors And Associates
Located at 400 South State Street, Suite F, Hemet, CA 92543, this local realty company works with first time home buyers as well as experienced buyers. You can contact SoCal Realtors and Associates directly at 1-888-266-7101.
Harrison Luxury Group
Under the ReMax Collection realty umbrella, Harrison Luxury Group is located at 5655 Lindero Canyon Road, West Lake Village, CA 91362. Their direct number is (805) 208-7544. According to their website, they are at the forefront of the digital age when it comes to marketing.
SoCal Properties
Part of the Keller Williams realty group; SoCal Properties is located at 17785 Center Drive N #120, Cerritos, CA 90703. Their direct number is (562) 754-0660. They are a full-service realty company with local experience.
Southern California Banks And Credit Unions
Some homeowners and homebuyers work with a bank, direct lender or a Southern California mortgage broker for their home mortgage needs. Whichever option you chose make sure you are working with a reputable mortgage broker (or lender), and a Loan Officer with at least five years of experience.
Bank Of Southern California
With twelve locations the Bank of Southern California offers traditional banking services (business and personal). Their Carlsbad, California branch is located at 3142 Tiger Run Court, Suite 107, Carlsbad, CA 92010. Their direct number is (760)-599-7044. It's "a growing community business bank" that has local decision-makers.
Credit Union Of Southern California
Credit Union of Southern California has branches in Los Angeles County, Orange County, and San Bernardino County. Their main office is located at 8028 Greenleaf Ave., Whittier, California, 90602 and their direct office number is (866) 287-6225.
California First National Bank
Even though the bank (aka CalFirst National Bank) is focused on business owners, not-for-profit organizations, associations and educational institutions they do offer traditional banking services. CalFirst is located at 4 Executive Circle, Suite 120, Irvine, California, 92614. Their direct number is (800) 735-2465.
Consumer Protection and Mortgage Rates
It's important to know that the mortgage industry does offer a wide variety of resources that are aimed at protecting the consumer. The three main organizations are the Consumer Financial Protection Bureau (CFPB), the California Department of Real Estate (California DRE) and the Nationwide Mortgage Licensing System (NMLS).
Why is this important to mortgage rates?
When you receive a mortgage rate quote you want to know that the quote comes from a "trustworthy" mortgage company and that the quote is "legitimate". By utilizing the resources that the CFPB, the California DRE, and the NMLS offer you'll be in a better position to know which companies are trustworthy and that in turn will provide you a better opportunity to obtain legitimate mortgage rate quotes.
Consumer Financial Protection Bureau
What's just as important as a low mortgage rate in Southern California? Working with a company that believes in doing the right thing. Prior to 2008, some lenders in the mortgage industry were struggling with that concept however those lenders are gone and a lot has changed.
And a big reason for that change was the Consumer Financial Protection Bureau (CFPB). This a federal government organization that was created to protect consumers from predatory lending and also educating them on best lending practices as well.
And they are doing a great job!
More than a decade has passed since the financial collapse and the mortgage industry is doing a much better job because of the CFPB. Borrowers are better informed and predatory lending practices are gone. Remember prepayment penalties? Those are gone. How about 2/1 ARM loans? Those are gone to.
The fact is the CFPB has brought stability and clarity to the mortgage industry and mortgage rates in Southern California (and throughout the country) have benefited from that.
At JB Mortgage Capital, Inc. consumer protection is a top priority to us and we continue to support the CFPB and its efforts to protect and better educate consumers.
California Department of Real Estate
When you narrow in to the state level an important part of our industry is the California Department of Real Estate (aka California DRE). Both Loan Officers and Real Estate agents are required by law to have a license issued by the state of California. Without that license, you are not allowed to operate.
If you have a quote from someone who does not have an active license then I highly suggest you stop working with that person and find a different Loan Officer.
The California Department of Real Estate is a big part of the mortgage industry and we highly suggest consumers take full advantage of what they have to offer.
Nationwide Mortgage Licensing System
The NMLS was created shortly after the 2008 financial crisis and in the simplest terms, it's a record-keeping organization for mortgage companies, Loan Officers, and other industry professionals.
It's the only national organization that a consumer can use to look up information about a company or a Loan Officer they are working with. Some of the information the NMLS provides to consumers is current employment and previous employment. In the case of a mortgage company it will provide the main office address and if applicable other office addresses.
NMLS is a key tool for homeowners and we believe they play an important part in helping Southern California consumers obtain the best possible mortgage rate.
Southern California – A Great Place To Call Home
Southern California is possibly the most well-known portion of the state, with 12 cities boasting populations of over 200,000 residents and 35 boasting over 100,000 residents. It's also home to some of the biggest cities in the entire state such as Los Angeles, San Diego, Irvine, and Chula Vista. When it comes to actually see these huge cities, however, it's not all about the population. It's about seeing all the things that you can do, whether you're looking to take a vacation or you're planning to move there permanently.
Places to Live
If you're planning to move to Southern California you're going to want a great place to live. Well, throughout the region there are a number of great places you can rent, buy or stay for a short period of time or a long time.
Costa Mesa and Encinitas are two great cities to check out if you're looking to keep your stay (however long) a little less expensive. Located not far from downtown Los Angeles, Costa Mesa has a suburban look to the homes but also has great shopping, schools, and low crime.
Encinitas is a little further from Los Angeles but not too far from San Diego and offers great amenities including restaurants, activities, and definitely surfing. You'll find that San Diego and Irvine are two of the best neighborhoods overall, whether you're planning to live in the region or not. Here you'll find safe areas with great jobs and spectacular schools.
These can be more expensive cities to live in, but both have great features to make up for it. San Diego has the nightlife and beaches while Irvine has schools and more. Located in the Los Angeles River flood plain is Atwater Village, a small neighborhood that's pedestrian-friendly, beautiful to look at, and full of different housing options. Not to mention you'll find some of the best food options anywhere.
You'll find shopping, nightlife and everything you could want when moving to a new area.
Another great place in the Los Angeles area (that you've probably never heard of) is Echo Park. It's located nearby Silver Lake, but here you're going to find some of the best aspects of California living. The diverse community of Echo Park lends itself to the creative type and that definitely shows in the beautiful adventures you can have here.
Great Neighborhoods
Want to make sure you're hitting all the best neighborhoods when you travel to Southern California? Well then, you're going to want to check out some of these great places. Whether you're looking for iconic parts of the area like Beverly Hills and Hollywood or beach towns like Santa Monica and South Bay, you'll find some great places to explore and spend your time. Southern California has a great deal to offer.
Malibu is one that you've no doubt heard of and for good reason, it's one of the best beach towns you'll find in the country, with some beautiful sand and even hiking trails. Not to mention there's plenty of waves for those who love to head out on the water. If you're looking for celebrities you have a pretty good chance of finding them here too because this is one of the best places for them as well.
The Southern California Adventure
If you're looking to travel to Southern California you're definitely going to have an amazing time. For tourists who want to check out the best landmarks or people who are planning to move and want to work for the best companies, you're going to find plenty to offer in this region of one of the most amazing states in the country. All you need to do is decide where you're going to start your adventure.
Things to Do
If you're traveling to Los Angeles for fun then you're not going to want to miss out on the Getty Center, for one. It features amazing artwork, research, and more. It also offers a beautiful villa and a library for those looking to get even more up close and personal. The Griffith Observatory is another amazing spot in LA that you won't want to miss with telescopes, exhibits, and even live shows. Not to mention you'll get some of the best views of the city.
Even better, the Observatory (like the Getty Center) is completely free to visit. The San Diego Zoo is another extremely popular tourist attraction for those visiting Southern California and features over 3,700 animals from all over the world. You'll be able to explore their lives, experience amazing interactions, and much more.
Of course, no list of tourist attractions in Southern California would be complete without discussing Disneyland theme park in Anaheim. This smaller version of the Walt Disney World theme park in Celebration, Florida is still a spectacular place to experience the Disney Magic.
Another big attraction that definitely deserves recognition is the Hollywood sign, which has gained infamy throughout the country as a representation of the entire state (though it If you're heading to the beach towns you're going to want to check out the Santa Monica Pier, where you'll find an amusement park that's been around for 100 years. You'll also find the Pacific Wheel, an aquarium, and plenty of shops and restaurants that all make this a great place to check out.
Low Southern California, Mortgage Rates
Low mortgage rates in Southern California have helped increase home values over the last twenty years. Most homeowners and homebuyers chose a 30-year fixed rate loan term. Other popular loan terms are the 20-year and the 15-year fixed. There are those that prefer the Adjustable Rate Loan program which usually has lower mortgage rates (usually).
The most popular ARM loan program is the 7/1 ARM. Mortgage for the 7/1 ARM program is generally .25% below 30-year fixed rates however not all the time. If you are interested in a 7/1 ARM make sure you as your Loan Officer what are the current mortgage rates for that program.
When you are obtaining your mortgage rate quotes make sure you find out the total fees from the loan officer (don't just ask if there are any points). If you ask what are the "total" fees you'll have a better understanding of what the loan is costing you.
Additional California Cities
If you're looking for additional information on another California city please be sure to visit the main California mortgage rate page.