Loan Officer Kevin O'Connor has over 16 years of experience delivering low mortgage rates in Temecula, California. We offer fast closings and exceptional customer service to each and every client.
If you live in Temecula, CA and are looking to purchase a home or refinance a current mortgage please be sure to contact me directly for a quote and see what makes us different. Helping Homeowners Achieve Their Dreams is not just a saying, it's something my team fully believes in.
Mortgage Rates In Temecula, California
Temecula, California Mortgage Calculator
Using our Temecula, California mortgage calculator to figure out your monthly mortgage payment is an essential part of buying a home or refinancing a current mortgage. Use our free Temecula, California mortgage calculator to help you determine what you can afford and if you have questions please don't hesitate to ask!
Why You Should Work With Us
We're a top-rated mortgage broker with the Better Business Bureau, Business Consumers Alliance and offer industry low mortgage rates. We have fixed rate mortgages and adjustable rate mortgages along with low down payment options and mortgages for people with less than perfect credit. Contact us today for a no-cost/no-obligation quote!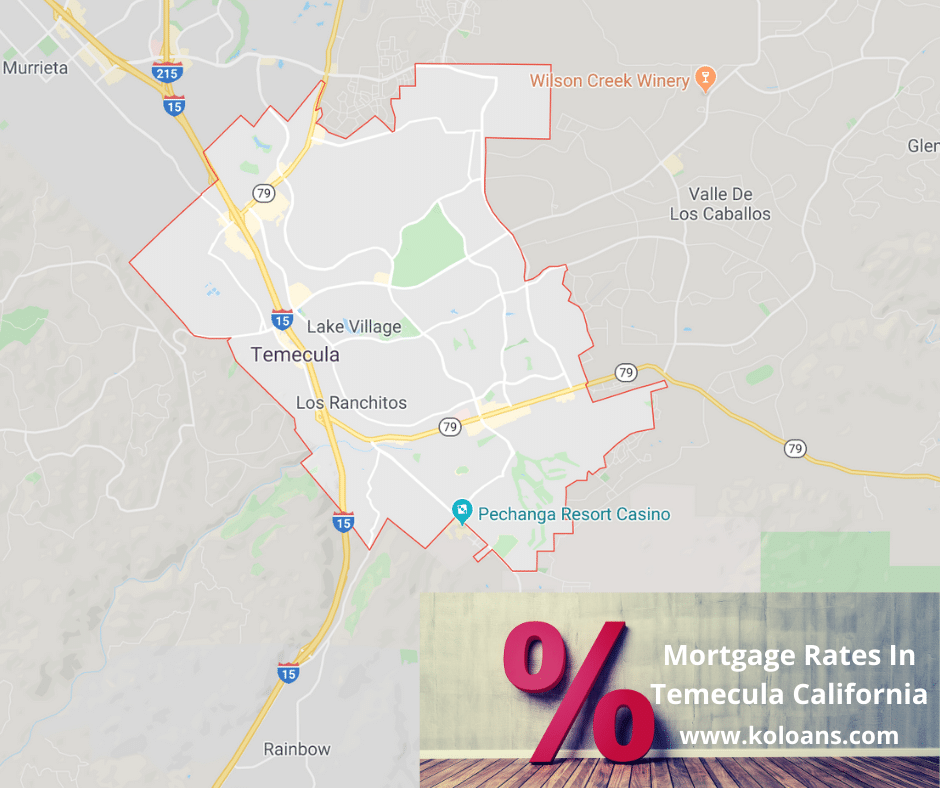 Realtors In Temecula
Your mortgage broker (or lender) will work directly with the local Realtor you chose to make sure your transaction closes on time. Finding an experienced local Realtor is an important part of the home buying process.
Keller Williams Temecula Valley:
Located at 7290 Madison Ave., Suite 200, Temecula, CA 92590, the Keller Williams Temecula Valley office can be reached at (951) 304-1200. According to their website their team "…represents the best and brightest in the industry…"
Team Forss Realty Group:
Team Forss Realty Group is located at 31213 Temecula Parkway, Temecula, CA 92592 and their direct office number is (951) 760-6027. According to their website, Lisa and Goran Forss offer a unique view of the Temecula real estate market and prior to starting their own company, they were among the "top 100 agents nationwide" for one of the largest realty companies in the nation.
Rancon Real Estate:
Another local realty company, Rancon Real Estate is located at 44025 Margarita Rd #100, Temecula, CA 92592 and their direct office number is (951) 456-4696. They also have an office in Murrieta and the direct number to that office is (951) 677-1800. Established over 45 years ago the Rancon Real Estate company is a "…. premier real estate company and your real estate resource."
Local Mortgage Lenders
When buying a home or refinancing a mortgage, homebuyers and homeowners have a choice. They can use a local mortgage lender in Temecula or use an online source to try and get a better rate. Whichever option you chose make sure you find someone with experience and low rates.
Banner Bank:
With over 30 offices in California Banner Bank has two locations in Temecula:
27452 Ynez Road, Temecula, CA 92591
41350 Enterprise Circle South, Suite 100, Temecula, A 92590
They also have locations in Idaho, Oregon, and Washington (the main office is in Washington). The contact number for the Ynez road office is (951) 760-7200 and the contact number for the Enterprise Circle location is (951) 719-1200.
Frontwave Credit Union:
Like Banner Bank, Frontwave Credit Union has two locations in Temecula:
31709 Temecula Parkway, Temecula, CA 92592
40325 Winchester Road, Temecula, CA 92591
The contact number for the Temecula Parkway office and the Winchester Road office is (800) 736-4500.
Living In Temecula, California
Temecula is a Californian city located in the Southwestern Riverside County which was incorporated on the 1st of December, 1989. Things like the Temecula Valley International Film Festival, the Temecula Valley Balloon and Wine Festival, the Temecula Valley Wine Country, the Old Town Temecula and championship golf courses, make living in Temecula, CA and ideal choice.
During the 2010 census, Temecula was estimated to have a population of 100,097, while during the 2018 census, the population increased to an estimated 114,792. The city of Murrieta borders Temecula to the north, while San Diego County and the Pechanga Indian Reservation border Temecula to the south. Temecula is also approximately 137km (85 miles) southeast of downtown Los Angeles and 93km (58 miles) north of downtown San Diego.
The local economy is diverse with a large percentage of the work force in the Manufacturing and Retail Trade industries. Tourism is also important to Temecula as it's known for its great wineries and golf courses.
History Of Temecula:
Temecula used to be inhabited by the Luiseños Indians before the coming of the Spanish missionaries. In the year 1798, the Luiseños designated the region 'Sanluiseños', and also established the Mission of San Luis Rey de Francia. The Mission San Antonio de Pala was built in the 1820s. Nearly thirty years later was the Temecula Massacre which was a retaliatory strike against the Luiseños Indians.
In the year 1904, Walter L. Vail migrated to California having come from the United States with his parents from Nova Scotia. He started to buy lands in Southern California alongside other partners and eventually bought ranch land in the Temecula Valley. Vail bought about 154km2 (38,000 acres) of Rancho Pauba and Rancho Temecula alongside the northern part of Rancho Little Temecula.
After Vail died in Los Angeles in the year 1906, his son Mahlon became head of the family ranch. The First National Bank of Temecula was opened in the year 1914 on Front Street with financing from Mahlon and other local ranchers. The first paved, two-lane county road was built through Temecula in the year 1915.
Temecula And the 1990's:
Rapid growth arrived in the Temecula Valley in the 1990s. Within these years, a lot of families started moving to the region from Orange County, Los Angeles, and San Diego, attracted by the popular wine country and the cheap prices of houses. The Promenade Mall was opened in the year 1999 in Temecula, while in 2005, the annexation of the master-planned community of Redhawk brought the population to 90,000.
In the year 2007, after a period of home construction and rapid population growth, the resultant United States housing market correction and the subprime mortgage financial crisis caused a major rise in home foreclosures in the Temecula-Murrieta region.
Geography:
According to statistics provided by the United States Census Bureau, Temecula has a total area of 96.6 km2 (or 37.28 square miles). Of this total area, 96.5 km2 (or 37.27 square miles) is land, while 0.031 km2 (0.012 square miles or 0.03%) is water. Temecula enjoys a warm Mediterranean climate. The hottest month of the year in Temecula is typically August, while the coldest month of the year is typically December.
Rancho California Road – Temecula:
Do you like wine? Then you should head over to Rancho California Road and visit the many wineries that are on or just off of Rancho California Road. Temecula is home to over forty wineries with many of them located on Rancho California Road and De Portola Road. Needless to say for some homeowners good wine is important. Wineries in the area include:
Thorton Winery
Avensole Winery
Wiens Family Cellars
In addition is the Mt. Palomar Winery, Falkner Winery, and the South Coast Winery Resort & Spa.
Low Temecula, CA Mortgage Rates
Over the year the are has grown significantly. Low mortgage rates in Temecula, California along with a healthy tourist industry has been a big part of the growth. Many people enjoy living in Temecula and home values continue to grow. A good economy, low rates, things to do and great neighborhoods make Temecula an ideal place to call home.
Additional California Cities
If you're looking for additional information on another Southern California city please be sure to visit the main Southern California page.