Here are the current mortgage rates in Victorville, California for both refinance and purchase transactions.
I'm a Loan Officer with over 16 year of experience, a top rating on Zillow and with the Better Business Bureau. I work hard to make sure each and every client secures a low mortgage rate at incredible terms.
In addition to that, we offer a fast closing process and personal one-on-one service. Helping Homeowners Achieve Their Dreams is not just a saying, it's something my team fully believes in.
Mortgage Rates In Victorville, California
Victorville, California Mortgage Calculator
Using our Victorville, California mortgage calculator to figure out your monthly mortgage payment is an essential part of buying a home or refinancing a current mortgage. Use our free Victorville, California mortgage calculator to help you determine what you can afford and if you have questions please don't hesitate to ask!
Living In Victorville, California
Located in the Victor Valley of southwestern San Bernardino County, California. Victorville is a city with a population of 115,903 as recorded in the last census carried out in 2010. Victorville is located at the southwestern edge of the Mojave Desert, 85 miles (137 km) northeast of Los Angeles.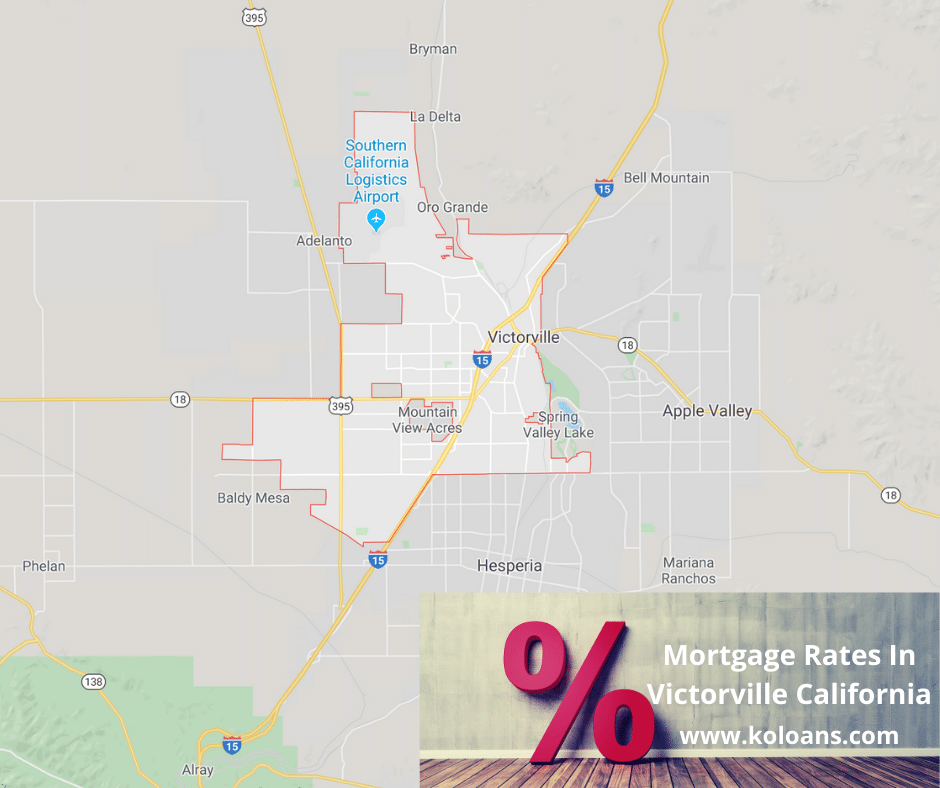 Local Realtors
Local mortgage lenders in Victorville CA work with Realtors in the area to ensure a smooth and efficient transaction. Here are some options you may want to look into before moving forward with a home purchase (or sale).
Keller Williams – Victor Valley:
Keller Williams Realty Victor Valley, 17270 Bear Valley Rd #101, Victorville, CA 92395 has dozens of local Realtors that have the experience and knowledge to help with your next home purchase (or sale). Their office number is (760) 951-5242.
Coldwell Banker Home Source – Victorville:
This is another local realty company with experienced and knowledgable agents. Coldwell Banker Home Source – Victorville is located at 12138 Industrial Blvd., #102 Victorville, CA 92395 and their direct number is (760) 244-1921.
Victorville Appraisers
If you purchase a home in the local area, or if you are refinancing a current mortgage, you'll probably have to do an appraisal. Here are some options your mortgage lender might consider.
ACN Real Estate Appraisals:
Located at 12527 Heron St., Victorville, CA 92392 ACN Real Estate Appraisals is a residential appraisal company offering both Conventional and FHA appraisal reports. Their direct number is (818) 433-8403. They are open Monday through Saturday.
John C. Carlson Real Estate Appraisals:
Their office is at 14070 Hesperia Rd #203, Victorville, CA 92395 and the direct number is (909) 861-6186. John C. Carlson Real Estate Appraisals is full service residential appraisal company in Victorville that also has an office in Diamond Bar.
Home Builders That Are Local
You have several options for local home builders in Victorville; here are a few you might want to consider.
Evergreen Homes:
Located at 16024 Elkins St, Victorville, CA 92395 Evergreen Homes is a local home builder that provides custom options to meet your homebuilding needs. You can contact them directly at (760) 245-8832.
Legacy Homes – Victorville:
Legacy Homes in Victorville provides various home building options. They are located at 12431 Verano St., Victorville, California 92392 and their direct number is (760) 947-9191.
[elementor-template id="17290″]
Banks and Credit Unions In Victorville
Here are a few local mortgage lenders in Victorville. Residents of Victorville use both local mortgage lenders and online lenders to meet their mortgage needs.
Desert Community Bank:
The Victorville branch of Desert Community Bank is located at 14800 La Paz Dr, Victorville, CA 92395 and their direct number is (760) 245-8478. They offer traditional banking services including checking accounts, savings accounts, and home loans.
Victor Valley Federal Credit Union:
Located at 15445 8th Street, Victorville, CA 92395 Victor Valley Credit Union is a small local credit in Victorville. They offer traditional banking services to the local community and can be reached at (760) 245-7170.
A Brief History Of Victorville
The first record of inhabitancy in Victorville dates back to 1857 when Aaron G. Lane who was a veteran of the Mexican-American war came to what is now known as Victorville and founded a way station called "Lane's Crossing."
Captain Lane who suffered malaria during that war, migrated west to join the California gold rush after the war had ended but he learned that he could make a better living selling supplies to the miners so he moved out to San Bernardino, then created his station that provided shelter and supplies for people making the journey across the desert from the east to San Bernardino, this station was later sold to John Fry Miller, a Texan who renamed the station to "Pioneer Station".
The first political voting cast in Victorville recorded only 10 votes in the first pooling unit created by John Fry Miller in his residence, this saved the occupants of Victorville at that time the stress of the long walk to San Bernardino.
The city which sprung up from around a railroad facility known as "Victor" named after the general manager of the then newly established telegraph station Jacob Nash Victor, at the suggestion of local postmistress Abbey Turner, the U.S. Post Office Department changed that name to Victorville to stop the postal confusion with the town of Victor, Colorado in the year 1901.
The city of Victorville was officially incorporated by the State of California on September 21, 1962.
Local Government:
Victorville is represented in the California State Legislature by Republican Scott Wilk, Victorville is in the 21st Senate District, and in the 33rd Assembly District, represented by Republican Jay Obernolte.
In the United States House of Representatives, Victorville is in California's 8th congressional district, represented by Republican Paul Cook.
Victorville Economy
With an estimated population of 115,903, and an average of 64.6% of its population within the labor market age, the median income of a household in the city is $66,763, and the median income for a family is $66,866.
Males have a median income of $40,149 versus $26,138 for females. The per capita income for the city is $18,731. 19.24% of the population and 16.03% of families are below the poverty line. Out of the entire population, only 24.6% of those under the age of 18 and 10.6% of those 65 and older are living below the poverty line.
Top 5 company with the highest number of employees in the city:
Filming Movies In Victorville
Victorville is a city that has been used to shoot a lot of films and commercials, some of the most notable works shot in Victorville include:
Fast & Furious, Tokyo Drift (2006) was partly shot in Victorville
Lethal Weapon (1987) was filmed at El Mirage Dry Lake west of Victorville.
Face/Off (1997), portions filmed at Southern California Logistics Airport in Victorville
Kill Bill: Volume 2 (2004) was filmed in The New Reflections
Grand Theft Auto (1977), starring Ron Howard filmed in Downtown Victorville.
Amongst other amazing works shot in Victorville that are not mentioned in this list.
Additional California Cities
If you're looking for additional information on another Southern California city please be sure to visit the main Southern California page.