If you are looking to refinance your current mortgage or purchase a home then you've come to the right place. For over 16 years I've been providing low mortgage rates in Visalia, California along with fast closings and exceptional service. Helping Homeowners Achieve Their Dreams is not just a saying, it's something my team fully believes in.
Mortgage Rates In Visalia, California
Visalia, California Mortgage Calculator
Using our Visalia California mortgage calculator to figure out your monthly mortgage payment is an essential part of buying a home or refinancing a current mortgage. Use our free Visalia, California mortgage calculator to help you determine what you can afford and if you have questions please don't hesitate to ask!
Living In Visalia, California
Visalia, CA is located in Tulare County, is the fifth-largest city in the San Joaquin Valley (population is over 136,000) and the 44th-most populous city in California. Tulare County is one of the most productive agricultural counties in the country and agriculture is the backbone of the local economy. Visalia is also home to some great neighborhoods and good schools which is why so many people call Visalia "home".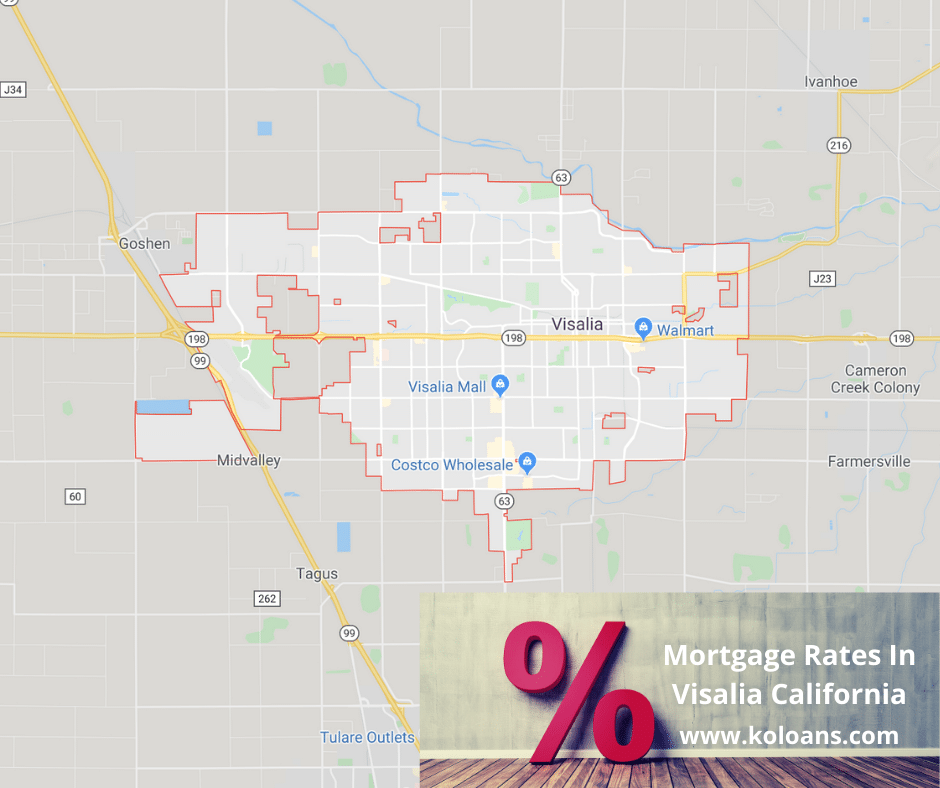 Local Visalia Realtors
If you are buying a home in the Visalia area you'll want to work with a local Realtor. Your Visalia mortgage broker (or lender) will work directly with your local Realtor to ensure a smooth transaction.
Jordan-Link & Company – Visalia office:
Under the umbrella of Century 21, Jordan-Link & company is located at 2009 West Feemster Ave., Visalia, CA 93277 and their direct office number is (559) 733-9696. They have three additional offices:
878 W Morton Ave, Porterville, CA 93257
1810 N 11th Ave, Hanford, CA 93230
8500 Stockdale Hwy, Suite 190, Bakersfield, CA 93311
Anderson Real Estate Group:
This is another local Realtor serving Visalia and the surrounding communities. Anderson Real Estate Group is located at 1100 West Main Street, Visalia, CA 93291 and their direct number is (559) 697-5277.
The Bloom Group:
The main office of The Bloom Group is located at 7200 West Acequia Ave., Visalia, CA 93291. Their direct office number is (559) 625-9500. They have two additional offices:
1710 West Walnut Ave., Visalia, CA, 93277
1749 Eleventh Street, Reedly, CA 93654
Appraisers In And Around Visalia
When you buy a home you usually have to complete an appraisal of the property you are purchasing. The appraiser will compare the subject property with comparable sales in the area and then come up with a valuation.
Hopper Company:
Located at 1005 N Demaree St, Visalia, CA 93291, Hopper Company can be reached at (559) 733-1230. They are a residential real estate appraisal company serving Visalia and the surrounding communities.
Karen M. Strong Appraiser:
Located at 1827 South Irma Street, Karen M. Strong Appraiser can be reached at (559) 625-8053.
A Brief History Of Visalia
Visalia, as it is known today first, appeared in records written by Pedro Fages in 1722, although the Tulare County which houses this city wasn't created until 1852, this city and its surrounding had been home to the Yokuts and Mono Native American, long before it was ever written about.
Visalia enjoyed an early growth and development due to the gold rush along the Kern River, not too far from Visalia and when the gold failed to materialize, a lot of miners simply retired to Visalia to live out the rest of their lives with their families.
During the American civil war of 1860, the residents of Visalia plunged into a mini civil war which led to the creation of a military garrison named Camp Babbitt in 1862, on a verge to return peace and order to the city.
Visalia is currently endowed with a rich architectural history; with lots of structures dating as way back as the 1800s.
The Local Economy
The economy of the city of Visalia is powered by agriculture; some of its largest markets come from grapes, olives, cotton, citrus, and livestock, most of these products are exported to other states and cities. There are a lot of industries in this area, producing electrical and paper products. The industrialization of this city is part of the reason it is ranked among the top 5 most polluted cities in America.
The top 5 companies with the highest number of employees are;
Tulare County
College of the Sequoias,
Family Healthcare Network
International Paper.
Census Data In Visalia
The last census carried out in Visalia, reported that 99% of the population in Visalia lived in households which is rather very high with the other tiny percentage living in institutionalized and non-institutionalized group quarters.
With about 30,636 families and an average family size of 3.42 and 41,349 families in Visalia, (61.4%) of the housing units were owner-occupied while (38.6%) were occupied by renters. The median age in this city is 31.6 years and for every 100 females, there were 95.2 males or every 100 females age 18 and over, there were 92.1 males.
The Local Government
Just like most areas in San Joaquin Valley, more resident voters are registered in the Republican Party than the Democratic Party and a very little percentage of voters are Liberals.
In the California State Legislature, Visalia is in the 16th Senate District, represented by Republican Shannon Grove, and in the 26th Assembly District, represented by Republican Devon Mathis.
In the United States House of Representatives, Visalia is in California's 22nd congressional district, represented by Republican Devin Nunes.
Transportation In And Around Visalia
This city operates only one airport, The Visalia Municipal Airport and has a couple of bus companies that operate within the city. In 2015 the city officially unveiled a bus transit named V-Line which connects Visalia and Fresno. The railways are also available in Visalia.
Local Educational Opportunities
Visalia is the only major city in the Central Valley with a population over 100,000 that does not have a local four-year university but operates College of the Sequoias, a community college, as the only public college located in Visalia.
A couple of universities from outside the city and county, run branches in Visalia, such as; Fresno State, Chapman University, Fresno Pacific University, and Brandman University.
The city is home to two private colleges which has for years produced excellent graduates; San Joaquin Valley College and the University of Phoenix.
Visalia, California Mortgage Rates
Low mortgage rates in Visalia, California and a strong economy have enabled more first time home buyers to enter the market and buy that first home. 30 year fixed mortgage rates and 15 year fixed mortgage rates seem to be the most popular terms for homebuyers and homeowners.
The key to getting a low mortgage rate is to make sure you ask questions; and lots of them. Also; be sure to only work with a mortgage broker that has a great reputation and a Loan Officer with at least five years of experience.
Additional California Cities
If you're looking for additional information on another Central California city please be sure to visit the main Central California page.