Early this morning Janet Yellen released her prepared remarks and the bond market proceeded to rally.  Yields dropped and so did mortgage rates.  Later in the day she testified before Congress and provided additional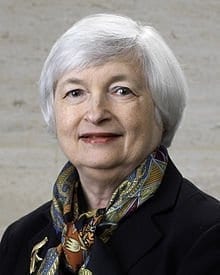 commentary that helped maintain the rally into the afternoon.  The 10y yield hit the 2.30 level before settling at the 2.32% which is a significant improvement to levels seen last week.  The two main comments that supported a drop in yields were: the Fed is near its neutral rate and two the Fed is cautious on inflation.  The "neutral" rate is the rate at which it neither boosts nor slows the economy.  Current mortgage rates and terms improved and are set to finished the day at the best levels of the week.  
To get back to levels seen a few weeks ago it's going to take more than her comments today however this is a solid first step in the right direction.  Tomorrow we have the Core Producer Prices and the 30 year bond auction.  We end the week with Retail Sales, Core CPI and Industrial Production.
Here are some of her comments from her testimony and prepared statement:
"Temporary factors appear to be at work. It's premature to reach the judgment that we're not on the path to 2 percent inflation over the next couple of years. As we indicate in our statement, it's something we're watching very closely, considering risks around the inflation outlook."
"With regard to inflation, overall consumer prices, as measured by the price index for personal consumption expenditures, increased 1.4 percent over the 12 months ending in May, up from about 1 percent a year ago but a little lower than earlier this year. "
"Looking ahead, my colleagues on the FOMC and I expect that, with further gradual adjustments in the stance of monetary policy, the economy will continue to expand at a moderate pace over the next couple of years, with the job market strengthening somewhat further and inflation rising to 2 percent."