For over fifteen years we've offered low mortgage rates in Barstow, California. In addition to our great rates we also offer fast closings and exceptional customer service. Whether you are refinancing a current mortgage or purchasing a home, we have the loan programs to meet your financial needs. Contact me today for no-cost/no-obligation quote and see what makes us different. 1-800-550-5538 (my direct line).
Mortgage Rates In Barstow, California:
Barstow, California Mortgage Calculator: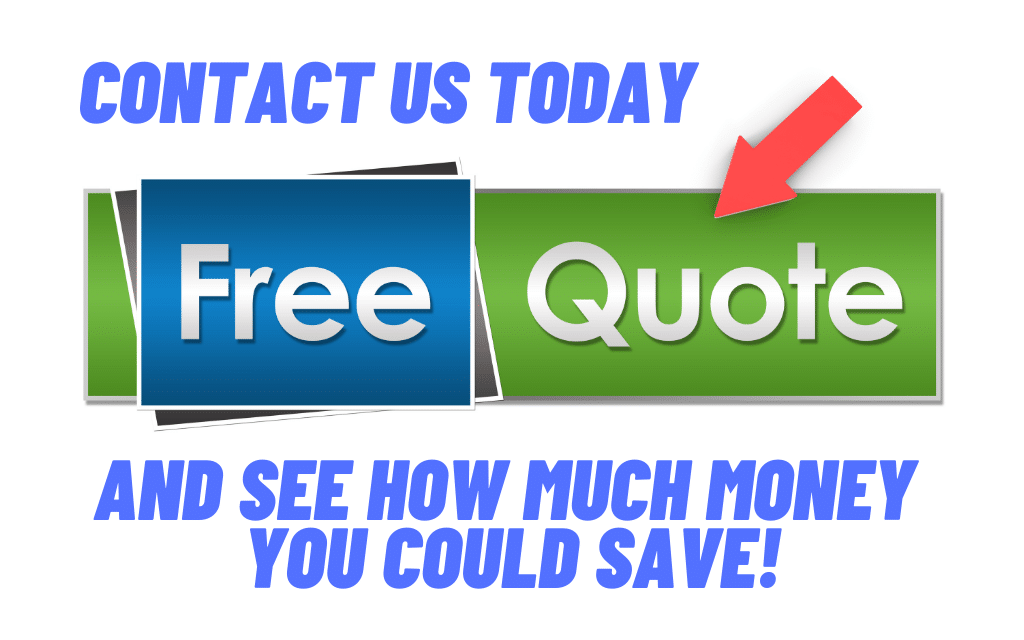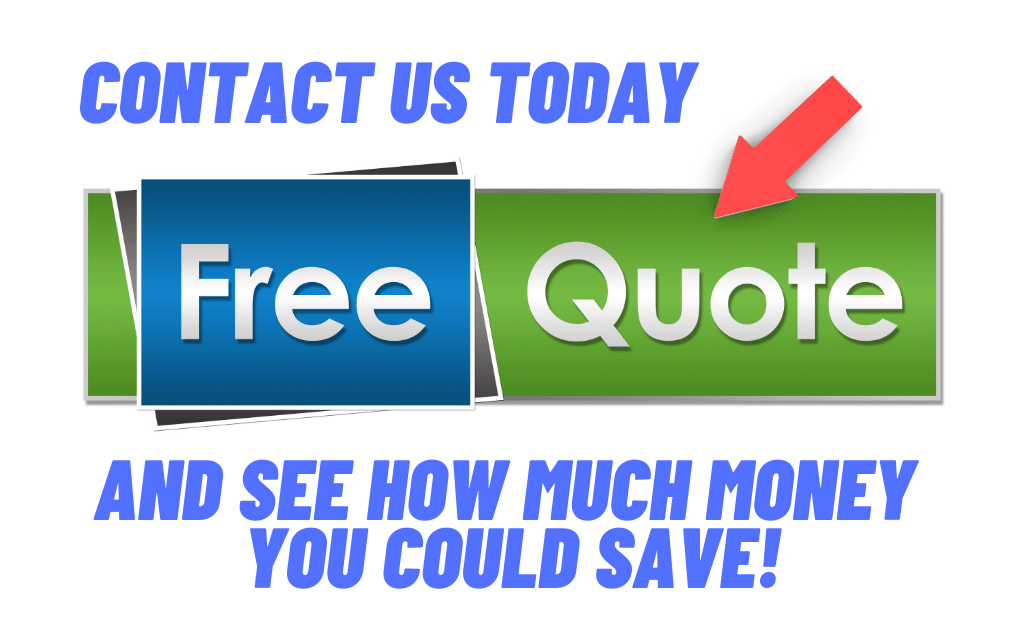 Using our Barstow, California mortgage calculator to figure out your monthly mortgage payment is an essential part of buying a home or refinancing a current mortgage. Use our free Barstow, California mortgage calculator to help you determine what you can afford and if you have questions please don't hesitate to ask!
Living In Barstow, California:
Barstow is a Californian town located in San Bernardino County with a population of 23,609 people. In Barstow, there is a population density of about 572 people per square mile. Compared to the US median age of 37.4, Barstow has a median age of 31.2. And, compared to the US average number of people per household which is 2.6, the average number of people per household in Barstow is 2.9.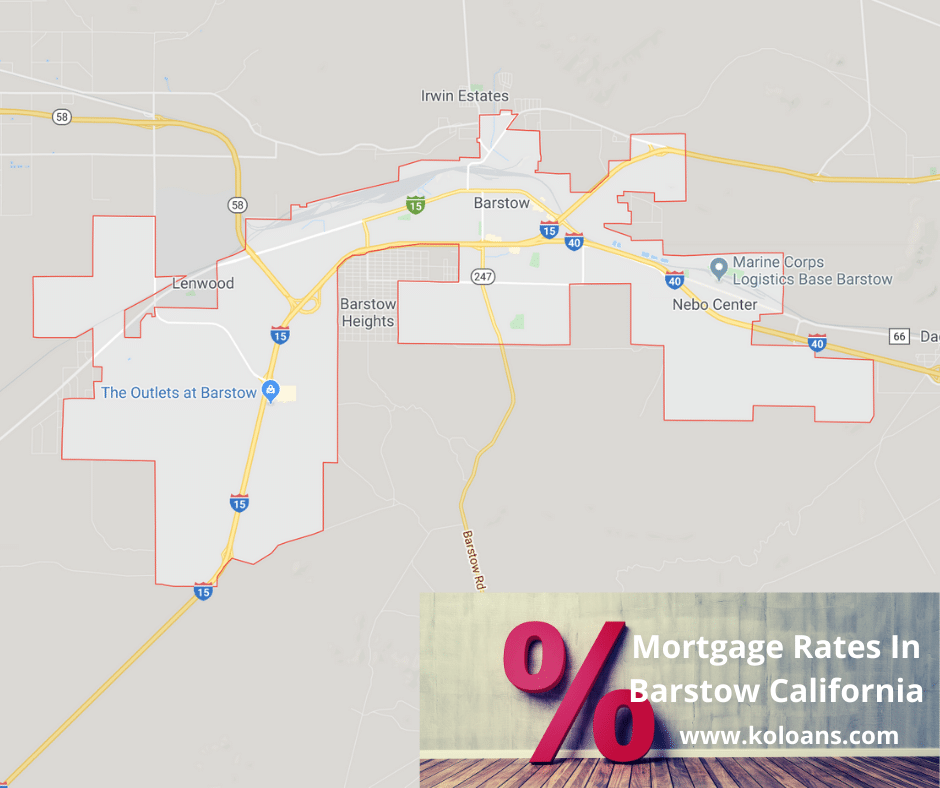 Local Mortgage Lenders In Barstow:
There are several local mortgage lenders in Barstow. Here are two that some people consider when they purchase a home or refinance a current mortgage.
Desert Community Bank – Barstow:
They are located at 945 East Armory Rd, Barstow, CA 92311 and their direct phone number is (760) 252-2130. Desert Community Bank – Barstow branch is one of nine branches in the Desert Community Bank network of branches. They provide traditional banking services including checking accounts, savings accounts, and loans.
FrontWave Credit Union – Barstow:
This branch is located at 995 Armory Rd., Barstow, CA 92311. Their direct number is (800) 736-4500. The FrontWave Credit Union – Barstow branch is one of fourteen branches in the FrontWave Credit Union network of branches. They are open from 9am to 5pm Monday through Thursday, Friday from 9am to 6pm and on Saturday from 9am to 4pm. They also provide traditional banking services.
Home Builders And Contractors:
Despite being a small town there are several different local options for home builders and local contractors.
WP Harris Construction:
WP Harris Construction is located at 27418 Crestview Rd, Barstow, CA 92311 and their contact number is (760) 964-2285. W. P. Harris Construction is both a residential and commercial builder in Barstow.
Home Depot – Barstow Home Services:
While the Home Depot is national business it does provide access to local workers under their Barstow Home Services division. Located at 1100 L Ave., Barstow, CA 92311 the Home Depot – Barstow Home Services is a good place to hire local construction workers or learn something new in one of their workshops.
Heart Plumbing:
If you are looking for a local plumber then you might want to consider Heart Plumbing. Their contact number is (760) 252-3793.
Local Realtors In Barstow:
Local Barstow mortgage lenders work hand in hand with the Realtors in the area to make sure your next purchase transaction is smooth and efficient. One well-known realty company in the area is the Barstow Real Estate Group located at 240 East Williams Street, Barstow, CA 92311. Their direct phone number is (760) 256-6843
The History:
Barstow became a mining center late in the 18th century. In the 1860s, the Daggett (originally called Calico Junction) which is 5 miles downriver was found. It was renamed when silver was found 6 miles north in the Calico Mountains in 1882 after California Lieutenant Governor John Daggett.
The famous 20 mule teams in Barstow came into existence when 10 teams were put together with a water wagon and two wagons to carry ore to the town of Calico from Daggett. Ore was hauled from Calico to the Oro Grande Milling Company, across the river from Daggett in 1888 by the Calico Railroad (later referred to as the Daggett-Calico Railroad).
The mine shut down in the year 1896 after the railroad had been closed down in 1892 when all the silver had played out.
However, in the year 1883, Calico was hit by the borax rush, and by the year 1902, Daggett was supported by 3 borax mines that employ 200 men. An estimate of more than $9 million worth of borax was taken from the Calico Hills, while more than $90 million worth of silver was removed.
As the 20th century advanced, Barstow grew, while Daggett and Calico reduced. It became a jumping-off place and a busy rail center for immigrants trooping into the states on US Route 66. Modern and historic facilities are still available along Barstow's Main Street, the original Route 66.
Just off Main Street, at First Street, travelers can drive over an old iron bridge that leads to the railroad depot once the site of the historic Harvey House, originally opened in 1911.
With the construction of the modern Interstate Highway system, Barstow's future of growth was assured, as I-40 and I-15 converged at the city limits with State Highway 58, making it the transportation hub of the western Mojave Desert.
Weather / Climate:
With lower than 5 inches of rain annually, Barstow which is located in the high Mojave Desert of Eastern California can be considered extremely dry all year round. Temperatures during summer can be extreme, surpassing 100°F, while temperatures during winter can be cold, blowing below freezing. You want to stay hydrated at all times and dress appropriately.
Local Things to Do:
When touring the Western Mojave Desert, Barstow is a great place to start. Hikers, amateur geologists, and outdoor explorers enjoy numerous adventures such as the Afton Canyon, the Rainbow Basin, and the Kelso Dunes, the Owl Canyon Campground, the Calico Early Man Site, the Calico Ghost Town, the historic Harvey House Depot, a restored silver mining town, and the world-class water park complex at Lake Dolores.
Transportation:
The typical American commute has been getting longer each year since 2010. The average one-way commute in Barstow takes 22.2 minutes. That's shorter than the US average of 26.4 minutes.
How people in Barstow get to work:
2.1% work from home
1.4% take mass transit
71.7% drive their own car alone
16.6% carpool with others
Elementary Public Schools:
The public schools in Barstow (Barstow Unified School District) spend $8,553 per student, as opposed to the $12,383 average school expenditure in the U.S. In Barstow, you would find about 26 students per teacher.
Low Barstow, CA Mortgage Rates:
There are many reasons why someone would want to move to Barstow. Family-friendly neighborhoods, beautiful scenery, and affordable housing are just some of the reasons people chose to live in Barstow.
Over the last twenty years, we've seen historically low mortgage rates in Barstow and that has helped many residents buy homes. We anticipate this trend to continue as the economy expands.
Additional California Cities:
If you're looking for additional information on another Central California city please be sure to visit the main Central California page.