We offer low mortgage rates in Los Angeles, CA for both purchase and refinance transactions. If you are looking to purchase a home in the Los Angeles area or if you are looking to refinance your current mortgage, please be sure to contact me directly for a no-cost/no-obligation quote.
How To Find The Best Mortgage Rates In Los Angeles
If you are buying a home in Los Angeles or if you are looking to refinance your mortgage you'll obviously want to lock in the best mortgage rate possible. So the big question is…how do you do that?
Mortgage rates in Los Angeles, CA are no different than in other cities throughout California. So you don't have to worry about trying to find better rates in other cities. We suggest following these simple rules to make sure you obtain the best mortgage rate in Los Angeles:
Five Rules To Obtaining The Best Mortgage Rate:
Work with reputable mortgage lenders who offer loans in Los Angeles
Work with an experienced Loan Officer (at least 5-10 years of experience)
Ask questions, lots of questions are good!
Avoid too good to be true quotes
Make sure you find out what the total fees are (for everything!)
Following these five rules will enable you to work with the best companies that provide not only provide great service but also a low mortgage rate.
Mortgage Rates In Los Angeles, California
Top Ten Mortgage Rate Tips To Save You Money
Mortgage rates in Los Angeles continue to stay low – the lowest we've seen them in decades. Whether rates will stay this low or not is yet to be determined, but it's clear that now is a great time to get a new mortgage if you're in the market for one.
Just because rates are incredibly low doesn't mean you can't save money in other ways too. While many lenders will knock on your door with their low rates, there are a few other secrets you should know to save you money on your next mortgage.
Check out the top 10 ways to save money on your mortgage.
Improve Your Credit Score
The low-interest rates you see advertised everywhere aren't for every borrower. They are only for qualified borrowers, aka borrowers with good credit and low debt-to-income ratios (more on that below).
Before you apply for a mortgage, pull your credit. Do you notice any late payments or overextended credit? Take care of them before you apply to increase your credit score. While you don't need 'perfect credit' you do need decent credit to get the lowest interest rates.
Watch Your Debt-To-Income Ratio
Your debt-to-income ratio or DTI compares your total debts to your gross monthly income (income before taxes). Ideally, your DTI shouldn't exceed 43 – 50%. That means any payments that report on your credit report shouldn't exceed 43 – 50% of your income before taxes.
The less money you have committed each month, the more likely you are to make your mortgage payments. Lenders often give lower interest rates and/or closing fees to borrowers who are a lower risk of default.
Put More Money Down
Each loan program has a required down payment. That's the minimum amount you should put down, not the only amount.
For example, if you apply for an FHA loan, you must put down at least 3.5%, but you can put as much down as you can. The more money you put down, the more money you'll save on your interest rate, origination fees, and even your mortgage insurance.
Pay Points To Buy Your Rate Down
It seems backward to pay money to save money, but buying your rate down may save you money in the long run.
If you'll live in the house you buy for the entire term (or close to it), it may benefit you to buy a lower rate. You'll pay points now, but have a lower interest rate for the life of the loan if you don't refinance.
Do the math before deciding to pay points to determine if it makes sense. Make sure the overall savings is more than the points you pay, but most of the time it is unless you'll only be in the house a short amount of time.
Consider A 15-year Term
Lenders give the lowest interest rates on shorter terms. 15-year loans have rates that are 0.5 – 1 percent less than 30-year rates. The exact rate and savings you get depend on your loan amount and qualifying factors, but the shorter the term you choose, the more you'll save.
If you can't afford the 15-year term, you can try a 20 or 25-year term. The rate will be slightly higher than a 15-year term, but still lower than a 30-year term.
Take Out A Piggyback Loan
If you don't have a 20 percent down payment and are taking out a conventional loan, you'll pay Private Mortgage Insurance. This can increase your mortgage payment quite a bit.
If you want to avoid PMI and potentially secure a lower interest rate, consider a piggyback loan. This second mortgage provides the 'down payment' for the first mortgage so you can avoid PMI and keep the lower interest rate. While you'll have a second mortgage payment, the rates on second mortgages are usually low, helping you to save money over the life of both loans.
Have Plenty of Compensating Factors
Lenders look at your entire loan application to choose your interest rate. Even if you don't have perfect credit or the lowest debt-to-income ratio, you can make up for it with compensating factors.
Compensating factors are anything that offsets another risk. For example, if you have an 'okay' credit score you may not get the lowest interest rate. But if you can offset it with a low debt-to-income ratio and large down payment, you may secure the low rates you wanted after all.
Make Extra Payments
Once you have a mortgage, you can make extra payments. While you must make the minimum required payment each month, most loans allow you to pay more. If you earmark the funds for your principal, you'll knock the balance down faster.
Whether you pay an extra $100 a month or you make one or two extra mortgage payments a year, you can save on the total interest you pay over the life of the loan. A few easy ways to pay extra toward your mortgage include:
Round up your payment to the nearest $100
Divide your mortgage payment by 12 and pay that amount in addition to your regular mortgage payment each month
Split your mortgage payment in half, paying one half every 2 weeks
Shop Around To Get The Best Mortgage Rate
Shop around, find the best rates, and don't be afraid to negotiate to get an even better deal on your loan. In today's low interest rate environment, it's easier than ever to save money on your mortgage.
Work With A Reputable Loan Officer
Even though this tip is number 10 it is perhaps the most important mortgage tip for those buying a home in Los Angeles or refinancing a current mortgage. It's absolutely essential you work with a Loan Officer who has a great reputation and years of experience. Working with someone new or in a call center can be risky, especially if that Loan Officer is just trying to take as many applications as possible (that's how some Loan Officers get paid).
Get the Lowest Rate and Costs for your Mortgage
If you're looking to save money on your mortgage, do as many of the above steps as possible. The more 'attractive' you seem to a lender, the lower the interest rate and/or closing costs they'll charge.
Start by saving as much as you can for a down payment and perfecting your credit. The better qualifying factors you provide a lender, the less risk you'll pose to them, which means they'll charge you less for the loan.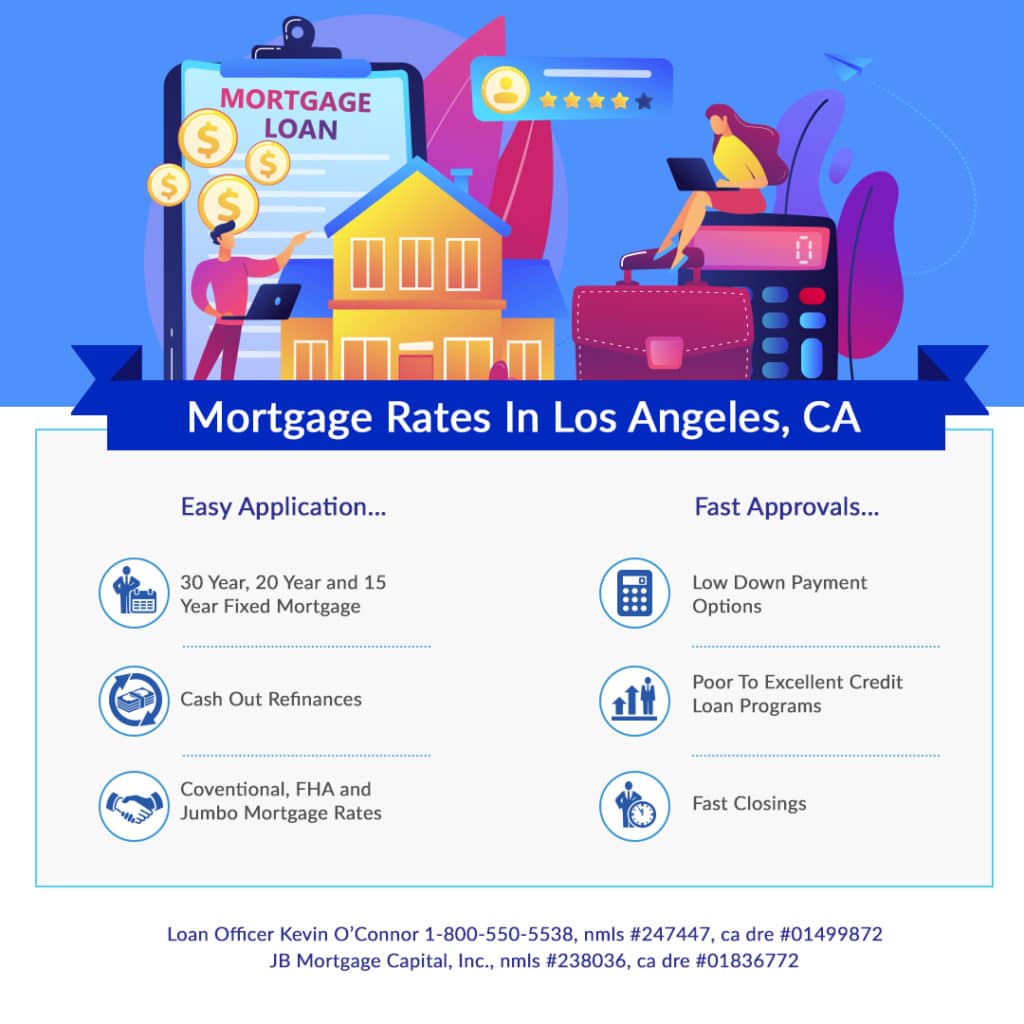 Los Angeles, California Mortgage Calculator
Using our Los Angeles, California mortgage calculator to figure out your monthly mortgage payment is an essential part of buying a home or refinancing a current mortgage. Use our free Los Angeles, CA, mortgage calculator, to help you determine what you can afford and if you have questions please don't hesitate to ask!
Reasons To Buy Real Estate In Los Angeles, CA
There are many reasons why people should consider buying a home in L.A.
The diverse neighborhoods, tasty restaurants, exciting nightlife, Hollywood, family fun attractions, and a robust economy just some of the reasons why over millions of people call it home.
Low mortgage rates in Los Angeles, California have enabled more people to buy homes and we firmly believe this trend should continue as the economy expands.
Los Angeles California mortgage rates are competitive and quotes are easy to obtain due to the numerous options consumers have. Fixed-rate mortgages and adjustable-rate mortgages are popular in the Los Angeles California area and consumers can choose from online mortgage companies, banks, and lenders.
Both purchase volume and refinance volume are strong in the Los Angeles market due to the constant influx of people moving to the Los Angeles area. Major banks such as Wells Fargo, Bank of America, Citibank, and Chase all have operations in the Los Angeles market.
Local Realtors In Los Angeles
Los Angeles mortgage lenders work with many different Realtors throughout the LA area. The city's extensive real estate industry can be hard for buyers and sellers to traverse on their own, but luckily, L.A. features a wide array of reliable real estate professionals who are standing by to help. Keyes Real Estate, Compass Real Estate, The Rental Girl, Nourmand and Associates, and many other firms/specialists are waiting for your call (or text—Los Angeles realtors are very accessible).
Here are some additional local Realtors you might want to consider if you are interested in purchasing a home in the Los Angeles area
Re/Max Estate Properties
This well established Realty company is located at 10931 West Pico Blvd., Los Angeles, CA 90064 and their direct number is (310) 559-5570. Re/Max Estate Properties works throughout LA including Beverly Hills, Brentwood, Palos Verdes Estates, San Pedro, and West Los Angeles.
Hancock Homes Realty
Hancock Home Realty is located at 501 North Larchmont Blvd., Los Angeles, CA 90004 and their contact number is (323) 462-2748. Their "featured neighborhoods" include Hancock Park, Windsor Square, Larchmont, Hollywood, and Wilshire Park/Windsor Village.
Keller Williams Los Angeles:
Keller Williams is one of the largest Realty companies in Los Angeles. Their Los Angeles office is located at 700 Flower St., Suite #2900, Los Angeles, CA 90017 and their direct number is (213) 797-7000. Keller Williams Los Angeles covers just about every major neighborhood in the LA downtown area including the Art District, Highland Park, Los Feliz, and Mid-Wilshire.
Los Angeles, CA Appraisers
Los Angeles's median home value is about $715,000 (as of November 2020 – LA Times) — far more than the national average. Mortgage rates obviously vary from one mortgage company to the next and consumers should take the time to compare rates and terms. Equally important is the service a consumer will get and how fast the mortgage company can close the loan.
Local Appraisers In Los Angeles
Three well known local appraisers in the Los Angeles area are:
Randy M. Sonns Certified Residential Appraiser
With some loan applications, a residential appraisal report will not be needed however most files do require an appraisal report. Usually, the homebuyer (or homeowner) pays for the appraisal upfront and the mortgage lender orders the report. The actual report is usually delivered three to five days after the inspection.
We've Got You Covered Los Angeles
A number of regional banks, including Union Bank and Bank of the West, also have a strong presence in the Los Angeles market. California refinance rates tend to fluctuate with the rest of the market as bond yields decrease and increase from day-to-day.
From the beaches of Santa Monica, Venice to inland areas of Hollywood, Culver City and portions of the Valley we cover all of Los Angeles.
At JB Mortgage Capital, Inc. we have served many clients in the Los Angeles area. JB Mortgage Capital, Inc. has become a go-to place for Los Angeles home buyers and homeowners looking to obtain a new low rate mortgage.
We offer "internet" low mortgage rates along with personal one-on-one service from application to closing. Being efficient is important and that's why we don't have to have processors or secretaries! Each client works directly with Kevin O'Connor from beginning to end.
Consumer Financial Protection Bureau – Los Angeles
The Consumer Financial Protection Bureau federal government agency that protects and educates consumers in areas of financial matters. The Consumer Financial Protection Bureau (aka CFPB) is nationwide so residents of Los Angles are also protected by the CFPB.
7 days a week, 365 days a year the CFPB works to not only ensure residents of Los Angeles (and cities throughout California) are protected but they are also busy educating L.A. homeowners and homebuyers about the mortgage process.
Every homebuyer and homeowner should use the CFPB to better educate themselves about the mortgage process.
California Department of Real Estate
In addition to the CFPB, the Californian's have the California Department of Real Estate (CA DRE) working on their behalf to ensure mortgage companies and Loan Officers are in compliance.
Every legitimate mortgage company and Loan Officer must be licensed with the state of California.
Not only do they enforce state regulations for both real estate and mortgage transactions they also provide licensing to industry professionals and educational material to consumers. They are a great resource for homeowners!
Los Angeles Is The City of Angeles
There are quite a few ways to describe Los Angeles—"The City of Angels," L.A., "La-La Land," California's most populous city, and America's second-most populous city—and these names, nicknames, and titles, helpful and true as they may be, fail to highlight all of what makes Los Angeles special.
To be sure, describing all that makes such a vast, vibrant city special—a city that's surrounded by beautiful mountains and an ocean, spans about 470 square miles, and serves as the heart of the film and television industries—with a single word would be nearly impossible. The following text attempts to, in much more than one word, describe much of what makes Los Angeles "Los Angeles".
The Movie Studios
Paramount Studios and Twentieth Century Fox, two of the six major producers of American films, are headquartered in Los Angeles. Thousands of television shows and films are recorded in the city every year (particularly in Hollywood), and the Los Angeles Music Center, which attracts more than 1.25 million visitors per year, is one of the largest music performance establishments in the world.
One in six L.A. residents work in an entertainment-related field, and the city's per-capita income is greater than the national average.
In short, entertainment is abundant in Los Angeles, and in addition to offering residents much to see and do, this point provides them with ample employment opportunities.
It should be briefly mentioned now, for all the sports lovers out there, that the city boasts eleven professional sports teams: the Los Angeles Dodgers and the Los Angeles Angels in the MLB, the Los Angeles Rams and the Los Angeles Chargers in the NFL, the Los Angeles Lakers and the Los Angeles Clippers in the NBA, as well as four hockey and WNBA teams.
Educational Opportunities
Getting back to what makes Los Angeles great; the educational opportunities available in Los Angeles are outstanding.
The Los Angeles Unified School District operates the vast majority of the city's public elementary, middle, and high schools. LAUSD's facilities have received positive reviews from auditors and generally positive feedback from parents and students. Many private schools are available in Los Angeles, and they cater to students in any grade, from kindergarten to high school.
In terms of higher education, a bustling, internationally renowned city like L.A. has about as many campuses as you'd expect for such a reputable city, and the sum of this substantial number of campuses is endless potential for students.
Public universities like California State University and the University of California have campuses in Los Angeles, and private colleges such as Marymount College, the University of Southern California, Abraham Lincoln University, Los Angeles Film School, and many others are located in "The City of Angels."
The Los Angeles Community College District governs and operates nine community colleges in Los Angeles. Your age, background, and financial status won't affect your educational opportunities in Los Angeles; there's a path available for every student, and the same cannot be said for many other major cities.
A Strong Banking Industry
Los Angeles's financial service and banking industries are strong in their own right. One of the biggest problems in today's most populated cities is a lack of professional services relative to the demand set forth by the population; designers, bankers, and other skilled workers simply can't offer enough of their services.
Thankfully, this isn't the case in Los Angeles. Specifically, in terms of banking services and financial professionals, Logix Federal Credit Union, California Credit Union, Nuvision Credit Union, and countless others are ready and waiting to help L.A. locals and visitors with their questions and needs.
Low Mortgage Rates And Great Service
If you are buying a home in Los Angeles or refinancing a current mortgage, obtaining a low mortgage rate is probably one of the most important aspects of securing a new mortgage. Something equally important is great service. Anyone can quote a low mortgage rate but can they deliver? And will they provide a level of service to ensure your new mortgage closes on time.
Conforming – Fannie Mae and Freddie Mac Loans
Fannie Mae and Freddie Mac dictate the basics of conforming loan programs and underwriting guidelines – we are constantly aware of the changes. From the major changes in the Dodd-Frank legislation, the introduction of the "Loan Estimate" disclosure to the "Closing Disclosure" we make sure we are on top of the latest compliance requirements.
Look Up The 2021 Conforming Loan Amount For Your County
FHA Mortgage Loan Programs In Los Angeles, CA
The FHA mortgage loan program in Los Angeles is a great way to purchase a home or refinance a current mortgage. Due to the high cost of living in Los Angeles, FHA loan amount limits in LA area are higher than the rest of the country. If you have a minimal down payment and/or a low credit score the FHA mortgage loan program might be a good fit for you.
Jumbo Mortgage Loan Programs
Most consumers in Los Angeles prefer to work with a mortgage company that can offer various loan programs to meet their needs. 30 year fixed mortgage rate, 15 year fixed, adjustable mortgage rates, no-cost loans are all options we have. We take the time to find out what works best for each consumer and try to find the loan program that works best for them.
We don't believe in "one size fits all" and consumers should not settle for lenders that are not willing to meet their needs. We offer a wide variety of Jumbo loan programs that might benefit you and your mortgage goals. California loan programs change constantly and we do our best to stay on top of various guideline changes that may affect you are your ability to obtain a loan.
As we know many homes in Los Angeles require a jumbo mortgage solution and we have plenty of options to offer our clients.
Additional Southern California Cities
If you're looking for additional information on another Southern California city please be sure to visit our main Southern California Mortgage Rate page.