Buying a home can seem daunting at first, but with our homebuyer checklist, the process of buying a home will be a bit easier.
Our checklist will help you prepare your financial documentation, show you the importance of doing a little research, how to get pre-approved, and more.
What Do I Need To Buy A Home?
One of the biggest barriers to home buying is finding out what you need to do to buy a home – basically, how do you get started? Getting a mortgage requires you to apply for a loan, allow a Loan Officer to review your credit history, and provide your income documentation so you can obtain a pre-approval.
Here's what to expect! 
Your Financial History
To be approved by a mortgage lender, you'll need to provide proof of employment, income, and liquid assets. It's no surprise that this is first on the homebuyer checklist since it's a big part of the home buying process.
A Loan Officer will typically look for at least two years of steady employment per standard underwriting guidelines. On top of that, you'll need a Debt-To-Income ratio, or DTI, of 50% or less (you should really shoot for 45% or less). Calculate yours by taking your total monthly debt (don't forget to include your expected house payment) divided by your total monthly income.
Finally, most lenders look for a credit score of 620 or higher. To get the best terms, a score of 740 or higher is ideal. Your credit score is how lenders gauge their level of risk when lending to you.
Liquid Assets
This is what most people think of when they're considering buying a home – down payments and closing costs. Depending on your loan type, plan to save at least 3% to 5% for a down payment – plus closing cost funds.
Of course, the more you put down, the smaller the loan and, ideally, the less interest you end up paying in the long term. For closing costs, plan to pay anywhere from 3% to 6% of the home's purchase price. Part or in some cases all of these fees can be paid for by the seller (depending on what you negotiate). 
Mortgage
A mortgage is a loan that is secured by the home you own. Later in the article, I discuss what it means to get "pre-approved" and why that's important.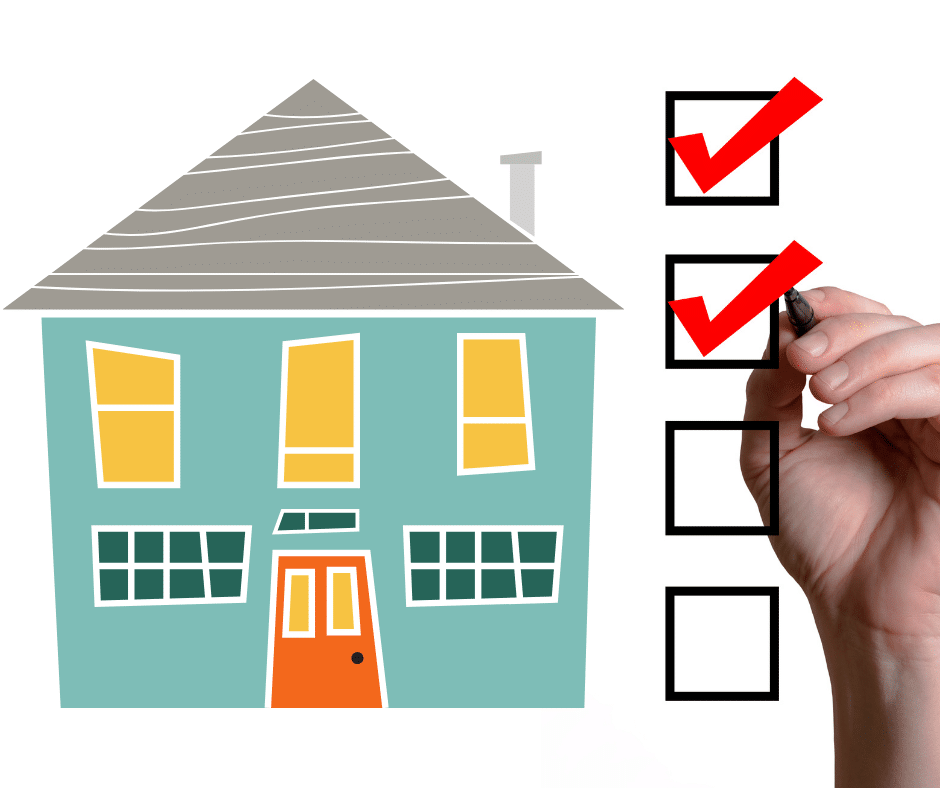 What Research Should I Do When Buying A Home?
One of the best things you can do when buying a home is research. It's a key step on our homebuyer checklist.
Here is what you need to research:
The Mortgage Loan
Research and budget out how much of a loan you can really afford in order to determine how much you should spend on your future home (ask a Loan Officer to help if needed). Look at your DTI ratio and factor in a mortgage payment, homeowners insurance, and property tax. Compare these expenses to your household budget to determine what you can afford to spend. You can always use online loan and affordability calculators to help you get a clear picture.
Property Location
Study the locations you're interested in – check out what homes are for sale and what price they're listed at, then look at what the houses around them sold for. Look at property value trends – is the area you're looking into up and coming? You'll also want to consider local school districts, entertainment, and property taxes in the area.
Market Conditions
Spend time researching the current market to determine if it's a good time to buy. Economic health and mortgage rates should play a part in your decision to buy, though there are obviously personal factors that will also play a part in your decision.
Home Features
Before you begin looking, put together a list of must-haves and it-would-be-nice-to-haves. Consider square footage, bedrooms, bathrooms, bonus rooms, yard space, home condition, and access to public transportation.
Homebuyer Checklist – What Is "Pre-Approved"?
Most real Realtors recommend that you get pre-approved for a loan before the house hunting starts. A lender will provide you with a letter that states how much you've been pre-approved for, which you can then show to your realtor.
The approval is based on your credit, income, and assets.
To get pre-approved, you'll need to apply with a lender – you can often do this online, just be prepared with your financial documents like your W-2s and account statements. Having the pre-approval will help you and your Realtor stay within your budget.
Finding A Realtor You Can Trust
Speaking of Realtors, you'll need a Realtor to help you find that dream home.
A Realtor can help you search for homes in your price range, book showings, and help you negotiate. They can provide expertise on the local market and guide you through the entire process.
What's the difference between a Real Estate Agent and a Realtor? Here is the definition of both from Realtor.com;
Real Estate Agent: A real estate agent is someone who has a professional license to help people buy, sell, or rent all sorts of housing and real estate.

To get that license, states require individuals to have prelicensing training. The required number of training hours can vary significantly by jurisdiction. In Virginia, for example, real estate agents must take 60 hours of prelicensing training, while in California they need 135 hours of license coursework.

Realtor: In order to become a Realtor—a licensed agent with the ability to use that widely respected title—an agent needs to be a member of the National Association of Realtors®.

As a member, a person subscribes to the standards of the association and its code of ethics.

"Essentially, the NAR holds us to a higher standard," says Peggy Yee, a Realtor in Falls Church, VA. Membership in the NAR also comes with access to real estate market data and transaction management services, among other benefits.

source: realtor.com
How Do Realtors Get Paid?
Realtors usually work with buyers for free (in the sense they don't require an upfront fee) and earn a commission from the sellers. To find a Realtor to work with, start by asking family, friends, and even coworkers. Be sure to look for first-hand experience, as having a knowledgeable agent can make or break your homebuying experience.
You can always look online, just be sure to be selective in choosing a Realtor with plenty of good reviews.
Making The Offer
When you've found a home that you love and you're ready to make a bid, you'll need to write it out in an offer letter. This is perhaps the biggest step for first-time homebuyers on the homebuyer checklist.
Most offer letters are accompanied by an earnest money deposit.
What is an earnest money deposit? Here is the definition from Investopedia.com
Earnest money is a deposit made to a seller that represents a buyer's good faith to buy a home. The money gives the buyer extra time to get financing and conduct the title search, property appraisal, and inspections before closing. In many ways, earnest money can be considered a deposit on a home, an escrow deposit, or good faith money.

That is usually 1% to 2% of the purchase price and goes toward the down payment and closing costs. You will lose your deposit if the seller accepts your offer and you choose to walk away. Once you submit the offer, the seller can choose to accept, reject, or counteroffer.

source: investopedia.com
Inspection, Appraisal, and Closing
Before completing your purchase, you should get a home inspection.
This is when you hire someone to inspect the home you are buying to see if there are any noticeable issues with the property. The inspector is usually someone who is certified to inspect residential homes and is experienced with home repairs and home building codes.
They're not typically required, but they are so important. The home inspection can help you determine if the home is in good condition or if there are some issues you need to be aware of. The inspector will check the roof, electricity, appliances, and more. Once the sale closes, you're responsible for any repairs. 
Mortgage loans usually require an appraisal to ensure the home is worth the purchase price. After the home inspection and appraisal, you may ask the seller for any repairs or credits if needed.
At closing, you'll receive a Closing Disclosure from your lender, which you'll receive at least three days prior to closing.
The next step is to sign loan documents and close the transaction. You'll meet with a notary and sign the loan, escrow, and title documents. At the meeting, you'll need your ID.
You're A Homeowner!
And just like that, you're a homeowner!
It's not the most simple process, but with enough research and preparation, you'll make your way through the steps with ease. Add the right realtor by your side and you'll have the keys to your dream home in no time. I hope our homebuyer checklist has been helpful in getting you ready to buy a home and if you have any questions just let me know.