A loan officer is a person that works for a bank, credit union, mortgage lender, or mortgage broker and specializes in assisting homeowners and homebuyers in obtaining a new mortgage.
A loan officer has a state license and is registered with the Nation Wide Mortgage Licensing System (NMLS). Another job title for a loan officer is Mortgage Loan Originator (MLO). Below I'll cover the various job duties of a mortgage loan officer, how to choose a loan officer, and the differences between a loan officer and an underwriter.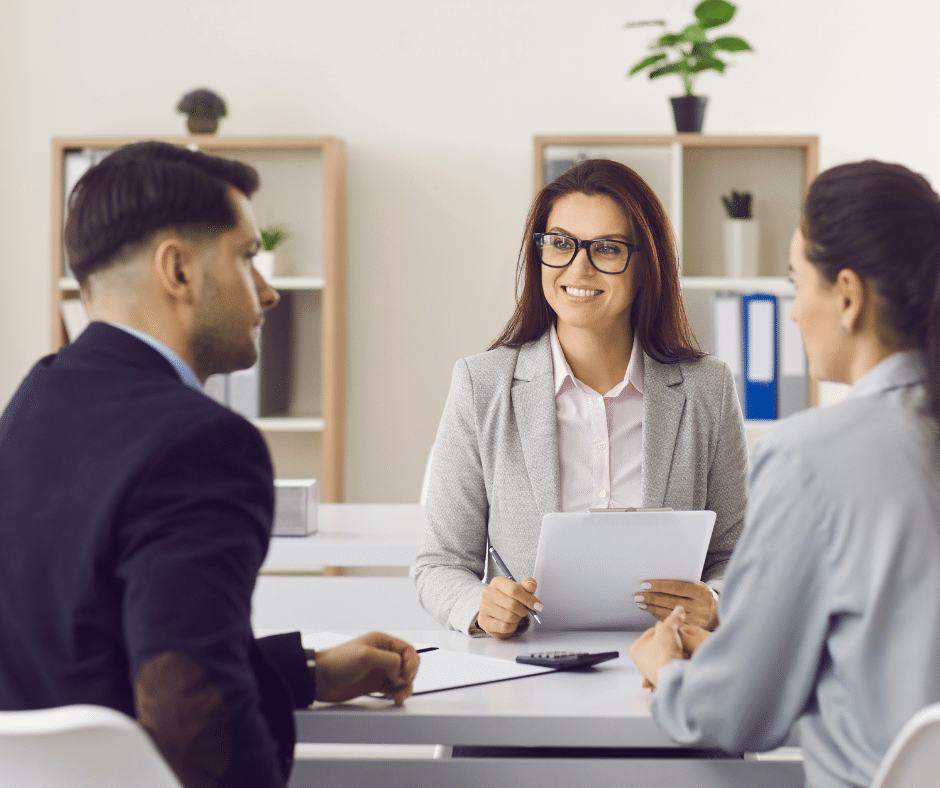 Job Duties Of A Loan Officer
From the beginning of the loan process to the end of the loan process, here are the primary job duties of a mortgage loan officer.
Learn industry standards and lender guidelines for mortgage lending.
Prospect for new applicants.
Present loan program options and quotes to potential new applicants. Answer any questions they may have.
Gather the necessary documentation to meet program guidelines.
Obtain and review the new applicant's credit report.
Complete an analysis of the loan applicant's application, documentation, and credit report.
Obtain an Automated Underwriting System (AUS) approval.
Submit the applicant's file to underwriting to obtain conditional approval.
After the underwriter has approved the loan application, review the conditions for closing with the applicant.
Obtain the documentation needed to clear the closing conditions and submit the file back to the underwriter.
After the underwriter issues the final approval, coordinate with the closing company the signing of the loan documents.
Once the loan documents are signed, coordinate with the lender's funding department and the closing company to fund and close the transaction.
Loan officer job duties at a bank or mortgage broker are essentially the same. However, some loan officers have a processor or a processing department that handles most of these tasks. In this situation, the loan officer is usually just responsible for prospecting for clients and presenting loan programs and quotes to potential new applicants.
All loan officers must follow the rules and regulations that govern them. This includes both state and federal rules and regulations. Loan officers must take Continuing Education classes each year to ensure they are up-to-date on current state and federal regulations.
How Do You Choose The Right Loan Officer?
One of the most important questions I get asked is, "How do you choose the right loan officer?" Here is a step-by-step process for choosing the right loan officer.
Do your research
When choosing the right loan officer, the first place you should look is online. Spending 20-30 minutes online reviewing the loan officer and the mortgage company they work for allows you to see if this is a loan officer and company you want to work with.
Avoiding loan officers and companies with bad reputations will save you a lot of time and money.
Use Zillow and the Better Business Bureau
Zillow and the Better Business Bureau are two websites I suggest you visit to review homeowner reviews, loan officers, and mortgage companies. I recommend only working with a loan officer with a 4.5 or higher rating on Zillow, and the company they work for has an A- or higher rating with the Better Business Bureau.
Review their employment history on NMLS
The Nation Wide Mortgage Licensing System (NMLS) is a great way to verify the employment history of a loan officer. If a loan officer is jumping from one employer to the next every other year, that's a red flag.
NMLS will also show you the number of years the person has been a loan officer and which state they are licensed in.
Longevity matters
A loan officer with five to ten years of experience is better than a loan officer with a few years of experience. Seek out a loan officer with experience.
Ask questions, lots of them
A good loan officer will always take the time to answer a client's question, even if it's already been asked. You want to find a knowledgeable and trustworthy loan officer, and one way to find that is to ask your loan officer important questions.
This is your loan, and you need to be informed, so ask all the questions that need to be asked. If the loan officer has an issue with it, find a new loan officer.
Loan Officer FAQs
Here is a list of frequently asked questions about loan officers.
How do loan officers get paid?
How loan officers get paid can differ from one lender to the next. Here are the most common ways a loan officer gets paid.
A base salary with a bonus or commission for closing a loan.
Straight commission for closing a loan (no base salary).
Taking a loan application (yes, some loan officers actually get paid a small bonus to take a loan application).
Quarterly bonus
Semi-annual bonus
Annual bonus
Most loan officers who work for a mortgage broker are either paid a straight commission upon closing a loan or a nominal base salary plus a commission when a loan closes. Loan officers that work for a direct lender generally have a base salary and a moderate commission structure.
Loan officers that work for a bank are typically paid a larger base salary than those that work for a mortgage broker or direct lender; however, their commission split is generally smaller.
Is an underwriter the same thing as a loan officer?
A loan officer is not an underwriter.
The difference between the two positions is this; a loan officer obtains clients who are interested in purchasing a home or refinancing a mortgage, presents them with loan options to consider, assists them with completing their loan application, and gathers the client's documents to submit to the underwriter for review.
The underwriter then reviews the file the loan officer submitted and, using the guidelines set by the lender, either approves the loan application or denies the application.
Does a loan officer issue a pre-qualification letter?
Yes. If you are looking to buy a home, you'll need to be pre-qualified by a loan officer. Pre-qualified means the loan officer has reviewed your application and documentation, and if the loan officer believes the underwriter will approve your loan, they'll issue a pre-qualification letter.
When you make an offer on a home, you'll include the pre-qualification letter with the submitted offer. If your offer is being considered, the seller's Realtor will usually call the loan officer to verify the pre-qualification details and ask some additional questions.
What does a loan officer look for when reviewing a loan application?
Here are the three main items the loan officer looks at when reviewing your application.
Credit report
Debt-to-income ratio
Loan-to-value ratio
Is this a complete list? No, but these are the most important areas of your application, and if your application doesn't meet the lender's guidelines in these three areas, your application will be denied.
Credit report
Your credit report has your credit score and your payment history. Each account in your credit report has your total allowed credit limit (or maximum amount borrowed), if the account is revolving or non-revolving, payment amount, and payment history.
Additional items include collection and other derogatory type accounts or events (if you have them).
Debt-to-income ratio
Your loan officer will review your debt-to-income ratio to ensure you meet the loan program requirements. Your debt-to-income ratio (DTI) is the total amount of your monthly debt payments compared to your total monthly gross monthly income (if you are a W-2 employee. If you are self-employed, then the loan officer will compare your debt payments to your net monthly income).
If you're DTI ratio is 40% or lower, you'll meet most loan program DTI requirements. InA, Conforming, and VA home loans can go as high as a 50% DTI.
Loan-to-value ratio
Loan-to-value ratio (LTV) is a comparison between the amount of money you borrow from the lender and the value of your home. Depending on the loan program, an LTV ratio can be as high as 100% (VA or USDA home loans).
Conforming home loans can go as high as 97%, and the LTV for FHA home loans can go as high as 96.5%.
Bottom Line
A loan officer is essential to the home loan process. And choosing the right loan officer to ensure a smooth and efficient process requires a little bit of research and commitment to asking questions.
Whether you are a homebuyer purchasing a home or a current homeowner refinancing a mortgage, a loan officer will quote you the current terms available, assist you with preparing your application for underwriting, and guide you to closing.